Victoria's Court of Appeal has asked lawyers to examine how other countries assess indigenous disadvantage as a sentencing factor before it considers increasing the jail term of the man who murdered Aiia Maasarwe.
Prosecutors want Codey Herrmann's 36-year jail term for murdering the international student in Bundoora last year to be raised on the grounds the punishment was manifestly inadequate.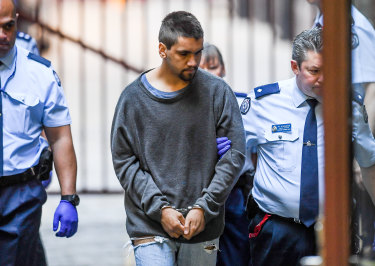 Codey Herrmann enters the Supreme Court for a hearing last year.Credit:Justin McManus
Supreme Court Justice Elizabeth Hollingworth jailed Herrmann for 36 years, to serve 30 years before he is eligible for parole, after he pleaded guilty to murder after attacking Ms Maasarwe on January 16 last year.
The appeal hearing, set down for March 18, looms as a significant case as the Court of Appeal will have five judges – instead of the usual three – rule and consider the adequacy of the sentence and to what extent Herrmann's personality disorder and life of disadvantage should mitigate his punishment.
International student Aiia Maasarwe.Credit:ninevms
Court of Appeal president Chris Maxwell on Thursday asked Herrmann's lawyer, Tim Marsh, and prosecutor Melissa Mahady to research and find other cases where personality disorders and indigenous disadvantage were significant sentencing factors.
Justice Maxwell was keen for the court to be armed with information about the connection between indigenous disadvantage and violent crimes, and for lawyers to examine relevant cases in other states and in countries such as New Zealand and Canada.
"It may prove to be a significant issue in this sentence given the appalling nature of the offending," he told the lawyers at an administrative hearing.
Justice Maxwell said he did not want the appeal hearing to become an inquiry into indigenous disadvantage but more material would assist the judges.
"The field of indigenous disadvantage is a matter which white middle-aged judges don't know," he said.
Herrmann attacked Ms Maasarwe late at night, minutes after she stepped off a tram, and repeatedly struck her with a metal pipe and set her body alight.
In sentencing, Justice Hollingworth found the killer's personality disorder, which stemmed from a childhood of disadvantage and neglect, reduced his moral culpability.
Herrmann, a 22-year-old Indigenous man, experienced a chaotic childhood of poverty, neglect and dysfunction in a family home where drug and alcohol abuse and family violence was rife.
He was abandoned by his mother and in care in the first 18 months of his life, never had a relationship with his father, developed behavioural problems in primary school and began abusing drugs and alcohol in his teenage years.
Prosecutors had called on Justice Hollingworth to jail Herrmann for life.
Catch all the day's headlines
At the end of each day, we'll send you the most important breaking news headlines, evening entertainment ideas and a long read to enjoy.  Sign up here.
Most Viewed in National
Source: Read Full Article