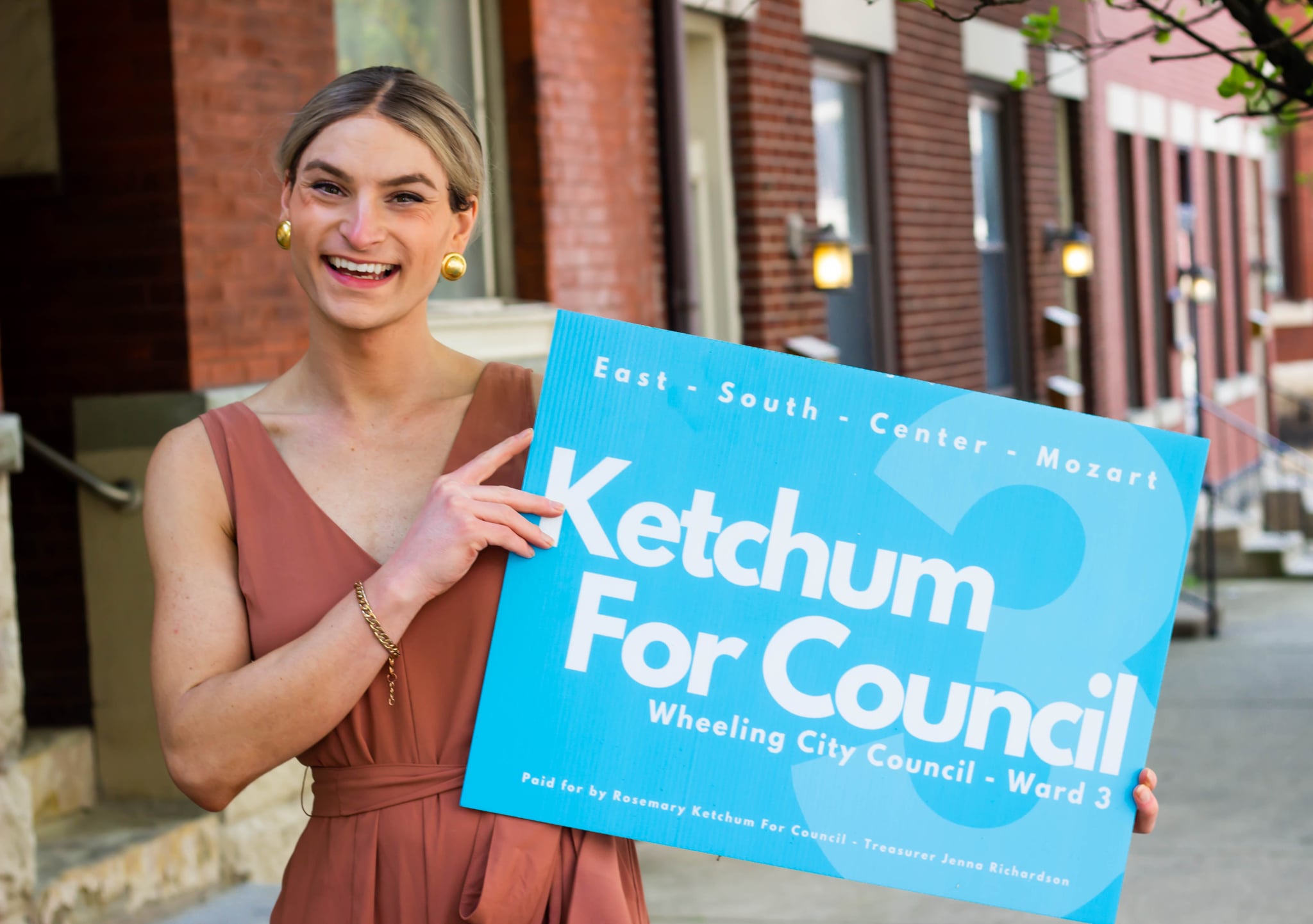 Rosemary Ketchum is the first openly transgender elected official in West Virginia. She is associate director of the Greater Wheeling National Alliance on Mental Illness and serves on the boards of several organizations, including the West Virginia Center on Budget & Policy. Ketchum will begin her first term on the Wheeling City Council on July 1. Follow her on Twitter at @RosemaryKetchum.
I never wanted to run for office. The people who occupied the world of politics didn't look like me, live like me, or seem to want the same things as me. So, rather than working in politics, I did the next best thing: I became a community organizer. For years, I've worked to tackle issues like poverty, mental health, racial justice, and LGBTQ+ equality in West Virginia.
When I'm organizing a protest or rally around injustice, or helping build a platform that will allow people's voices to be heard, I'm in my element. This work has given me purpose and opportunity, but it has also frustrated me deeply.
As organizers, we knew what was needed to help alleviate every issue we worked on. Racial injustice? Let's reform law enforcement, educate and empower communities, and build platforms for Black and brown voices. Voter suppression? Make Election Day a federal holiday, expand polling locations, and provide enhanced civic educational opportunities. Gender inequality? End the pay gap, increase representation in government at all levels, and pass the Equal Rights Amendment.
We knew how to create lasting change. But we didn't yield the same power our politicians did.
I live in Wheeling, WV, a small town of a little fewer than 30,000 people, known as "The Friendly City." I wasn't born in Wheeling, which, in a town this size, would typically be enough to end an outsider's political ambitions. I knew when I relocated here in 2010 that I needed to work extra hard to engage my community and earn their trust. I went to college in Wheeling, graduated with a degree in psychology, and landed a good job in my field. And in the meantime, I joined every board, committee, and organization I could and built a pretty solid reputation.
I was content working in mental health and community organizing. I not so secretly loved the idea of being a scrappy underdog fighting for the issues I care about, especially while living in what some could consider "Trump country." However, it didn't take long for me to realize that some of the biggest obstacles to my liberal-media, progressive, gay agenda — can you sense my sarcasm? — were the elected officials around me. But even then, I didn't immediately decide to run for public office. Like many people, I suffer from undiagnosed imposter syndrome and live in constant fear of being discovered as a "fraud." So I first tried to convince all my friends that they should run, to little avail.
Source: Read Full Article