Jennifer Garner and Ben Affleck were once one of Hollywood's most beloved couples. Sadly, the two announced their plan to divorce in 2015 just one day after their 10th wedding anniversary and one month after reports surfaced that Affleck was allegedly having an affair with the family nanny. (Garner told Vanity Fair in 2016 that they had been "separated for months" before the nanny rumors.)
"After much thought and careful consideration, we have made the difficult decision to divorce," Garner and Affleck wrote in a statement at the time (per People). "We go forward with love and friendship for one another and a commitment to co-parenting our children whose privacy we ask to be respected during this difficult time. This will be our only comment on this private, family matter. Thank you for understanding." They share three children: Violet, Seraphina, and Samuel.
Garner admitted that the negative press surrounding her relationship was a tough pill to swallow. "I turned on CNN one day," she told Vanity Fair, "and there we were. I just won't do it anymore. I took a silent oath with myself last summer to really stay offline." Garner said it hurt her "so much" but that she refused to let anger or hurt be her "engine." She added, "I need to move with the big picture always on my mind, and the kids first and foremost."
Despite her struggles to move past the hurt and anger, she doesn't regret marrying Affleck. Scroll ahead to find out why.
Jennifer Garner said she would marry Ben Affleck all over again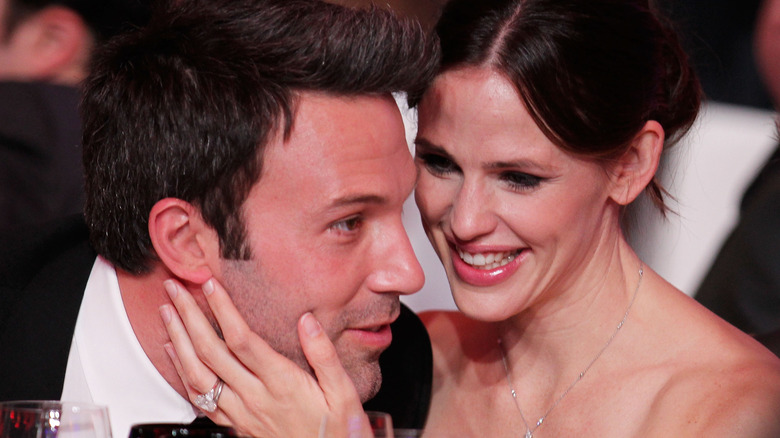 Jennifer Garner has no hard feelings toward her ex-husband. In fact, if she could go back in time and marry Ben Affleck all over again, she would. As she explained to Vanity Fair in 2016, "I didn't marry the big fat movie star; I married him. And I would go back and remake that decision. I ran down the beach to him, and I would again. You can't have these three babies and so much of what we had." The actor also called him the "love of her life."
"It was a real marriage," Garner continued. "It wasn't for the cameras. And it was a huge priority for me to stay in it. And that did not work."
She said she's grateful to still have Affleck in her life as a friend even though she's going to miss out on future couple moments with him. "Sure, I lost the dream of dancing with my husband at my daughter's wedding," Garner explained. "But you should see their faces when he walks through the door. And if you see your kids love someone so purely and wholly, then you're going to be friends with that person."
Source: Read Full Article