The Bachelor: Listen to Your Heart is coming to a close, which means another couple was eliminated tonight, May 11. The fifth week of the ABC reality series carried on as expected. However, the cast left LA for a new destination. So did the change of scenery alter anyone's chemistry onstage? Here's who went home on The Bachelor: Listen to Your Heart Week 5. 
[Spoiler alert: The Bachelor Presents: Listen to Your Heart Week 5.]
'The Bachelor: Listen to Your Heart' Week 5 bring the cast to Vegas
At the start of The Bachelor: Listen to Your Heart Week 5, host Chris Harrison tells everyone they're leaving LA for Las Vegas. Each couple receives their own tour bus and they head out immediately.
Everyone seems to be having a good time with their chosen partner. Rudi and Matt connect, even laughing over their rocky start at The Bachelor mansion. They then take a detour and stop at a hotel in California. Trevor also serenades Jamie with a song to tell her he's "crazy" about her. Then Chris and Bri have a few sweet moments, explaining their communication is what makes their relationship work.
When the couples arrive in Vegas, each pair receives a date card. Chris and Bri go to the Little White Chapel and perform for a newlywed couple. Later, they talk about the possibility of marriage and Chris wishes Bri could meet his late father. They also admit it's been difficult being away from family, but they found relief in one another.
Meanwhile, Jamie and Rudi appear to have trouble telling Trevor and Matt how they really feel. When Jamie and Trevor go on their ice skating date, Jamie says she's falling in love. But despite her fears, Trevor reciprocates her feelings. However, it's not quite as easy for Rudi. And when Rudi tells Matt how she feels, he thanks her. However, she later realizes Matt just needs some time and she's willing to fight for him.
Ryan and Natascha also seem to be in a good place. They go out and destroy some cars at a junkyard. They know they have a good thing going and want to continue on the path they're on.
Who was sent home on 'The Bachelor: Listen to Your Heart' Week 4 on May 4?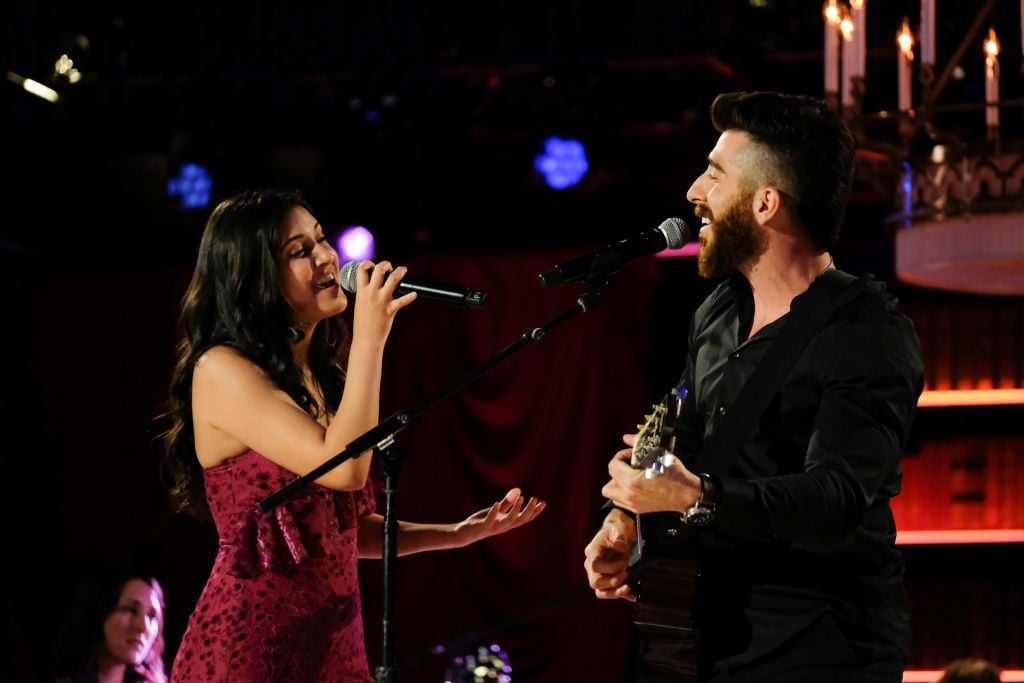 Without the love square between Julia, Sheridan, Savannah, and Brandon, The Bachelor: Listen to Your Heart Week 5 goes by with a few adorable — and somewhat awkward — moments. By the performance portion, fans are somewhat worried about Rudi and Matt after he doesn't say he's falling in love. But even so, they kill it onstage.
In the May 11 episode, the Listen to Your Heart cast performs in front of guest judges Arie Luyendyk Jr., Lauren Burnham Luyendyk, Ashlee Simpson Ross, Evan Ross, and Pat Monahan.
First up are Bri and Chris. They perform the classic "Can't Help Falling in Love," which they sang to each other on their first date. And as always, the couple sweeps everyone away with their chemistry.
Jamie and Trevor are next. They sing "Just a Kiss" by Lady Antebellum and Jamie radiates with confidence. They are definitely a step up from week 4 and receive good marks.
Later, Rudi and Matt perform Lady Gaga and Bradley Cooper's "Shallow." And as previously mentioned, the couple does well and are reassured of their relationship.
Finally, Natascha and Ryan perform their rendition of Ed Sheeran's "Perfect." However, everyone notices the pair is off their game. Natascha apologizes for letting her partner down. She later says she sang the wrong verse, which could have thrown them off.
Regardless, the competition is stiff and at the Listen to Your Heart Week 5 rose ceremony, Natascha and Ryan are sent home. This leaves three couples heading into the finale next week. Here are the remaining pairs:
Chris and Bri
Jamie and Trevor
Rudi and Matt
Read more: 'The Bachelor Presents: Listen to Your Heart': What Do the Winners of the Season Get?
Source: Read Full Article