Hoda Kotb of the Today Show joined Savannah Guthrie as co-anchor at the start of 2018, though the journalist had already been serving as a fill-in co-host for several years. Now that she's been waking in the early morning hours for two solid years, Kotb revealed that rising before the sun comes up never gets easy.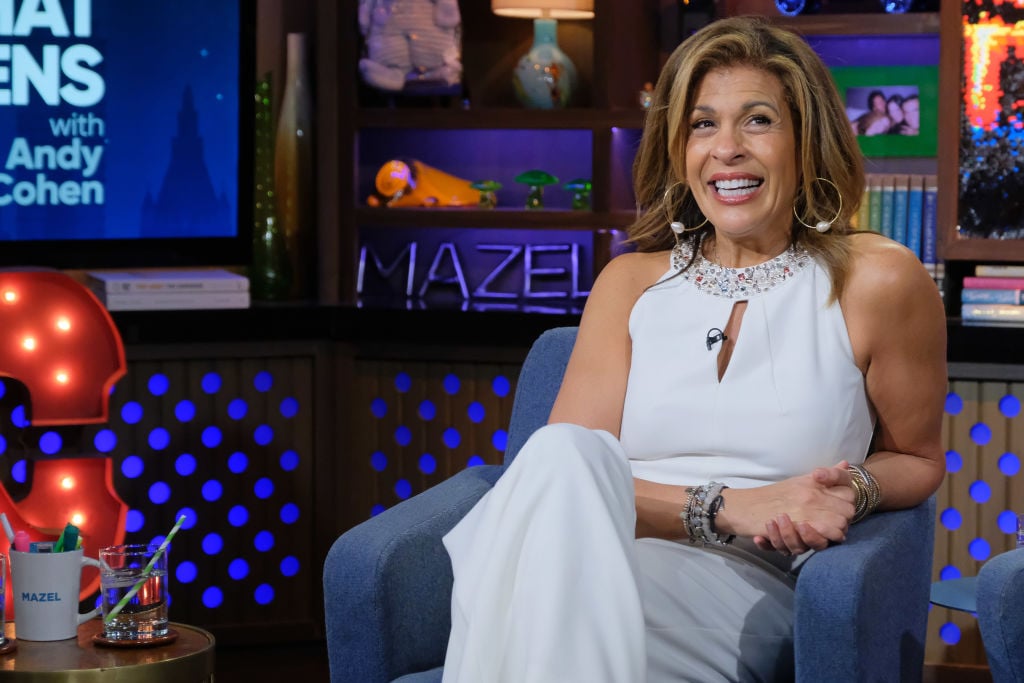 Kotb doubles her alarms
Like all morning news anchors, Kotb's daily wake-up time is before daylight hits. "I have two alarms set on my phone. One goes off at 3 a.m. and one goes off at 3:15 a.m," she told The Cut in March 2019. "I'm one of those people who pops up. I don't usually linger too much. I just hop in the shower."
Kotb has a whole process in place to help her get going and focused for the day. "After I get cleaned up and stuff, I light a candle, I put on some cool music, I drink one bottle of water straight down, and I sit down at our kitchen table with a journal," the Today star shared. "I don't care if I happen to be running late or if I have all the time in the world, I try to do this one thing no matter what."
By recording the blessings in her life at the start of her day, Kotb finds the positive assessment helps keep her centered throughout the day. "In the journal, I'll write the three things I'm grateful for just right there in that moment. Like, one, two, three," she explained. "And then one amazing thing that happened the day before. It's almost like a level set. I grab a cup of coffee and the car comes around 4:15 a.m."
Avoid the 'snooze' button at all costs
In order to get up and out the door on time, Kotb considers hitting the snooze button a total taboo. "Don't hit snooze. Don't do it," she warned. "You wanna do it, you think that ten more minutes is gonna be great. It's never good. Once you hit snooze, your day is no bueno, because you're already behind."
The Today Show anchor is able to find little tricks to stay alert throughout her work day. "During the day, if I feel kind of like I'm flatlining, those Listerine mints are so awesome," Kotb said. "Sometimes I do it during the show, I feel so out of it and I just pop one."
Kotb's change in priorities
Now a mom of two and engaged to longtime boyfriend Joel Schiffman, Kotb's family life is flourishing as much as her career and she makes a point of not taking any of it for granted.
"It's not lost on me for one minute that I get the privilege of raising two children," she said, according to Today.com. "I'm not going to waste or squander my time. It's an amazing thing I get to do."
While Kotb likes to stay in shape, her focus on exercise is now more for her health rather than her measurements. "I'm not doing it just so, 'Oh, can I fit into my stupid size 10 dress?' which is getting harder," the journalist said. "I want to do it so that 10 years from now, I am on the floor still getting with those kids."
Speaking to Ellen DeGeneres on her talk show in January, Kotb revealed that she hired a personal trainer for the first time in her life. The NBC news anchor let the fitness expert know that her goals were not what they used to be.
"He goes, 'Do you want toned arms?' [I said] 'I don't care. I want to get down and get up, get down and get up,'" Kotb told DeGeneres, according to People. "And that's what I've been doing. And I think it's funny — when you want to do something, your energy kicks in."
Hopefully that energy kicks in for Kotb when both her alarms go off around 3 a.m.!
Source: Read Full Article