"In The Heights" is a joyous film centered around members of the Latinx community who reside in the tight-knit neighborhood of Washington Heights, Manhattan. We watch characters struggle, of course. But they also overcome, celebrate, and dare to dream. Many of those dreams involve falling in love, whether they realize it at first or not. After watching Usnavi, Vanessa, Nina, Benny and the rest of the ensemble find their true path and their partners, we know you are naturally curious about the love lives of this incredibly talented cast.
You know one or two of these stories by heart, even if you don't realize it yet. Plus, a few of these couples have meet-cute scenarios worthy of a spot in a brand-new Hollywood flick. Even if they're significant other is "normal" just like us, many of the details of these love stories will make your heart swell with delight, just like the movie. Without further ado, let's take a look at the real life partners of the cast of "In The Heights."
Anthony Ramos left a table read totally smitten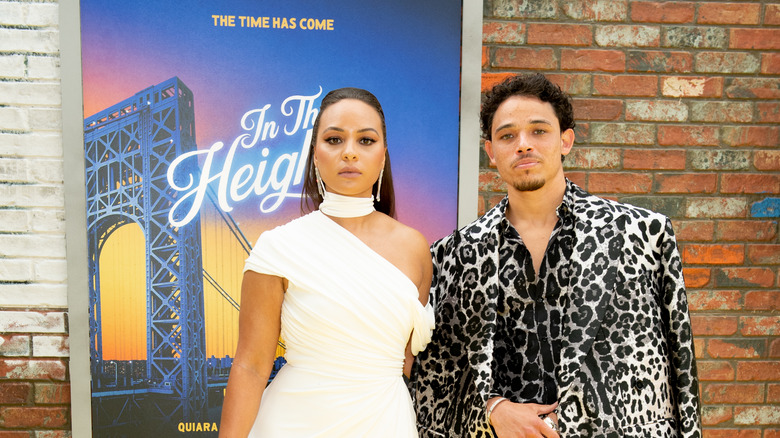 Anthony Ramos plays Usnavi in "In The Heights," but before he played the bodega owner yearning to get back to his native Dominican Republic, he met the movie's co-writer Lin-Manuel Miranda when he originated the roles of John Laurens and Phillip Hamilton in "Hamilton." He didn't know it when he first signed on to the project, but that's where Ramos would also connect with his future wife, Jasmine Cephas Jones.
When the couple announced their engagement, Miranda tweeted about the love connection that started at a table read in 2015, where he definitely noticed Ramos noticing Jones. Per an Instagram post, the couple made their relationship official on Valentine's day in 2015. Ramos publicly celebrated their 2-year anniversary by asking Jones to "Please let me buy the toilet paper, toothpaste, and Yucca shea moisture products for the rest of our days." As Harper's Bazaar pointed out, they were able to experience visiting Obama's White House, a Grammy win, and a Tony win in 2016 while in love. 
They got a glimpse of their possible future together when they worked together again in the 2018 film "Monsters And Men," playing a couple expecting a child. Of seeing his then-girlfriend with a fake pregnant belly, Ramos told Entertainment Tonight, "It was wild." Ramos proposed to Jones on Christmas Eve in 2019, in front of her favorite Arundel Castle in England. We don't know the wedding date, but as Ramos indicated on Instagram, the couple will be "writing stories together" for a lifetime.
Melissa Barrera met her husband on reality TV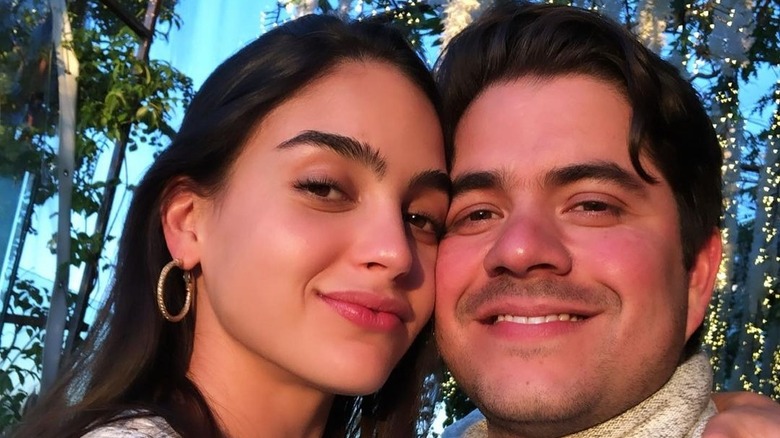 "In The Heights" star Melissa Barerra plays Vanessa, a nail tech who keeps her dreams to herself, even leaving out her best friend and eventual husband Usnavi (Anthony Ramos). "I think it's a defense mechanism. When we put walls up in life, it's to protect ourselves from getting hurt. And I think Vanessa has been wanting to get out of Washington Heights for so long that she's started to distance herself from people so that it hurts less when she has to say goodbye," she told Cosmopolitan.
In real life, Barrera's story of meeting her husband, musician Paco Zazueta is basically the opposite of her character's. They met on the Mexican reality TV show "La Academia," when the actor was just a 21-year-old making her TV debut, according to Variety. They leaned on each other emotionally to get through the stressful experience. "Reality TV is like a snake pit," Barrera said in Variety. "[Paco and I] would take turns telling each other we had what it takes to stick it out. When I left that show I didn't want to sing ever again. They made me believe I was no good at it." Thank goodness for Zazueta, because the world needs Barrera's voice. The couple married in 2019, are pet parents to two dogs, and are constantly posting cute pics on Instagram together.
Leslie Grace's boyfriend can dance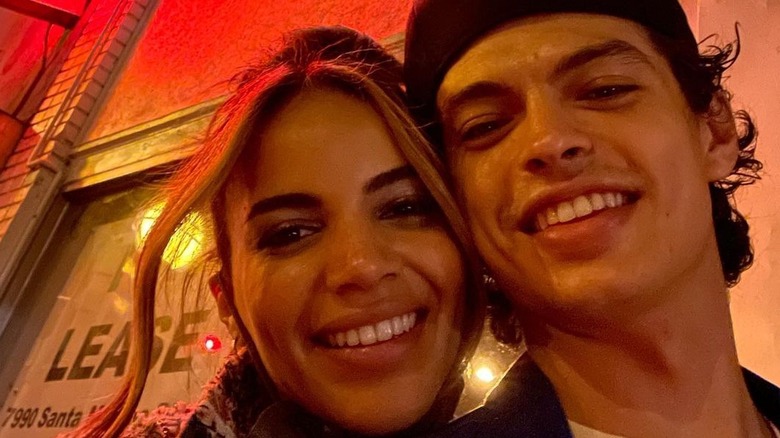 Leslie Grace was best known as a bachata singer before making her feature film debut in the silver screen adaptation of "In The Heights." She plays Nina, a young woman who comes home to Washington Heights after spending time at Stanford over on the West Coast. Nina shares that she struggled with being the only Latinx person surrounded by racially biased white people while at school. She reconnects with her high school boyfriend Benny (Corey Hawkins) while home.
According to People en Español, Grace and her real-life boyfriend, choreographer Ian Eastwood (who you may remember from "World Of Dance,") have been together since 2019, but they're getting pretty serious. Per Refinery29, Grace recently moved from her family home in Florida to Los Angeles during the pandemic to live with Eastwood. "We have a genuine love as individual people for each other," she told the site. They're committed, but not in a rush to get married and start a family. " "We have some time where we want to enjoy pursuing things in our careers and things in our own personal lives." Moving across the country and starring in your first movie are milestones worth savoring.
The piragua guy met his wife in high school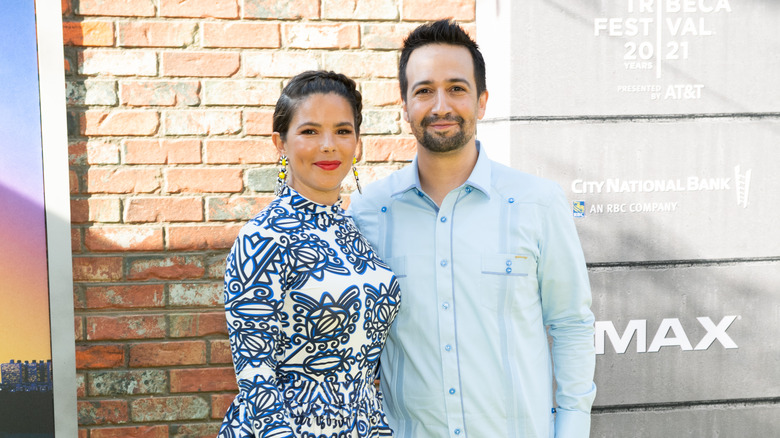 Lin-Manuel Miranda rose to superstar writer status because of his game-changing and award-winning musical "Hamilton." Before that, he was still quite well-known for writing the music for the stage production of "In The Heights" and starring as Usnavi when it began its Broadway run in 2008. More than a decade later, he's not the right age to play Usnavi now, but makes a sweet appearance as Piragüero, aka the street vendor that sells piragua in Washington Heights.
The story of how Miranda got together with his wife Vanessa Nadal is pretty sweet, too. As noted in their The New York Times wedding announcement, he was too intimidated to ask her out when they went to high school together, but then found her Facebook profile one day in 2005 and asked her to come to his hip-hop improv show. And then, he ended up asking his friend to get her number so he could ask her to another show. Lucky for him, he gained confidence that second night and the rest is history. Now, he easily gushes about Nadal. In 2010, the year they got married, he told the newspaper, "She knows she's dope… She's beautiful but not vain. She's smart but not arrogant. It's like, all killer, no filler." As of this writing, the couple has two sons and are as in love as ever. And as Nadal's tweet about booing anyone who smooches her husband on the stage suggests, they sure seem to have fun together.
Jimmy Smits is in a relationship with Wanda De Jesus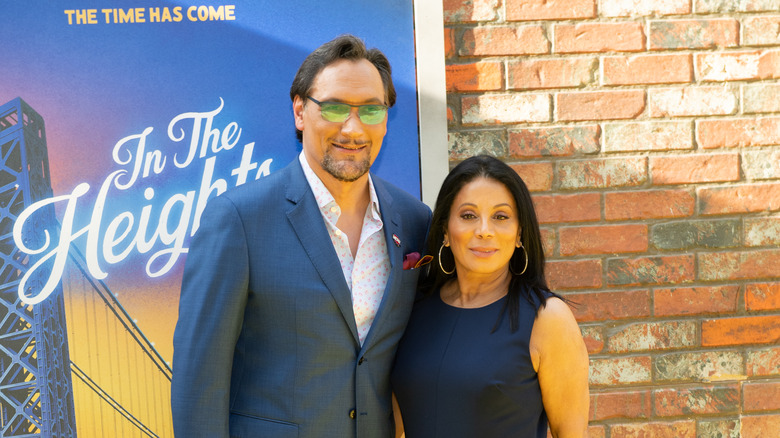 b
Jimmy Smits has had some pretty epic television gigs throughout his 40-year career. Per IMDb, he's had prominent roles in hits like "L.A. Law," "NYPD Blue," "The West Wing," and "Dexter." In "In The Heights," Smits plays Nina's father, Kevin Rosario — a widower who sacrifices a lot so his daughter can become the first person in the family to get a college degree. 
According to Biography, Smits has two children with his ex-wife Barbara who was his college sweetheart. He told Town & Country that being a father himself helped him understand why Kevin has so many high expectations of Nina. "I understand because I have felt that as a father, the wanting your offspring, the generation that's coming up, to do better in this country," he said. 
Smits keeps his personal life very private these days. Per Biography, he is in a long-term relationship with his partner, fellow actor Wanda De Jesus. The two have worked together more than once: De Jesus appeared on an episode of "NYPD Blue" in 1996, and both were featured in the fifth season of "Sons of Anarchy."
Daphne Ruben-Vega loves a business executive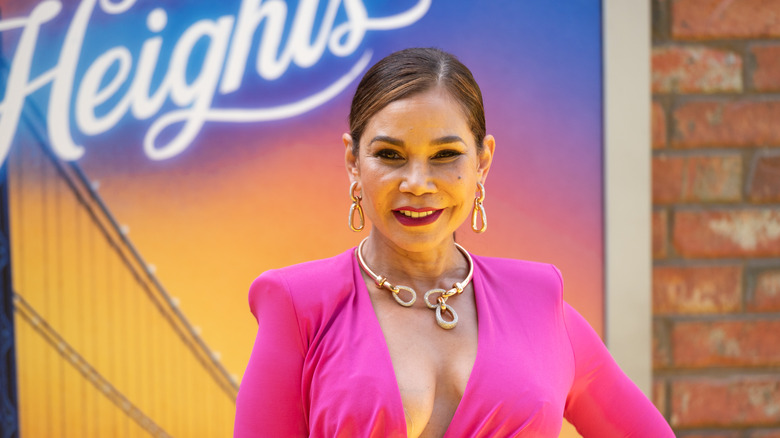 Daphne Ruben-Vega rose to fame when she originated the role of Mimi in the iconic musical "Rent." Her career has since transferred to the big and small screens, including a recurring role in the now-canceled CW show "Katy Keene." In "In The Heights," Ruben-Vega plays Daniela, the salon owner who can no longer pay her building's rent in Washington Heights — she has to move the salon to the Bronx.
Ruben-Vega has been married to Tommy Costanzo since 2002, according to Broadway.com. Unlike his wife, Costanzo does not work in showbiz. As his LinkedIn profile indicates, he is the Executive President at Fosun Hive Holdings. Ruben-Vega revealed in an Instagram post that Costanzo's sister introduced them when the two women sang together in a group called Pajama Party. Per Broadway.com, the couple had a son named Luca Ariel in December 2004. The actor told Talkin' Broadway in the early aughts that her husband's job (and his steady income) has been a welcome foil to her career in the rather unpredictable world of the performing arts. "He makes the money that allows us to remain solvent," Ruben-Vega said at the time. She's doing alright for herself, though.
Marc Anthony is a single man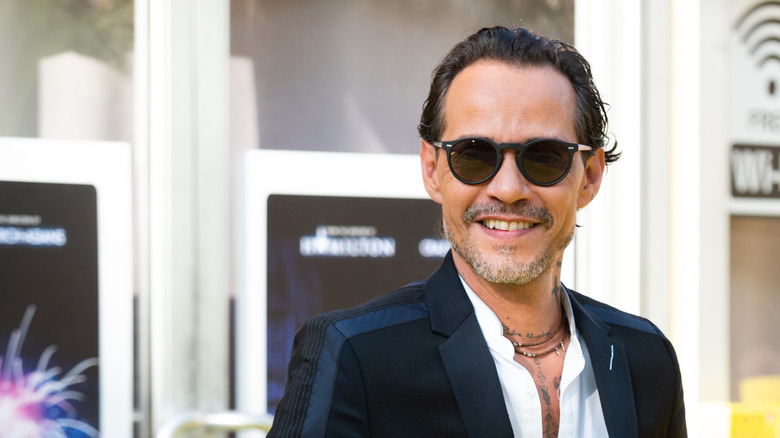 Marc Anthony makes a short but memorable appearance as Usnavi's (Anthony Ramos) uncle and Sonny's (Gregory Diaz IV) dad Gapo in "In The Heights." As far as we can tell, it looks like he's single, but come on, how could we leave Jennifer Lopez's ex-husband off of this list? The former couple are parents to twins Max and Emme and remain on good terms, and we can't help but wonder if Anthony will be breaking bread with Ben Affleck soon.
Anthony is often at the center of his own dating rumors. In October 2020, reps for the singer denied that he was in a relationship with "Basketball Wives" star Evelyn Lozada to Us Weekly. Per the rep, he "simply offered Lozada and her family to stay in his house while he was away." Anthony was previously linked to model Jessica Lynne Harris. According to Hola!, they made their public debut in September 2019 at one of Anthony's kids' school events. 
Whatever his relationship situation may be, we hope Anthony is happily soaking up the praise he's getting for the stellar performance in his "In The Heights" scene. As Ramos said in USA Today about acting with Anthony, "I was like, 'Hey, I better bring it, because my man is coming for blood.' "
Stephanie Beatriz and her husband plan to add a very supportive human to the world
Stephanie Beatriz, who is best known as Rosa Diaz in "Brooklyn Nine-Nine" plays the hilarious Carla in "In The Heights." She's a ditzy, lovable young lady who works at Daniela's (Daphne Ruben-Vega) salon. June 2021 was a busy month for Beatriz. Days before the "In The Heights" premiere, she announced that she was expecting her first child with husband Brad Hoss.
Beatriz identifies as queer and told People she didn't anticipate having a family like the one she has now. "I couldn't really see kids," she shared. "It wasn't that I was closed off to it. It was more that I couldn't quite see how a baby fit into the life that I was building." That changed when she met Hoss and they married in 2018. But she is very clear that her marriage doesn't make her "any less queer… I was able to be my fullest, most authentic self around Brad. He's extremely empathetic and open." The actors are excited to raise a child who is supportive of the LBGTQIA+ community. "I think one of the best things you can do is raise a kid who understands that however a person chooses to shape their one glorious life is worthy of celebration," Beatriz said.
Source: Read Full Article