Disney+'s She-Hulk is finally here, and along with Jennifer Walters's iconic fourth-wall-breaking persona, Marvel is also upping its game when it comes to post-credit scenes. While many other Marvel shows followed the tradition of featuring post-credit scenes solely in select episodes, She-Hulk is giving fans new ones at the end of every single episode. And trust us, you're not going to want to skip out on any of them. But just in case you missed one, we've got you covered so you don't have to circle all the way back!
Here are all the post-credits scenes featured in She-Hulk (so far).
Episode 1: "A Normal Amount of Rage"
Back in Mexico, Jen and Bruce Banner are having drinks and Jen drunkenly freaks out about the fact that Captain American may have died a virgin because he was so busy being a superhero.
"Steve Rogers did so much for his country and he never got to experience sex! Did you see that ass? That ass did not deserve to die a virgin," Jen says. "It's, like, so sad!"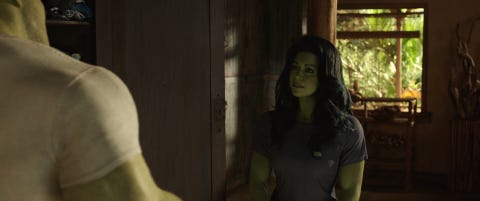 Well apparently, Bruce knew the real truth all along, as he admits Cap actually lost virginity in 1943 on the USO tour. Jen shows she actually wasn't really drunk and is happy to hear the news.
And that's how everyone learns Captain America indeed had sex! Thank you for finally admitting it, Marvel! Let's take a moment to appreciate Chris Evans's response together:
Source: Read Full Article