Ozark quickly became one of the most streamed shows of 2020, similar to its predecessor, Breaking Bad. Fans of both shows know that the families are wrapped up in the world of drugs and crime. Both Marty Byrde (Jason Bateman) and Walter White (Bryan Cranston) launder money for a drug cartel. However, the similarities run more profound than that. There are three things the shows have in common that you probably missed.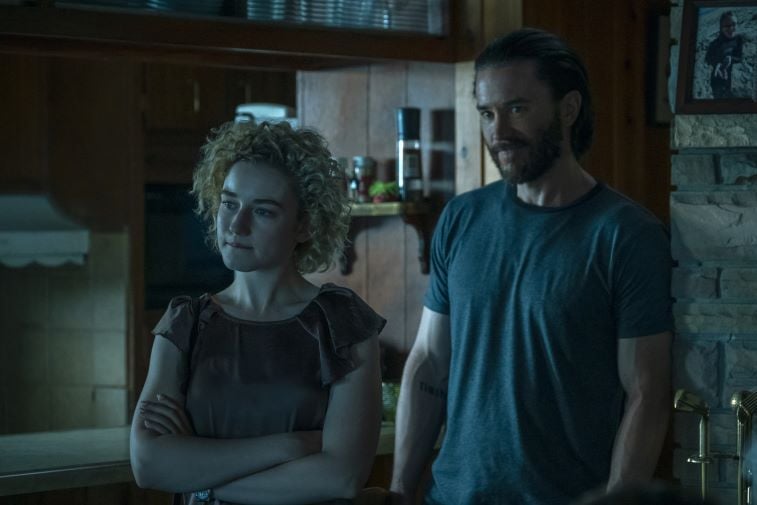 RELATED: Is 'Ozark' The New' Breaking Bad'?
'Ozark's Ruth Langmore and 'Breaking Bad's Jesse Pinkman are more alike than you think
The supporting characters in both Ozark and Breaking Bad are breakout stars, which often outshine their lead.
"Ruth Langmore [Julia Garner] is basically the female version of Jesse Pinkman [Aaron Paul]," one fan wrote on Reddit. "They both look up to the series' leading character as their father figure (Jesse with Walt and Ruth with Marty), and they also tend to steal almost every scene they're figured in."
RELATED: A Complete Breakdown of the 'Breaking Bad,' 'El Camino,' and 'Better Call Saul' Timeline
However, the similarities run deeper — both end up falling for someone who needs even more help than they do. Ruth falls in love with Wendy's (Laura Linney) brother, Ben Davis (Tom Pelphrey). However, she quickly finds out that Ben is battling bipolar disorder and struggles to take his medication. 
Jesse falls for his apartment manager and next-door neighbor, Jane Margolis (Krysten Ritter). She is a recovering addict, and the two fall back into drugs together.
'Ozark's Ben and 'Breaking Bad's Jane both die unexpectedly
Ben and Jane both die at the hand of people who Ruth and Jesse both trusted.
Wendy tries to save her brother by driving him far away from the family. However, she gives up when he insists on involving himself in their situation. Wendy orders the hit on Ben, and Ruth's lover dies because of someone she trusted.
RELATED: Not Even Jason Bateman Thinks 'Ozark' is in the Same League as 'Breaking Bad' — 'That Show Can Never Be Touched'
Jesse's situation is similar in that Walter could have saved Jane, but chose not to. When Walter tries to wake Jesse up, Jane rolls onto her back and begins to vomit and suffocate. Although we know Walter knows what to do in this situation, he stands and watches her die. 
Both Wendy and Walter are not held responsible for their hand in the death of Ben and Jane. Also, Ruth and Jesse have no idea that these individuals they trusted are the cause of their lovers' deaths.
The sons in 'Ozark' and 'Breaking Bad' help in the family business
It's not only the supporting characters who are similar but the children in the family aid in the family business as well. In Ozark Marty's son, Jonah (Skylar Gaertner) wants to be involved and spend more time with his father from the moment he finds out about his father's money laundering.
RELATED: 'Ozark' Season 3: The Disturbing Fan Theories About Who Jonah Shot in the Last Episode Will Have You Replaying The Ending Over and Over
By season 2, Jonah opens an off-shore account to hide money, and his mother uses it. In season 3, the teen used a drone for surveillance and added security for the family business. 
In Breaking Bad, Walter Jr.'s involvement is not by his own will. The boy quickly sets up an online website to attempt to raise money for Walter's lung cancer treatments. However, when Walter finds out, he uses the site to launder the cash that piled up too fast for him.
Source: Read Full Article