The premise of Eliza Hittman's Never Rarely Sometimes Always, on paper, is fairly simple: A 17-year-old girl named Autumn (Sidney Flanigan) decides to end an unexpected pregnancy. But if you're a human woman living on this earth, you can understand just how loaded that sentence is. NRSA is a movie about a girl who makes that one choice, yes, but then has has to overcome 12,300,487 other obstacles on her way to making that happen. That's why it's so important.
Autumn suspects she's pregnant really early in the film, and she visits a women's health clinic in her Pennsylvania town to try to figure out what to do. At that clinic, they confirm her pregnancy, and then urge her to keep the baby. She decides to go to New York to have the procedure because it won't require her parents' permission, and she brings her cousin Skylar (Talia Ryder) with her for moral support.
The two of them get off their bus in the city and make their way to a Planned Parenthood in Brooklyn, where Autumn realizes she was lied to about how far along she was. That means she has to go to a different Planned Parenthood the next day and get a different kind of procedure, which means she and her cousin have to sleep somewhere in New York, a city they're not familiar with. That's just the beginning of their problems. Their journey unfolds over the next three days (they only anticipating being in the city for one), and they have to sleep on trains, find creative ways to make cash when they run out, and lug their literal baggage throughout the entire thing.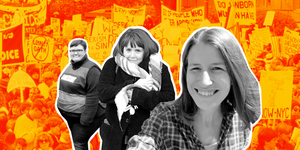 This doesn't sound like that big of a deal, but at every turn, they face an obstacle, and sitting in the theater, my heart sank what seemed like every 10 minutes. I didn't expect to feel the weight of every decision Autumn and Skylar had to make along the way, but the movie makes it hard to ignore all the small things that can get in the way of one woman getting one abortion. I left the movie thinking to myself, "How many women's stories are exactly like this one? And how many are even worse?"
Right now, the Supreme Court is hearing a Louisiana case surrounding a law that, if put into place, would essentially leave one doctor in the entire state who can perform abortions. If the law is upheld, other states may create their own laws that do the same thing. If NRSA made me realize anything, it's that this one fictional story, and Autumn's journey, could have been even harder if the laws in our country continue to go in a pro-life direction.
There are lots of political battles worth fighting right now, especially in an election year. But Never Rarely Sometimes Always will remind you that the fight for abortion rights should definitely not get put on that back burner.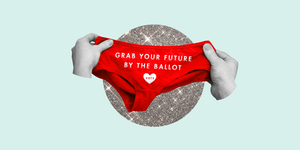 Source: Read Full Article