Wonder out loud what Stargirl, the Disney+ movie with "the ukulele girl from America's Got Talent" is, and you'll probably be met with an anxious millennial telling you all about her favorite book from the early 2000s. Unsurprisingly, there are some differences between the Stargirl book (by Jerry Spinelli) and the new movie.
OK, so the basic plot of Stargirl is the same in both. It's about what happens when a boy named Leo meets a former homeschooler named Susan Caraway who calls herself Stargirl. (As Saoirse Ronan said in Ladybird, Stargirl is her given name. It was given to her… by her.) Ukelele in hand, she's unnaturally kind and eccentric and takes the school by storm until everyone starts to get annoyed with the stubborn way she defies fitting in.
There are some small cuts to characters from the book, like Leo's friend Kevin and Stargirl's ally Dori Dilson, and I don't personally think that the school is as mean to Stargirl in the movie as they are in the book (which is probably a good thing). In the book, the students really shun her, and I felt that when I read it. It's also set in 2020 instead of 2000, so there's, like, texting and selfies. I don't want to age myself by admitting how jarring that was. Here are some other differences and similarities to note…
Stargirl's a lot quirkier in the book.
Specifically when it comes to her clothes. The Disney+ movie seemed to settle on one puffy sleeve aesthetic for Stargirl, but in the book she comes to school in full historical garb and brings her pet rat Cinnamon with her to class. She cheers for both teams at sporting events always, not just when a player on the other side is injured.
She does play ukulele in both.
That low-key creepy "Happy Birthday" scene? Absolutely in the books, though Leo is not her first victim. Stargirl is all about paying it forward with good deeds, and enjoys serenading people on her birthday. Since Grace VanderWaal is basically known for playing the ukelele, she was the perfect choice for this heroine.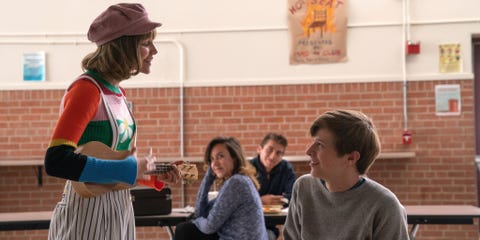 The bike incident is less intense in the book…
The movie combines Hillari's distrust of Stargirl with one of her good deeds. In the book, the boy whose bike Stargirl returns is not Hillari's brother and it's not that big of a deal. Hillari does hate Stargirl, but it's because she thinks she's being weird just for attention, and therefore fake. Maybe she's a little jealous of Stargirl's individuality, too.
So is her popularity "journey."
Stargirl puts a bizarrely academic effort into becoming popular, in order to get back into everyone's good graces, but decides it isn't worth it when she wins the speech competition and still nobody cares. In the movie she makes that decision in the middle of the speech competition… which I guess is more dramatic because she can put that realization into her speech. You can't get anything past me, movie! I see your tricks.
The school dance is totally different.
At the end of the book, Stargirl leads the school in "The Bunny Hop" (random). Then Hillari slaps her and Stargirl leaves, never to be seen again. In the movie, Stargirl arranges for Leo to sing in front of the school instead. Disney just had to give the big moment to the boy. Fine.
In both the book and the movie, Stargirl and Leo do not end up together in the end, which is kind of radical for a YA romance. After everyone in school turns on her, and her attempt at being normal and popular backfires, she leaves! Sometimes the happiest ending is to GTFO.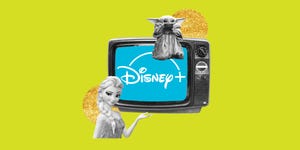 Source: Read Full Article