Ciara Bravo played Katie Knight in the TV series "Big Time Rush." She was cast in the Nickelodeon hit when she was just eleven years old, according to The Catcher. The series aired on Nickelodeon from 2009-2013 and followed the stories of four young hockey players from Minnesota who became a boy band. One of these four athletes, Kendall Knight, just happened to have a little sister. Yep, that's where Bravo fits in.
Bravo comes from Kentucky and in 2007, a talent agent encouraged her to check out a talent expo in Dallas, according to The Enquirer. The plan worked — it was there that Bravo met managers and agents. In 2009, after commuting back and forth from Kentucky to Los Angeles for three months to hit auditions, Bravo landed the role on "Big Time Rush."
While that might have been how we all got introduced to Bravo, she's come a long way since then and looks amazing. Here's the scoop.
Ciara Bravo's screen evolution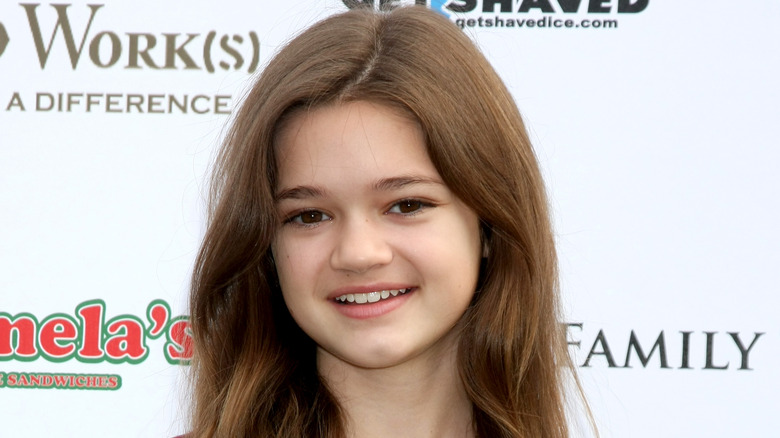 While everyone knows Ciara Bravo for her role on "Big Time Rush," she's been in tons of stuff and has oscillated nicely between television and movies. In fact, she's also done a lot of voice work. She gave the voice to the character Patty in the video "Happiness is a Warm Blanket, Charlie Brown" and Peaches in "Ice Age: A Mammoth Christmas," according to her IMDb credits.
As she's gotten older, Bravo has branched out into more serious projects. In 2016, she picked up a part on "NCIS" and later played the part of Delilah 'Del' Luccetti on the dark comedy, "Wayne." This series first aired on YouTube Premium in 2019 to rave reviews and was then picked up by Amazon Prime. The show boasts actor Mark McKenna, whom Bravo acts alongside.
In an interview with ScreenRant, Bravo spoke about what her character, Del, meant to her while she was on "Wayne." She said: "I'm sure every young woman has the same experience, where it sometimes can be very scary to just tell someone where to stick it," she said. "But Del was never afraid of the consequences that those words usually have. I hope to one day to be able to live life the way that Del lives it."
Ciara Bravo opened up about imposter syndrome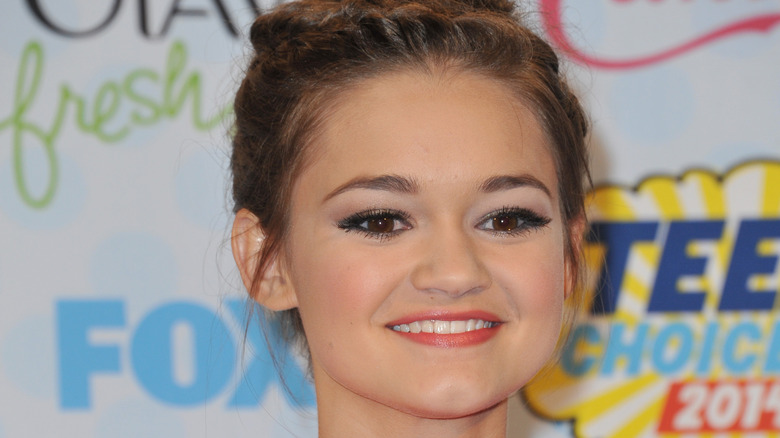 Ciara Bravo starred alongside Tom Holland in the 2021 film "Cherry," playing the character Emily. The film deals with addiction and PTSD, so it was no easy task.
Bravo spoke with "On the Rise" of Harper's Bazaar about the role. "A role like Emily is an actor's dream," she shared. "It's not often in your career that you get to play so many different versions of the same character." Clearly, she likes digging into complex characters.
Bravo was honest, though, about the challenges she faces in acting. "I've got a severe case of imposter syndrome," she said. "It's my career, it has been for half of my life now. But I still feel like a phony every time I call myself an actor." But Bravo noted that it was when she decided not to go to college and instead to pursue acting full time that she saw herself as a legitimate actor. Well, Bravo, you were already legit in our books!
'Wayne' led Ciara to her boyfriend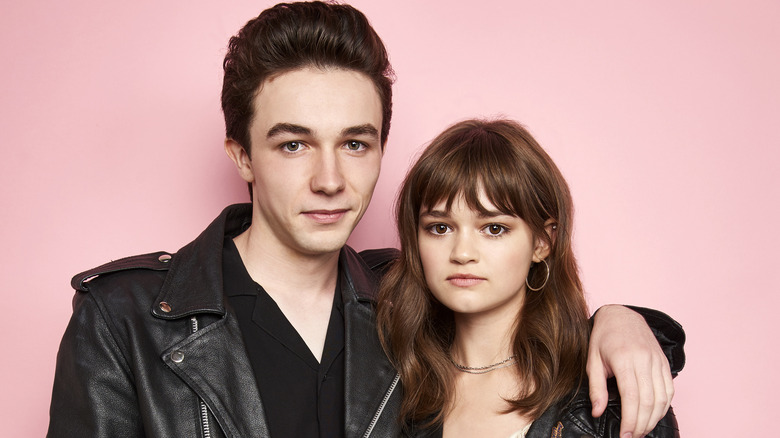 Ciara Bravo is not a single lady and this is all because of her time on "Wayne." Remember how we mentioned "Wayne" star Mark McKenna earlier? That's him!
Bravo has been seen with McKenna since 2019, according to The Catcher, and it'll come as no surprise that they got to know each other thanks to "Wayne." As the outlet points out, the couple is not big on PDA-related photos, but Bravo is literally all over McKenna's Instagram.
The Irish actor clearly has a knack for photography because he obviously has a penchant for snapping photos of Bravo. To be fair though, as The Cinemaholic notes, as of March 2021, neither of them have officially confirmed their relationship. For all we know, Bravo could be one heck of a muse for McKenna's photography. However, other outlets, like J-14, claim that they are official. Guess we'll just have to wait and see!
What is Ciara Bravo worth?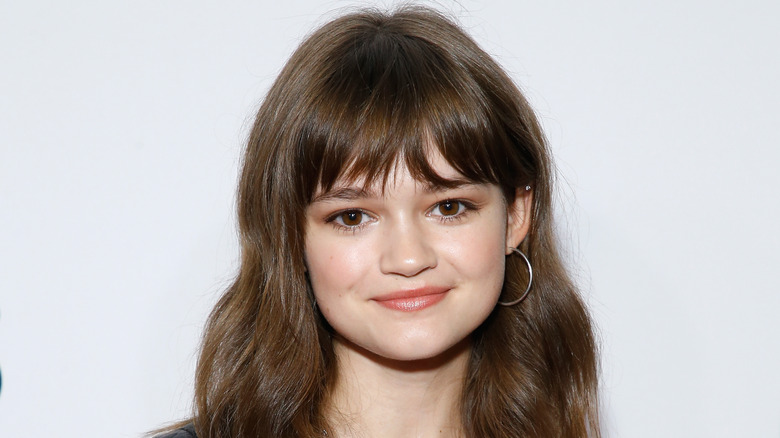 Let's talk money. Ciara Bravo is paving a lovely road for herself right into the heart of Hollywood but she's still had to make some tough decisions in terms of her career. In an interview with The Russo Brothers in February 2021, Bravo spoke about financial decisions.
"There are small decisions that I make, especially in my career, ones that I know in my gut are correct, but might seem questionable to other people with different priorities," Bravo explained. "For me, I've always been a creative and making sure that a project inspires that passion within me is first and foremost on my priority list."
Bravo added, "Sometimes it is difficult to put money aside and try to focus on different things and make sure I'm still happy and excited to be doing what I'm doing." So what is Bravo worth? According to Celebrity Net Worth, Bravo is worth 2 million dollars. Judging from how things are going, that number is going to do nothing but grow.
How Ciara Bravo transformed from childhood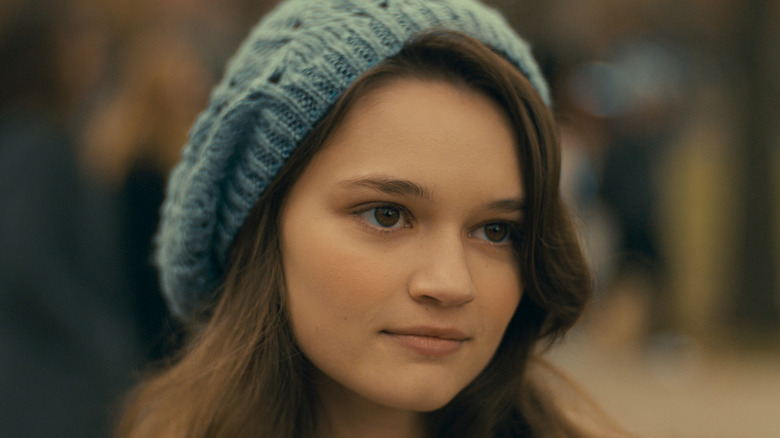 While Ciara Bravo started out as a child star, there was never pressure from her parents. In an interview with "On the Rise" of Harper's Bazaar, Bravo explained: "I was really lucky in that my family was extremely supportive. But they also never pushed it. They made it very clear that if I stopped enjoying this, that I didn't have to keep doing it. That's what allowed me to really enjoy the experience of working, that lack of pressure." 
"I think that allowed me to just thoroughly enjoy the experience and just play and figure out what this world was and if I wanted to live in it or not," Bravo added, per WTOP News. She joked that she was an unlikely candidate as a kid because she was a really quiet kid.
Well, Bravo has had quite the transformation, both in terms of her career and in bravery. And this growth has paid off. As her IMDb credits report, Bravo has been in two other projects. We've got a feeling we'll be seeing Bravo everywhere, and that's fine with us!
Source: Read Full Article