Paul F. Tompkins and Joel Kim Booster are also among celebrities honoring the 'CONAN' host as they offer tributes to him via their respective social media accounts.
AceShowbiz –Jimmy Kimmel and Homer Simpson have bid farewell to Conan O'Brien's TBS late-night show. Ahead of the final show of "CONAN", the "Jimmy Kimmel Live!" host and "The Simpsons" character offered their tribute to the 58-year-old comedian.
"Tonight, two men I respect tremendously close a chapter of their brilliant careers. Conan made doing his job the hard way look easy," Jimmy penned on Twitter on Thursday, June 24. "He & [Andy Richter] are among the funniest of the many funny people I've met. Congratulations to you & your co-workers on a remarkable achievement."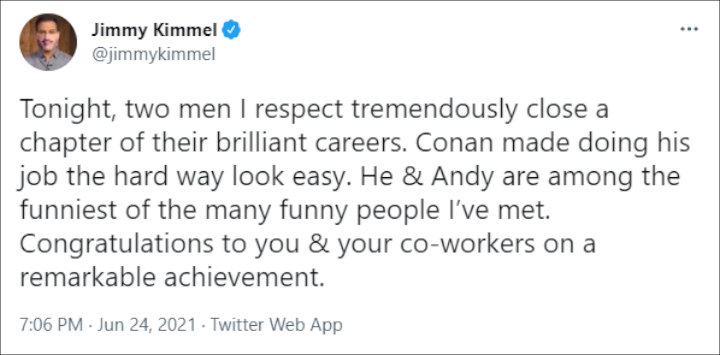 Jimmy Kimmel bid farewell to 'CONAN'.
As for Homer, he said goodbye to Conan in an exit interview. The donut-loving dad, however, first jokingly mocked the TV host for his old work during his time as a writer for "The Simpsons", especially when it came to the monorail episode that he described as a "stupid idea."
The TV personality then asked Homer whether he has a favorite episode on "CONAN". In response, the character explained, "There was this time you had an actor on and he was promoting a movie and you asked him if there was any wacky stuff that happened on the set, so he told you this mildly interesting anecdote. And then [Andy Richter] pretended to fall asleep halfway through."
Despite the roasting, the 2-minute interview ended well as the two embraced each other. "Thank you Homer, you mean the world to me," Conan said, before Homer added, "You mean the world to me Conrad."
Also sharing dedication for Conan was Paul F. Tompkins. Making use of Twitter, he wrote, "Conan was the first late-night show to have me on. I will be forever grateful to everyone at the show, especially Conan himself, for making me feel legitimate, respected, and funny. Thank you for everything and Godspeed to your next incarnation."
Joel Kim Booster, in the meantime, took to his own Twitter page and noted, "Conan changed the course of my career" He continued, "I honestly don't know where I'd be without him and his show taking a chance on a very young, hot comedian like me. Thank you daddy @TeamCoco."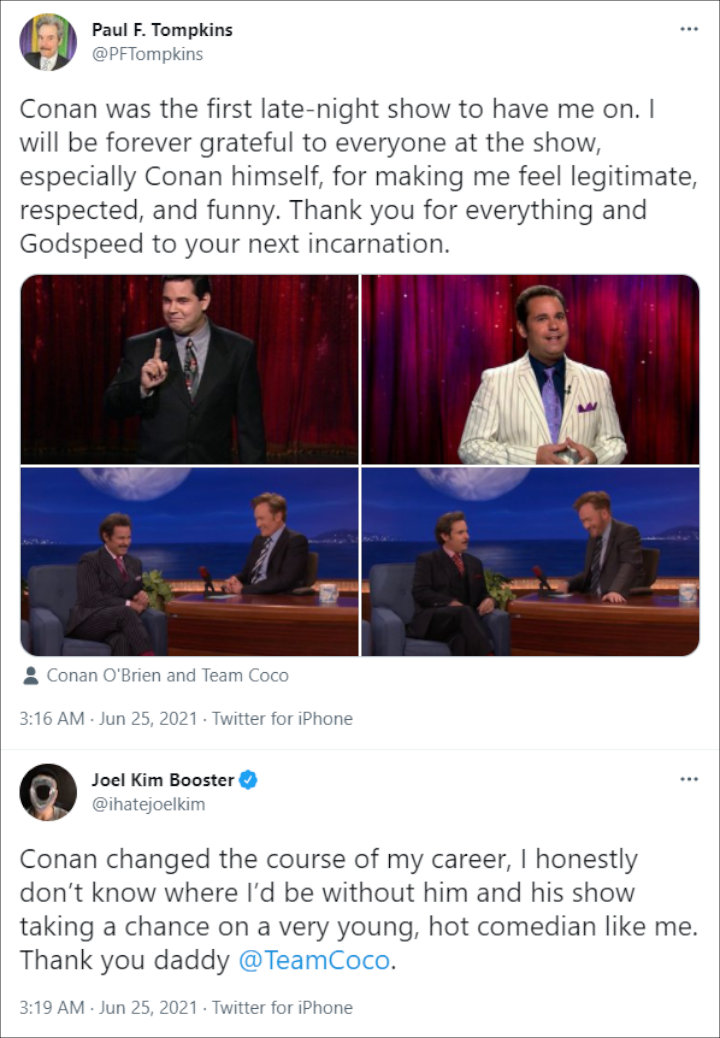 Paul F. Tompkins and Joel Kim Booster also offered their tributes to Conan O'Brien.
Conan wrapped up his 28-year tenure on the late-night show on Thursday by inviting Jack Black as his final guest. "I wanted to be the best guest of all time for your final episode, and instead I am literally the lamest guest of all time," Jack quipped on the show.
Source: Read Full Article