There are few Halloween movies more iconic than John Carpenter's 1978 horror classic, Halloween. Even 40 years later, fans feel thrilled and chilled by the horrific actions of the psychopath Michael Myers. There were children in the original film, namely Kyle Richards, and it makes one wonder what it was like to film a horror film as a child and to then watch themselves on the screen is such a film. Kyle Richards has much to say about her experience filming and watching Halloween. Keep reading to learn more.
Watching 'Halloween' was a horrifying experience for Kyle Richards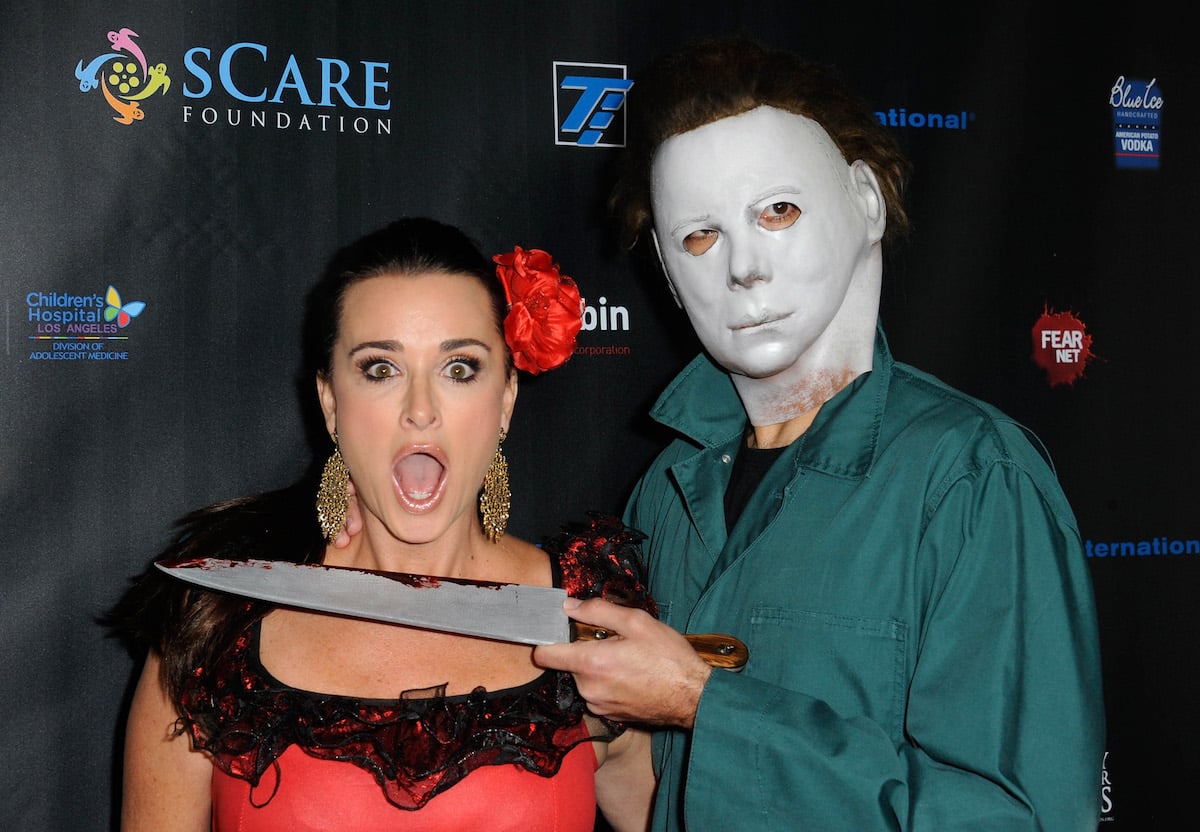 Kyle Richards is Lindsey Wallace in John Carpenter's Halloween. On Halloween night (1978), Lindsey is in the care of Annie Brackett, who is supposed to babysit her for the night. Chaos ensues throughout the night as Michael Myers — a psychopath who escaped a mental hospital, where he was committed due to killing his sister 15 years previously — terrorizes the neighborhood. Lindsey is able to survive the murderous rampage thanks to the protection of Laurie, another babysitter that night. 
Richards was only 8 when she filmed Halloween and interestingly, she didn't truly know what was going on in the film outside her own scenes. She did not understand the horror of the film until she attended the official premiere. Halloween Daily News was able to interview Richards and reports that Richards was not prepared to see the finished movie, despite her role in it.
The young actress attended the premiere with her mom and another 8-year-old friend. Of the experience, Richards said, "It was obviously not child-appropriate, and we were both traumatized," and "I had no idea what I was in for. Seeing it for the first time all pieced together was a very, very different movie. It was just really scary, and I really did sleep with my mom until I was 15 years old after that. I was terrified." 
Richards was so terrified, in fact, that Halloween was her last movie in the horror genre. Her experience at the theater is what sealed the deal for her exit. She said, "After seeing myself in that, I was always thinking there was someone hiding behind the drapes or outside my windows or under my bed."
'Halloween' was a horror film with a positive set
By the time Richards filmed Halloween, at 8 years old, she was already an acting veteran and had seen her fair share of sets. For the most part, her experiences have been positive. Richards said her experience on the set of Halloween was very fun and lighthearted. She told Halloween Daily News, "It was like hanging out on the set, playing cards, having fun. I wasn't scared at all." 
To add to the positive experience Richards enjoyed, she shared how Jamie Lee Curtis, who played the main babysitter in the movie, extended her role into real life. She took her role as caretaker very seriously to the two children on set. She was this way on and off camera. Of Curtis, Richards said, "I always remember Jamie just being so sweet and kind, and just very maternal, even though she was so young herself." 
Richards was not as blessed to have the same culture on set with other movies she filmed. There were definitely movies that were terrifying for Richards to shoot. The movies that were tough to get through were the ones that used method actors. "It was very disturbing working with method actors," she explained. "You don't want to work with a method actor who's playing a murderer. Note self: Don't do that again." 
Kyle Richards is not done yet
Even after 40 years, Richards is not done with Lindsey Wallace. Richards is in character one more time in the newest movie in the Halloween franchise, Halloween Kills, which was released on Oct. 15, 2021. Michael Myers returns to town once again to kill as many people as possible, and Wallace is there for the whole thing, again. 
Source: Read Full Article