While they decided to remain cordial, animosity still seems to be steaming underneath Anisha Ramakrishna and Monica Vaswani's friendship on Bravo's Family Karma.
They seemed to tolerate each other when they bumped into each other at Brian Benni's birthday earlier this season. Initially, they ignored each other and then decided to exchange pleasantries. While it's no secret they aren't each other's favorite person, Vaswani made a statement by not inviting Ramakrishna to her outdoor Navratri event. Was Ramakrishna the only Family Karma cast member left off of the guest list? And how does Ramakrishna feel about being "iced" out?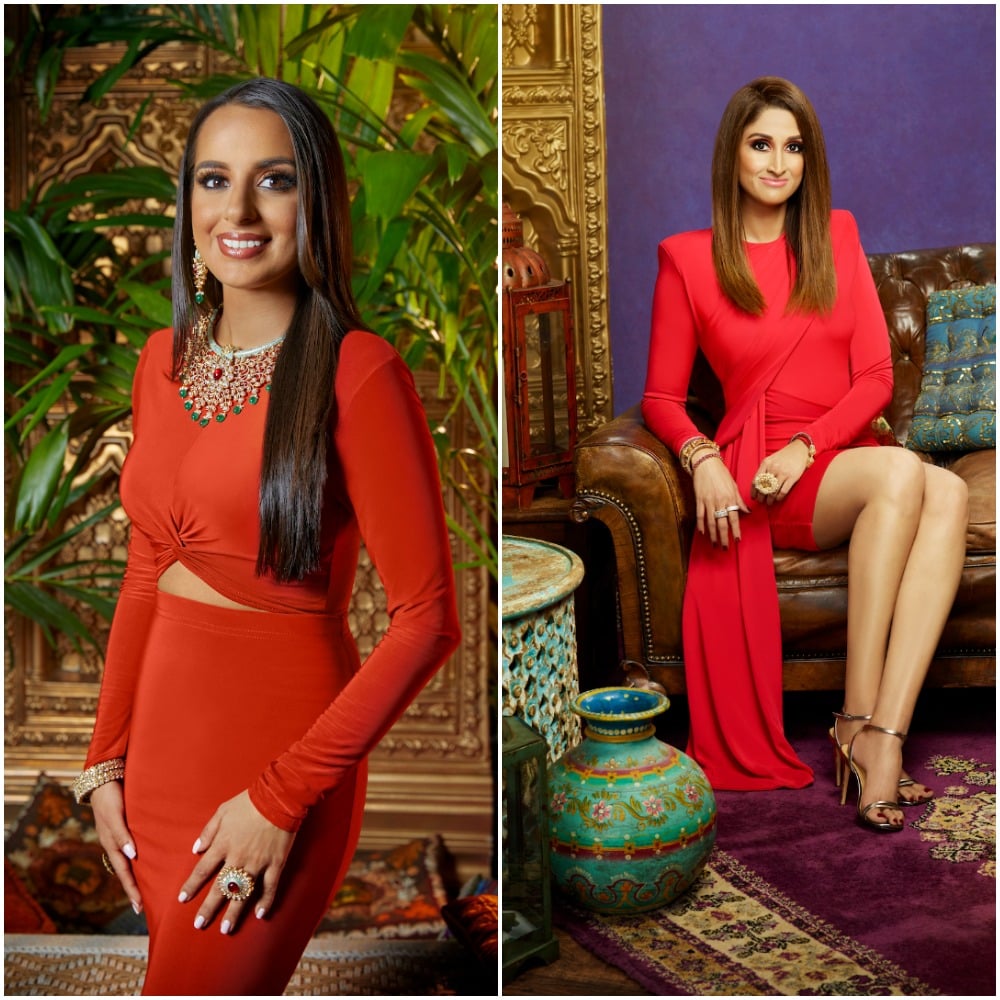 Is Anisha Ramakrishna upset she wasn't invited to Monica Vaswani's 'Family Karma' event?
Ramakrishna made it clear she could care if she was invited. A producer asks her if she was surprised not to be invited. "Surprised?" she says in a confessional featured in a teaser clip. "No. But my grandfather's birthday happens to fall on Navratri this year."
But producers want to know if Ramakrishna is disappointed to not be included. "I heard it was outdoors," she replies making a face. Production flashed to thunderstorm clouds hanging overhead. While she was probably invited, Vaswani also didn't consider asking Bali Chainani. Chainani was going to be busy with her new cocktail maker. Chainani's response to the outdoor event: "I don't do Navratri's to begin with," she says in a confessional. "Wearing an Indian outfit on the sand? No."
Vaswani admitted to Showbiz Cheat Sheet that she was a little "shellshocked" with how much Ramakrishna persisted in her questions about her relationship with Benni last season. "But I think after season 1 I think things are really gonna solidify how people see me and address me," she said. Adding that she's going to truly stand up for herself and put her foot down this season. Perhaps the party snub was her first step toward sending a message that she's done trying to make everyone happy.
Who attends Monica Vaswani's 'Family Karma' Navratri event?
Vaswani's father Rajesh is seen asking his daughter about Ramakrishna and why she decided not to invite her. "I feel bad like, her parents are so nice," Rajesh says. But Vaswani digs in. "Listen, there's only so many times I'm gonna extend the olive branch," she says.
So who ends up attending the event? Benni and his family are seen arriving early to help Vaswani set up. Vishal Parvani arrives to help set up and so does Amrit Kapai and his boyfriend Nicholas Kouchoukos. "Oh, we're having like a luau," Kapai is heard exclaiming as they walk toward the beach. Vaswani explains to Benni that he has to take off his shoes because they are creating a "makeshift" temple.
Aside from Chainani, Vaswani didn't consider asking the Patel family because they have their own party. "I know that the Patels are busy," Vaswani tells her father. Adding that they always have their party at their "compound."
So how does this "forgotten" invitation impact Vaswani and Ramakrishna's friendship in the long run?
Stay tuned when Family Karma airs on Wednesday, at 9/8c on Bravo.
Source: Read Full Article