Colton Underwood and Cassie Randolph briefly stepped out of self-isolation yesterday to go for a swim at the beach, and unfortunately, Cassie was stung by a stingray and ended up in the emergency room.
According to Colton, "While we were in isolation yesterday, we decided to take a quick trip to the ocean and swim. It was cut short after a sting ray stung @cassierandolph in the foot. Mother Nature sent us a warning shot to get back inside." Apparently, Colton tried to take Cassie's mind off the sting with a game of UNO, but she had a bad reaction to the venom and ended up going to the hospital.
Meanwhile, Cassie wrote, "After 2 days in the house, we decided to go play in the waves (don't worry, the beach is pretty empty) and I got stung by a stingray. SO PAINFUL. My brother has been stung a few times, so we knew what to do, but true to myself, I had an allergic reaction to the venom."
After 5 hours in "excruciating pain," Cassie's reaction worsened and she "ended up in the ER after getting hives and my entire leg was swelling. I'm fine now, got medication and my swelling is slowly subsiding." She also thanked Colton for "offering to suck the venom out of my foot even though I wanted to kill you in that moment."
Consider this another good reminder to stay inside right now.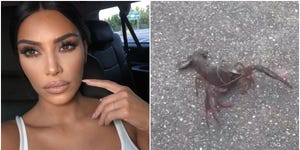 Source: Read Full Article