Although Below Deck yachts are usually not in glistening shape before the first charter, most are in decent enough condition that the crew has ample time to pull it together before charter.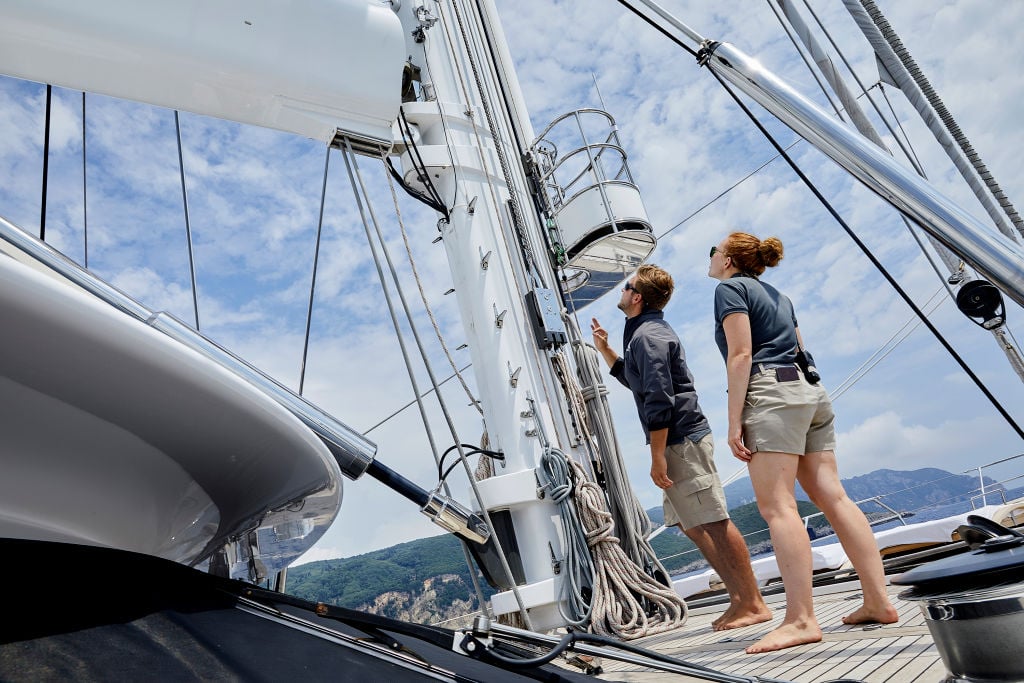 However, Parsifal III featured on Below Deck Sailing Yacht was in disarray when the crew arrived. Deckhand Ciara Duggan, first mate Paget Berry and Captain Glenn Shephard were already working on the sailing yacht — a first for the series. But as one crew member after another arrived on the boat, comments about the boat being far from charter ready started to flow.
Chief stew Jenna MacGillivray seemed especially concerned as the interior team tried to locate linens while the deck team scrambled to prepare the yacht's exterior. New crew members made it seem as though Duggan, Shephard, and Berry dropped the ball. Chef Adam Glick envisioned that the yacht looked like it was Berry and Duggan's apartment.
However, what viewers didn't know was that the boat was coming off another season with a significantly smaller crew. Plus, the crew were seasick during their voyage to Greece.
Duggan ran multiple departments
Duggan told Showbiz Cheat Sheet the original crew was not simply being lackadaisical. "I knew we were going to be doing the show," she says. "I didn't know if I was going to be on the show until very, very close to the time of filming, because you're not really told until last minute."
"And so I knew that we were potentially going to be doing the show and I was working as the crew chef and the sole stew," she explains. "It's a big boat. So there's only so much I can do between cooking two meals a day for the crew, doing weekend food, keeping the galley clean. Trying to do stuff with the interior while we have work going on."
RELATED: 'Below Deck Sailing Yacht': Paget Berry Explains the Difference Between a First Mate and a Bosun
She adds, "I did the best I could with what I had. Between that and having to stow everything. I mean, the reason that there were linens stuffed in cabinets is because that's what you use to keep breakable things from falling out of cabinets. I mean, we stuffed towels everywhere."
Everyone was also seasick on their way to Greece too
In addition to juggling multiple jobs and trying to keep breakable items from being smashed during sails, Duggan said the crew got pretty seasick when they sailed the yacht to Greece.
RELATED: 'Below Deck Med': Kasey Cohen Says She Received Backlash for Being Seasick
"We ended up with really, really bad weather on our way to Greece," she explains. "Pretty much everybody was seasick the whole time and it was just miserable."
Below Deck Mediterranean viewers know the Med can be a bumpy ride. Third stew Kasey Cohen told Showbiz Cheat Sheet she was seasick during her season, despite being a trained yachtie.
Plus, she was the only one managing the interior
"So it's like, yes the boat was a mess," she says. "But normally you don't have the full interior crew join the day before charter. You have a few weeks for the entire team to get everything ready. So I was kind of at a disadvantage from the very beginning if that makes sense."
RELATED: 'Below Deck Sailing Yacht': What Are Some Common Superstitions in Boating?
She adds that when Parsifal III had additional crew members, they were all on deck. She handled the interior completely by herself. "And then when we had extra crew on, they were deck crew helping with the exterior for the more technical sailing things and for safety."
Find out if Duggan shares more about the sailing yacht during the Below Deck Sailing Yacht reunion at 8/7c Monday on Bravo.
Source: Read Full Article