90 Day Fiancé star Caesar Mack says he was with his long-distance girlfriend, Maria, for five years. During that time, Caesar only actually saw Maria in person once. As fans remember, he tried to meet up with her during filming, but she stood him up.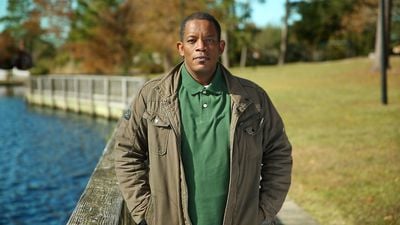 When Ceasar Mack met Maria in person
In an interview with The Domenick Nati Show Caesar did on June 21, he said that he met up with Maria in Ukraine. Unfortunately, according to Caesar, Maria deleted all the photos of the two of them on the trip off of his phone.
"The messed up thing about it is, I lent her my phone and after we took the pictures she says, 'Here, let me check out the pictures on your phone.' So I let her take a look at it, and after she took a look at it we went downstairs to the Uber. And then after she left I went back up and I looked in my Google Drive and she f*ckin erased all the damn pictures," he said.
RELATED: '90 Day Fiancé' Star Danielle Jbali Reveals What Happens If Cast Members Break Their NDA
Nati asked Caesar if he and Maria consummated their relationship during the trip.
"No. We did a couple things but it didn't get to that level. Because when I went there, I kind of knew it was gonna be like that. But I knew we were gonna do some foreplay, stuff like that," he shared.
Caesar and Aya on '90 Day Fiancé: Self-Quarantined' 
After Caesar and Maria split, Caesar went on 90 Day Fiancé: Self-Quarantined with a woman he was dating named Aya. Right off the bat, it seemed Caesar and Aya had a stronger connection than Caesar ever did with Maria.
But when Caesar went to New Orleans, where Aya lives, to finally meet her, she stopped answering her phone and completely ignored him. So Caesar went home early. Soon after arriving home, Caesar says Aya asked him for money and he ended up ending the relationship and blocking her. Caesar told Nati he didn't have sex with Aya either.
RELATED: '90 Day Fiancé': Geoffrey Paschel Is Standing up for Both Varya Malina and Mary Wallace Online
"I didn't have sex with any of them. Just kissing, talking, that was really about it. I didn't get there to expect to get intimate, really, with them. That wasn't my thing. My thing was be there to actually build a relationship, get to know the person, build memories, kind of start something special. Unfortunately, people want to take advantage of you and that's how it goes," he said.  
Caesar went on to say that the last time he had sex was about five years ago with "Baby Mama." The reality TV star has one daughter who's eight years old. She does kickboxing and Brazilian jiu-jitsu. Caesar proudly stated that she's "won about six or seven tournaments."
RELATED: '90 Day Fiancé': Caesar Mack Says Jesse Meester Was Going to Be His Best Man If He Married Maria
Source: Read Full Article