Levi's has been running in one form or another since 1853, but it wasn't until 1873 when Jacob Davis partnered with Levi Strauss to introduce the patented rivet that now features throughout the company's designs. After producing overalls for miners for around 20 years, it developed the epochal 501 jean in the 1890s. To this day, it remains the undisputed king of denim, something that is so ingrained in daily life that we can safely assume almost all of us have a memory associated with it.
Now, the brand is looking to the future. Do you think you could tell the difference between an original pair of jeans and ones made using a laser? We think you might be hard-pressed to tell. Using its F.L.X. technology (which stands for future-led execution), Levi's is bringing back vintage pairs of jeans using the most contemporary technology around, all while reducing water wastage, combating overproduction, and making sure it can react to trends almost immediately. 
F.L.X. can recreate the look and feel of vintage denim — and there's more to than just that. Its purpose is not to replace the thousands of pairs that frequent thrift stores globally, but to make us think about what we buy, how we wear it, and what to do with it once we're done with them. To find out more about Levi's' F.L.X. project, HYPEBEAST spoke with Bart Sights, Senior Director for Technical Innovation at Levi's, for our latest installment of What the Tech?, digging deeper into the future of the dynastic denim brand. 
The History of Levi's Denim
HYPEBEAST: What is the usual design and production process of making a pair of Levi's jeans?
Bart Sights: All of our inspiration for new designs and finishing, and in some ways fit, comes from vintage and heritage. We have a fantastic archive, and as you know, the world is filled with old Levi's. From a finish standpoint, inspiration comes from old jeans, and the way the market is now, we have to come up with a couple thousand different shades every year to supply the demand. The designers throw a pair of [vintage jeans] on the floor and say, "do this." So, we traditionally write a recipe that chains together a lot of machine and manual applications: washing machines, ovens, driers, spraying, oxidizers, sandpaper, Dremel tools, razor blades. We have a lot of experience and when we see vintage jeans we know how to build that recipe, it's a lot like cooking. 
It's a long and laborious process to develop one finish. From a manufacturing standpoint — once that's developed — you need to transfer that and scale it. You have to go to the factory and teach as many as 800 people how to draw that pattern on with sandpaper and Dremel tools, and make that exactly the same every time. We've been doing it that way for 35 years, and F.L.X. was a radical departure from that. 
The What, Why, and How
Does F.L.X. follow the same idea of a recipe? 
It's simplified. Everything we do is rooted in authenticity, so we're still inspired by vintage jeans and we still go through the same process of design choices, and then we replicate that. The difference with F.L.X. is once we throw the jean on the floor, instead of using a recipe that has 20 steps, we create bases. 
When I started in this industry 35 years ago, there were three finishes: dark stonewash, medium stonewash, light stonewash. We took ourselves back to that and we stage bases of dark, medium, and light, and then we draft a recipe from that. Instead of someone trying to mimic with sandpaper the wear patterns and damage holes [of vintage jeans] with manual tools, we scan that jean in a way that we can lift all of those attributes digitally. The software we built allows us to manipulate that and highlight and lowlight and build a digital file the laser can read and then mark. 1 of 3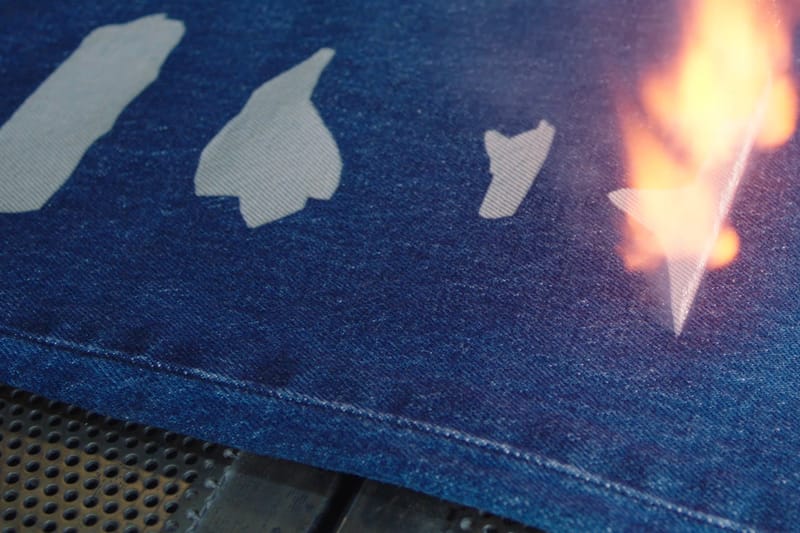 Levi's2 of 3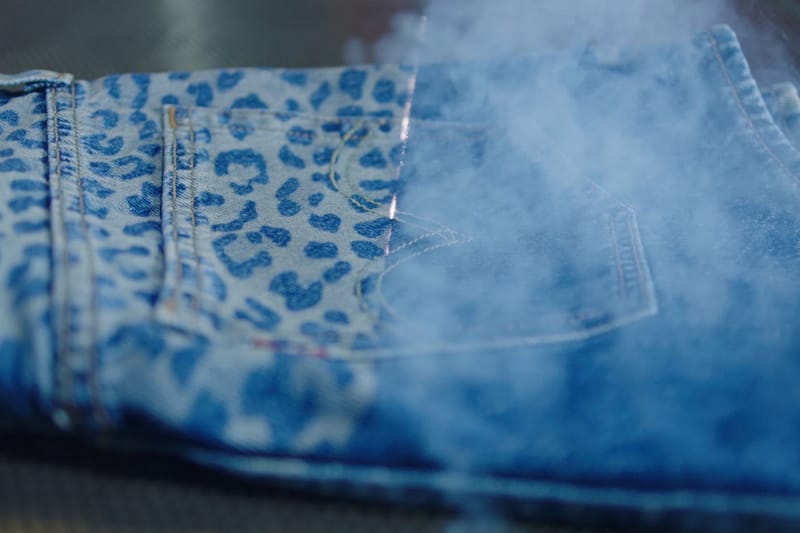 Levi's3 of 3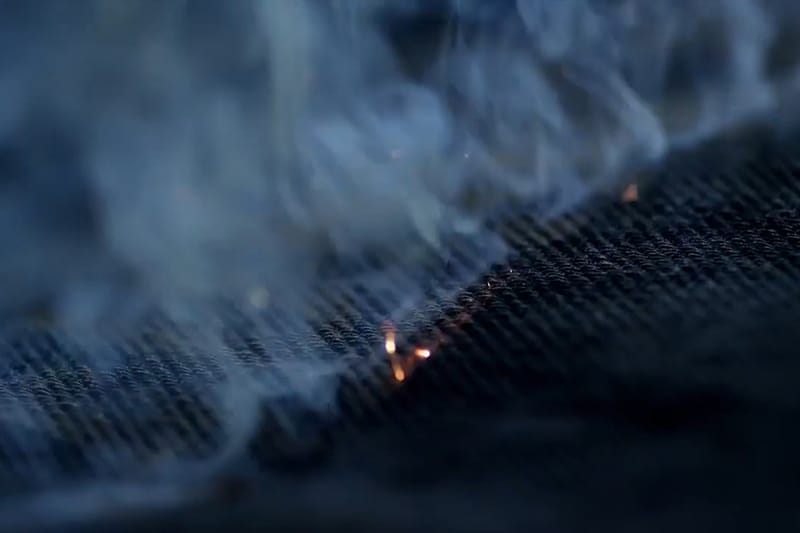 Levi's
Traditional finishes were 18-20 steps, F.L.X. is three steps: we create a base, we mark with a laser, and then we post wash which gives us an opportunity to make more variation from that base, with tints and bleaches. It's very sustainable, and we're not having to create everything from scratch every time. 
The denim and fashion industry is not inherently sustainable, while things such as hand-distressing is arguably a more eco-friendly approach than machine methods. How is F.L.X. more sustainably-minded than traditional methods?
We consider sustainability in two areas: social and environmental. F.L.X. checks both boxes. From a social side — as I mentioned before when we scale a finish — we have to teach that to hundreds of factory workers. Those hand-sanding and spraying jobs are the least desirable jobs in the factory, I've done those jobs for a living and there's a lot of repetitive motion, if you're not protected well you can breathe stuff that you shouldn't, you'll blow your nose and it's all blue. We're trying to get rid of those jobs, and we're trying to get rid of exposing those jobs to different things that are put into the air when we create a finish. One of the things we use in almost all finishes [traditionally] is an oxidizer called potassium permanganate, and we're on a path to eliminate that from our supply chain because it's not a great chemical. 
On the environmental side, because we are able to make so much variation from a few bases, we avoid using as much water as we used to and then the big thing is chemicals. When we started F.L.X., we took the chemical list from every factory that we use — all the chemicals we use — and that number adds up to over 1,000 different chemicals. We're able to provide as much variation as needed with F.L.X. with only a few dozen chemicals because we're letting the laser do the work. 
Is F.L.X. more productive?
The biggest thing it does is shorten the process. Fast can be taken out of context, we don't want to be considered fast, but we do want to be considered closer to the selling point. If you think about the process I described at the beginning, that's pushing our design point more than a year back before we sell it. A denim finish is dangerous to design a year before we sell it because the trend can change. With F.L.X., we create a process that is much more benign and faster, and because it doesn't need an army of people and lots of logistical support, we can do it anywhere — even in-market. We create bases and then ship them out to markets and wait to see what we need and what the consumer is telling us for looks. 1 of 3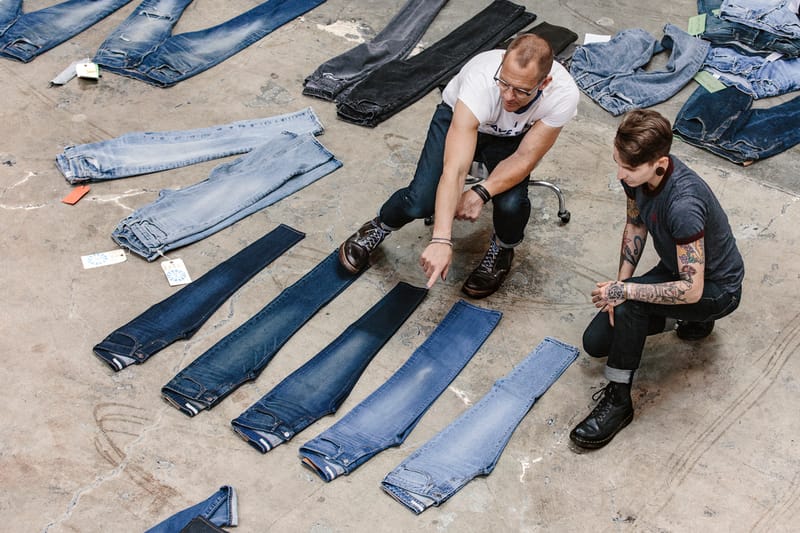 Levi's2 of 3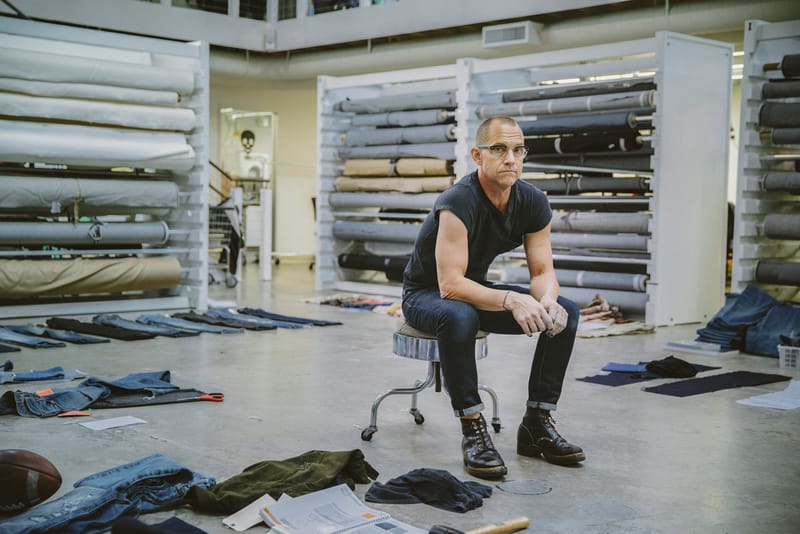 Levi's3 of 3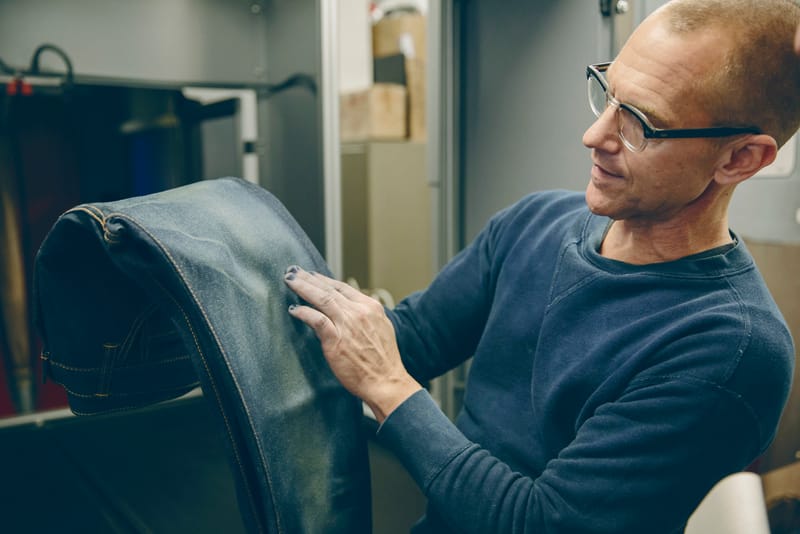 Levi's
People buy Levi's because they're seen as the original in authentic denim, but here it's a laser doing all the work. How does F.L.X. play into or work with the idea of authenticity?
Authenticity is our core. Mr. Strauss invented the jean. The finishing that we've done, the treatment of raw denim over the past 35 years, you could argue that none of that is authentic. Truly authentic for real denim heads — I'm probably one of them — was to wear a jean from rigid, off the shelf and create all that yourself. That takes a special type of consumer and wearer, and it's a small percentage. I'm still in that percentage, even though I've worked in finishing for a very long time I've never worn a finished jean. You have to have a lot of patience and have to truly appreciate a lot of aspects and attributes. 99 percent of the consumers aren't like that.
We've been creating versions of [vintage jeans] for the whole time that finishing has been around, and we've done that with sandpaper and Dremel tools. To do that with a laser, and it looks and feels the same and you can't tell them apart, it's a hard argument for me to accept that it's more authentic to do it with sandpaper than with a laser. All-in-all, they're all duplicates or knock-offs of something that's truly authentic and worn for many years. 
Is F.L.X. less or more personal for the consumer?
I'd say more personal. It's so easy to do and you can do it anywhere. We set up a shop in Miami last year and unfortunately with COVID-19 we've had to close it, but we had an incredible time with consumers making their own finish and we did it right in front of them. That offers a great personalization play. With traditional finishing, we created in mass these jeans before we knew what the consumer truly wanted, compared to now when we are reacting and doing it in a sustainable way to give them what they want when they want it, I think that's more personal.
The Future of Levi's
Could the denim industry ever be fully sustainable?
We've started a new campaign that talks about buying in a way that's more responsible. The tagline is "Buy Better, Wear Longer." I think that's a great message for the consumer, because durability is at the core of the value of our jean, and durability is the core of our values. Mr. Strauss built those jeans because of the need for durability, he built it with materials and patented processes that hadn't been used before — the pants miners were wearing out after a few days, so he built something that lasts. That carries through until today.1 of 2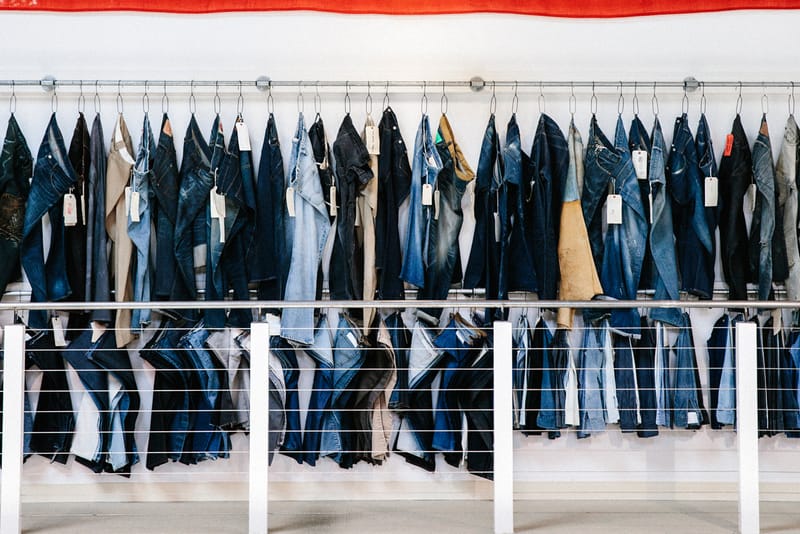 Levi's2 of 2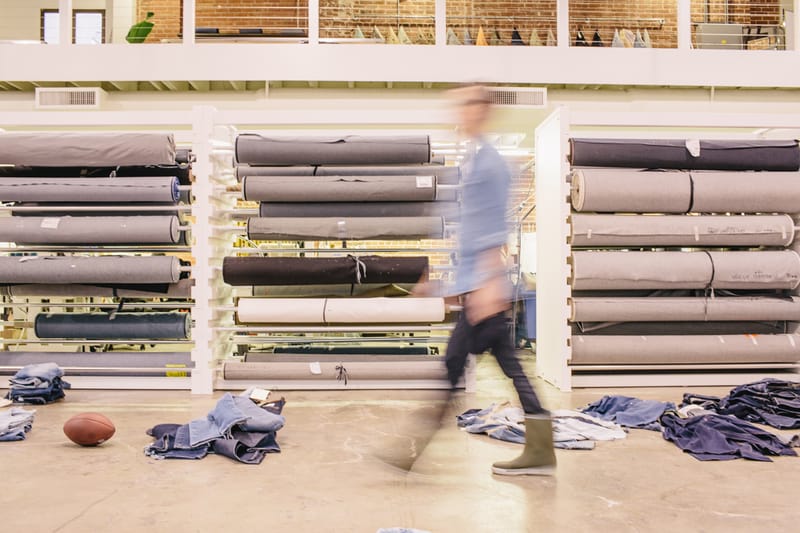 Levi's
Consider durability, buy well, buy smarter, and buy something that's going to last. With human nature today, if you're tired of wearing something, consider how to wear it differently, or repair it, sell it. 
We're also working on recycling to really close the loop. It's a journey, and things like F.L.X. are contributing — not just from a sustainable standpoint as far as reducing the number of pants we need to make — to better match supply and demand. 
With all this in mind, what does the future of Levi's look like?
The future is very bright. We are continuing to put ourselves at the center of culture and create experiences and products for future generations to enjoy and live in our products, like past generations have. The most important thing is that we're approaching it in a way that continues to be more responsible and think about the experience and lives of our consumers and life of the planet, and that's why sustainability is a huge part of everything that we do.
Source: Read Full Article