"It's a never-ending battle," says Victor Perez, a touch ruefully, as he reflects on arguably the best golf he's ever played. It is a testament to the Frenchman's willpower, but also the sport's fickle and addictive nature that, after career-best performances at the Players Championship and WGC Match Play, the celebrations still come with a caveat. "When you think you're there, that's when you let your guard down," he says. "And then you start getting a little bit sloppy."
It might feel a little ominous, but then Perez's quiet storm up the world rankings, currently sitting at a career-high No 30, is no mean feat for a player who, only six years ago, was plying his trade on the Alps Tour. It is hard to determine whether he is exceeding expectations or blossoming late into them, but what's clear is that Perez's recent success is no fluke or flash in the pan, rather the result of a steady and often arduous persistence. "I think belonging is definitely something very important in golf as you move up the tiers," he says. "There's an element of wanting to prove to yourself, that you belong, and that you can compete with those guys."
Perez is not afraid to admit that, at first, "it can be quite intimidating". As an amateur at the University of New Mexico, he would come up against the likes of Jordan Spieth and Justin Thomas and be left a little awestruck by their ability. If that set a benchmark that Perez has been pursuing ever since, his recent form has finally delivered a sense of validation.
"It's a matter of being comfortable and letting yourself play to your level," he says. "These two weeks, from The Players to the Match Play, gave me some of that confidence. You can't think you own [your place or ranking] because that's quite a dangerous and maybe overconfident place to be. But there definitely needs to be a sense of thinking you can beat anyone on any given day."
Perez has little trouble staying grounded, in large part because of the lengths he's already travelled. While several elite college players transitioned seamlessly onto the PGA Tour, he returned to the developmental ranks, embarking on far-flung trips for significantly smaller prizes in pursuit of a place on the European Tour. And it wasn't until September 2019, at the Alfred Dunhill Links Championship, that he finally secured his maiden win on the circuit, using his local knowledge of St Andrews after moving to Scotland to live with his girlfriend 18 months earlier.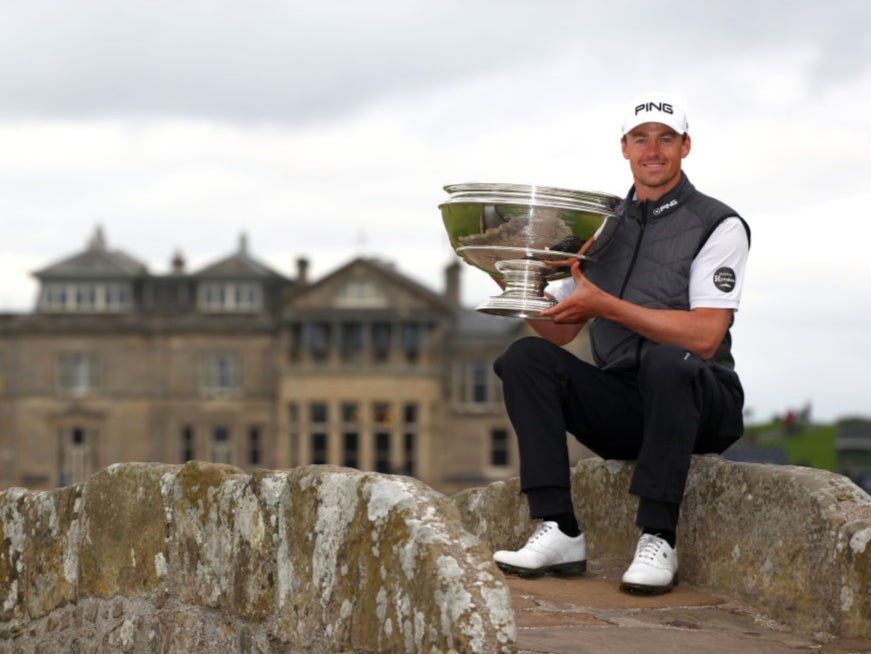 Perez celebrates winning the Alfred Dunhill at St Andrews in 2019
"When you start there [on the Alps Tour], you have hopes and dreams but it's the best option that's available," he says. "You have to make sacrifices to elevate. You are always playing against yourself: 'How much better can I really get?' It's a matter of having the right mindset. There were sacrifices but they needed to be made in order to get to the next level. It wasn't always easy and bright and great, but it wasn't a struggle. I was playing golf for a living and that joy was always at the centre of everything."
Read more
Fitzpatrick: 'I can go to Augusta and win. That's an amazing feeling'
McIlroy needs to 'go back to basics', says Harmon
Finau's remarkable road to Augusta
That sense of pleasure was evident in Perez's play long before he was bludgeoning his way to a 4&3 victory against Sergio Garcia to reach the semi-finals of the Match Play last month. He has played consistently well ever since that cathartic first victory and took his first appearance at Augusta in his stride last November when, despite the inevitable giddiness of making his debut, he avoided "burning too much energy", played with a typically steady composure, and made it to the weekend.
Independent Rugby Newsletter
Live Rugby union coverage direct to your inbox every week
Read our privacy notice
Independent Rugby Newsletter
Live Rugby union coverage direct to your inbox every week
Read our privacy notice
"It was obviously crazy," he says. "When it's your first time and it's everything you've seen since being a kid, watching it on TV, the music, the yellow flags, it's just a matter of trying to stay in control. That's probably the hardest part because it's very easy to get sucked into all those little things.
"I felt like there was an element of ignorance of me not knowing the place as well and it being played in November. It was a little bit fortunate for me to play my first Masters in those scenarios. It was a good introduction and I was happy with the way I played. I think there are a lot of positives to take. I'm obviously very happy with the progress and where my game is trending. It's a great time to be playing well."
That's true not only for the year's first major but also the postponed Ryder Cup. Hoping to become just the fourth Frenchman in history to feature in the tournament, Perez got a flavour of the champagne-soaked celebrations when he attended Le Golf National in Paris as a spectator in 2018. And while he is currently on the fringes of the selection pool, he knows that a stellar run of form could well see him force his way into Padraig Harrington's plans. To achieve that, there is no caveat. He just has to prove once again that he belongs.
Source: Read Full Article