Before Rhuigi Villaseñor started designing clothes in the early 2010s, blew up when Kendrick Lamar rocked his now-famous bandanna print tee to the 2012 Grammys and settled into a rarefied space with his brand RHUDE adored by athletes, musicians and fashion aficionados alike, he lived a nomadic lifestyle. Born in the Philippines, Villaseñor moved all over the world as a child before settling in Los Angeles — and when he made it to LA, a city that would come to define his brand ethos, he also discovered his favorite sneakers:
Puma
HYPEBEAST: What got you into sneakers?
Rhuigi Villaseñor: When I was growing up, sneakers were a gateway to meet friends and connect with so many different subcultures. Sneakers were, and still are, a great way to find similarities with people — they let you communicate without having to say a word.
You were born in Manilla, and grew up everywhere from Saudi Arabia to Thailand and China before touching down in Los Angeles. Did you become aware of sneaker culture when you settled in LA or did you find out about it before then?
Yeah man, it was definitely a Sisterhood of the Traveling Pants type deal when I was a kid [laughs]. My father was an architect and we were always on the go. I found out about sneaker culture back in the Philippines though. I had family in America, and they'd always send us care packages of shoes from PUMA and all these other brands. There's a lot of poverty in the Philippines — so to even have slippers is a blessing, and when you have a sneaker? You're the man. I was really fortunate to have parents that were keen on making sure I was always dressing well.
So it was a big moment when those balikbayan boxes arrived from your family in the US?
Yes! You understand exactly what I'm talking about, the balikbayan boxes. I never go in depth on them because most people don't get it, but those boxes were such a big deal. I'll never forget opening them, and the smell of the new shoes inside. I still remember it vividly now.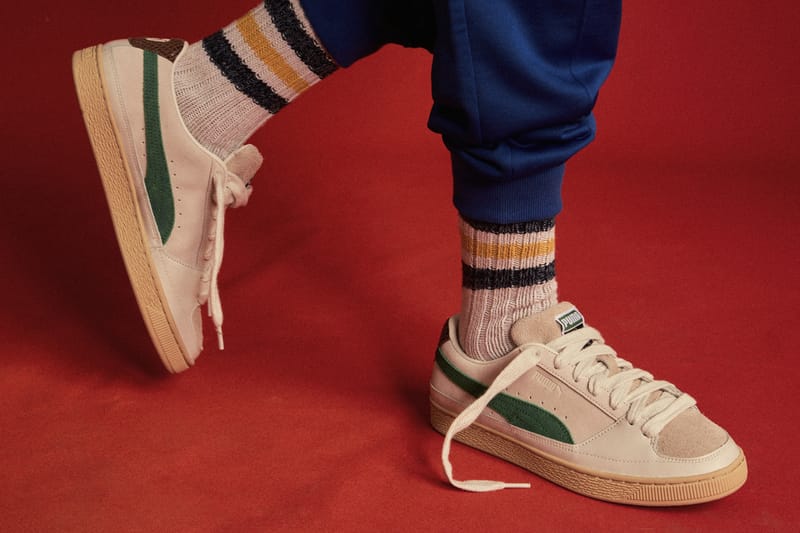 Puma
When did you become aware of the PUMA Suede?
When I was in middle school. I started wearing them around sixth grade, when my family moved to America. I don't think I even told this to PUMA, but I used to rock my Suedes with fat laces, which I'd tuck my pants into. I preferred really baggy pants at the time, so it was an interesting look. Most of my friends were wearing shoes like the Superstar or the Air Force 1, but I never wanted to wear the same stuff as everyone else.
So the look was a mix of California skate style with baggy Dickies and classic hip-hop style with the fat laces?
Yeah man, and what was funny was that I didn't even fully realize that's what I was doing — I just did it because I liked the way it looked.If I wasn't wearing Dickies pants I'd usually rock my Suedes with something like some baggy Dickies shorts, a T-shirt from Spitfire or Independent and a trucker hat [laughs].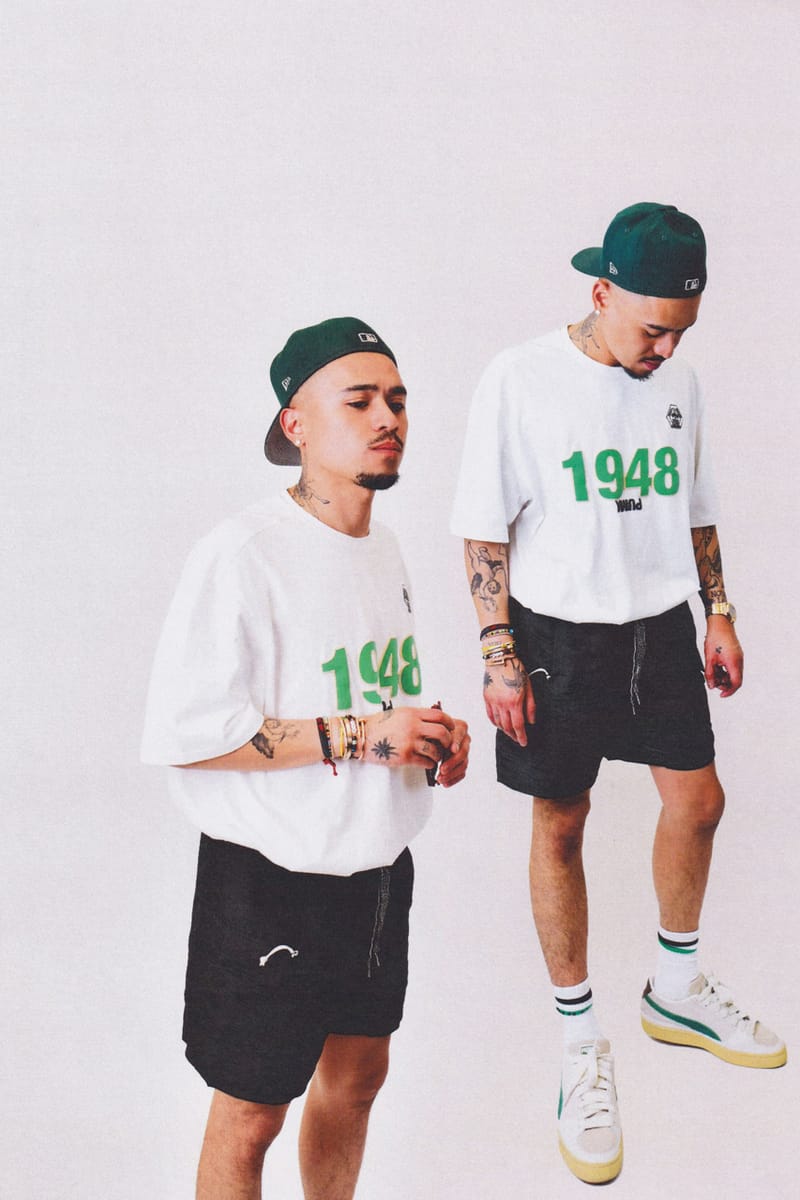 Puma
It's interesting how styles like that carry from generation to generation even if kids are doing it unintentionally. Some products just seem to have subcultural resonance woven into their DNA.
Totally. Old habits and styles never die, they just needa new generation to uncover them. Kids these days want to wear baggy clothes and rehash these classic styles. Obviously they've tweaked, modified and modernized the look, but I'm still like "oh wow, we were on the pulse of things when we were kids too" [laughs].
"When I'm collaborating as Rhuigi, I can tell an even more personal story and explore the things that made me who I am."
The Suede you created is a collaboration between you and PUMA, not between your brand RHUDE and PUMA. Do you feel like that lets you be more open from a design standpoint, as you don't have to follow a brand ethos quite as closely?
I get to think in a freer space when it's a Rhuigi project. Obviously whatever I'm working on still gets the same love and energy, but in a more open sense. When you have a brand, you have to build parameters and codes to ensure you stay true. When I'm collaborating as Rhuigi, I can tell an even more personal story and explore the things that made me who I am. Those projects are special to me because they're me! I can mine 20-some years of my life for inspiration.
You did collaborative sneakers before you ever produced an in-line RHUDE sneaker. What did collaborating teach you about the footwear design process, and how did what you learned translate into the process of making your own shoes?
I'm a firm believer that if you're looking to do something you should learn how to do it from the best. I had to tap in with PUMA, one of the best, to learn how to make shoes. It's important to me that I understand the craftsmanship of an item and pay the proper respect to it before I attempt to make it myself. I can't control where a collaborative product goes, but I can control how it's developed and the experience it provides. Watching someone unbox a product and react to it is still a beautiful moment to me. It's such a special moment for the consumer, and it's on me to provide that moment. I fully understand how to provide that moment, but I needed to learn the ins and outs of footwear development and production, so joining forces was important to me.
"Every time I collaborate I'm like "what is the foundation of this brand I'm collaborating with, what is their story like and how do we tell it to a new consumer?"
How do you approach designing a collaboration as opposed to designing an in-line sneaker? Do you go into the collaborator's world, bring them into your world, or is it a mixture of both?
That's a really good question because I feel like I'm still in the middle of really figuring out how to do it. How I've done it in the past is viewed myself as a Swiss Army knife instead of honing in too keenly on any one design element. Obviously there are aesthetics that run through all my designs, but every time I collaborate I'm like "what is the foundation of this brand I'm collaborating with, what is their story like and how do we tell it to a new consumer?" I think that collaboration can be driven by an excessively futuristic mindset sometimes, and people forget that the only way to move forward is to learn from the past.1 of 2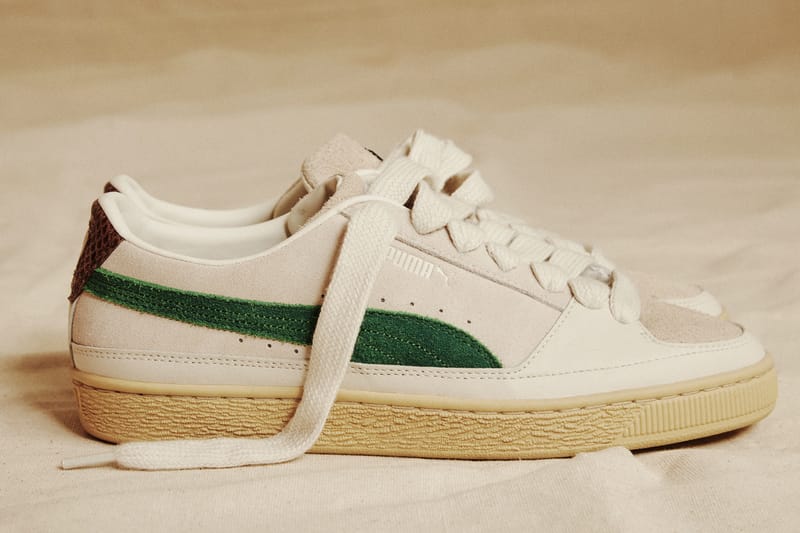 Puma2 of 2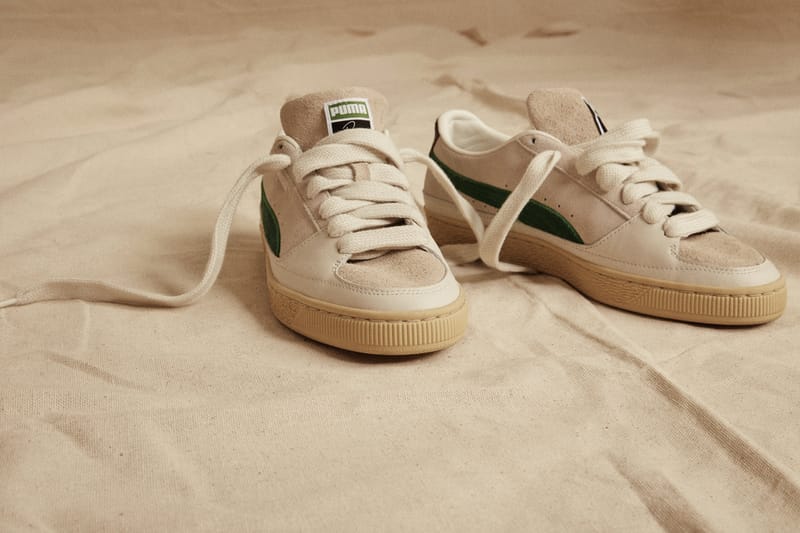 Puma
On that note, how do you approach re-working a classic silhouette like the Suede as opposed to a newer model like Kyle Kuzma's PUMA Clyde All-Pro Kuzma Mid? Are there major differences in those processes, or do you see casual and performance shoes through a similar lens?
I view it through the same lens in a way, but I understand that the brand needs to be pushed forward in a different fashion when I'm working on a performance product. It's like how if you're having a house party you can't keep playing jazz all day. Everyone loves jazz and it'll always be acceptable, but at some point you've gotta turn it up and bump some hip hop, dance music or something like that to take things to the next level, know what I'm saying? The new builds and fabrications provide that new sound, that new style, much in the same way switching up the music would.
"This Suede is probably one of my favorite projects I've ever worked on."
A little bit of fresh, a little bit of familiar.
Yeah man. You update a classic design and … I mean, this Suede is probably one of my favorite projects I've ever worked on. It's close to my heart, and I see it as the manifestation of me designing as a kid without even knowing I was designing. Such a special experience.
This Suede hits home a little different than your past collaborations, huh?
I've got four pairs, bro! I can't think of any other sneaker I have four pairs of [laughs].
That leads in well to the final question: why are sneakers important to you?
They're so powerful — people's affinity and connection to them makes me want to dive even deeper into them. I've learned so much from sneakers, and can't wait to find what's the next frontier in the world of sneakers.
Source: Read Full Article