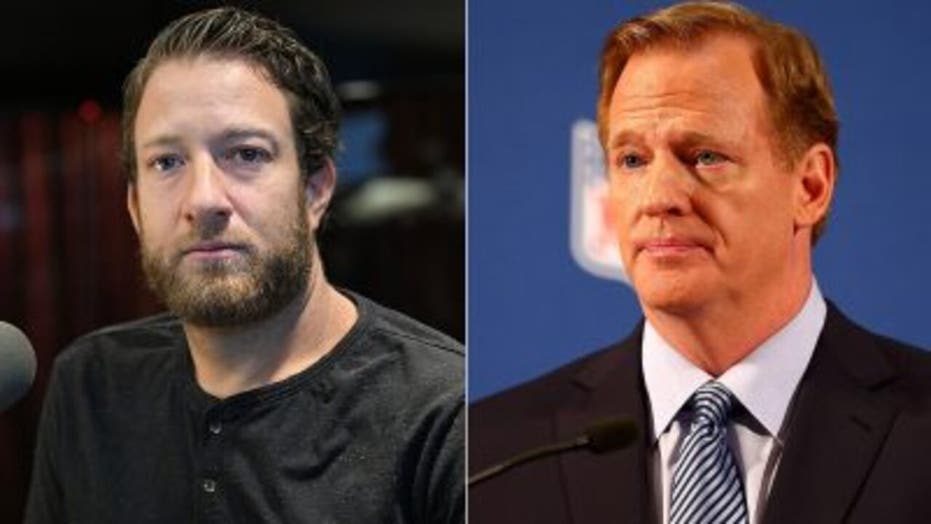 Dave Portnoy discusses Roger Goodell feud, potential for detente
Barstool Sports founder speaks out on Fox Nation's 'Tucker Carlson Today'
Barstool Sports founder and president David Portnoy joined Fox Nation's "Tucker Carlson Today" on Monday for a wide-ranging discussion about everything from his sports media organization, to Wall Street, to his apparent lifetime ban from National Football League events and property.
The latter stems from an incident that led to the arrest of Portnoy and two of his colleagues for trespassing — after they handcuffed themselves to a desk inside NFL HQ on Park Avenue in New York City, where they demanded to speak to NFL Commissioner Roger Goodell about his suspension of then-New England Patriots quarterback Tom Brady over the 'DeflateGate' scandal.
The activities earned Portnoy a ban, and he told host Tucker Carlson he still has not spoken with or engaged in any way with Goodell who has been the leader of the league since the retirement of Paul Tagliabue in 2006.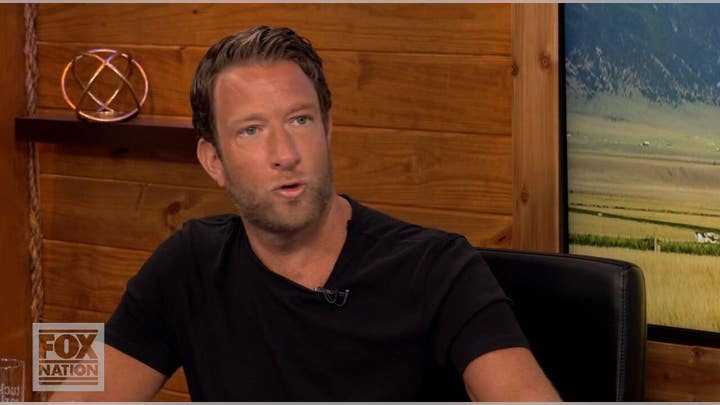 "If he at any point in this 5-year saga acknowledged our existence, poked a little bit of fun at it, he'd kind of win — ironically he gave us this 'outsider renegade' vibe that has helped us very much," he told Carlson on Monday.
"It made it seem like 'NFL & Roger Goodell' versus little old Barstool," Portnoy said.
Portnoy added that, after the incident at the Super Bowl in Atlanta, the NFL later tried to have him ejected from a victory party hosted by the New England Patriots.
He described watching the game from a holding cell, and later being stopped by NFL security after entering the nearby hotel where the party was going on.
"NFL security tried to kick me out of the hotel," he recalled, adding that Jonathan Kraft, son of team owner Robert Kraft, had given him personal tickets to the event.
The NFL security staff then called Kraft, Portnoy said, as they were ejecting him.
"Who've you got — 'Dave' — He stays," Portnoy recounted, adding that he has had a great relationship with Kraft and his family for many years.
Goodell, on the other hand, is "the most overpaid human of all time," according to Portnoy.
"He's basically a 40-million-dollar punching bag for when things go wrong…. he just kept the train on the tracks, came from a good family — got in at the right point."
To watch the full interview with Dave Portnoy on 'Tucker Carlson Today,' sign up now at Fox Nation.
New episodes of "Tucker Carlson Today" are available every Monday, Wednesday and Friday exclusively on Fox Nation. Join Fox Nation today to watch Tucker's full interview with Scott Yenor and other great episodes.
Fox Nation programs are viewable on-demand and from your mobile device app, but only for Fox Nation subscribers. Go to Fox Nation to start a free trial and watch the extensive library from your favorite Fox News personalities.
Source: Read Full Article