Just about anyone would jump at the chance to be able to live like royalty, even if it were for just one night. Chances are, not too many fans will ever have the opportunity to be an overnight guest at one of the royal residences, although we love to imagine what that would be like. However, just like so many other people, the royals are no strangers to hotels, even if their favorite is likely a little more luxurious than most people are used to.
The royals visit their favorite hotel pretty often, especially for special occasions. Those who are lucky enough to visit London might want to check out where the royals go, and possibly even stay over for a night or two. However, accommodations don't exactly come cheap – as most fans would expect, rooms can be pretty expensive. So, how much does it cost to stay at the royal family's favorite London hotel?
Meghan and Harry were at the hotel recently
There are plenty of places in which they can stay in London, so why were Meghan and Harry recently at the Goring Hotel? Well, it turns out that they didn't need a place to sleep for a few nights, instead, they were hosting a farewell luncheon for their staff. Now that they are stepping down as senior royals, their office at Buckingham Palace will soon be closing, and there are quite a lot of people for them to thank and say goodbye to. According to Harper's Bazaar, the couple didn't want to leave without recognizing everyone's dedication and hard work over the past few years, so they invited everyone to the hotel for one last celebration before officially resigning as senior working royals. What a wonderful thing for them to do.
The royals are regulars at the Goring Hotel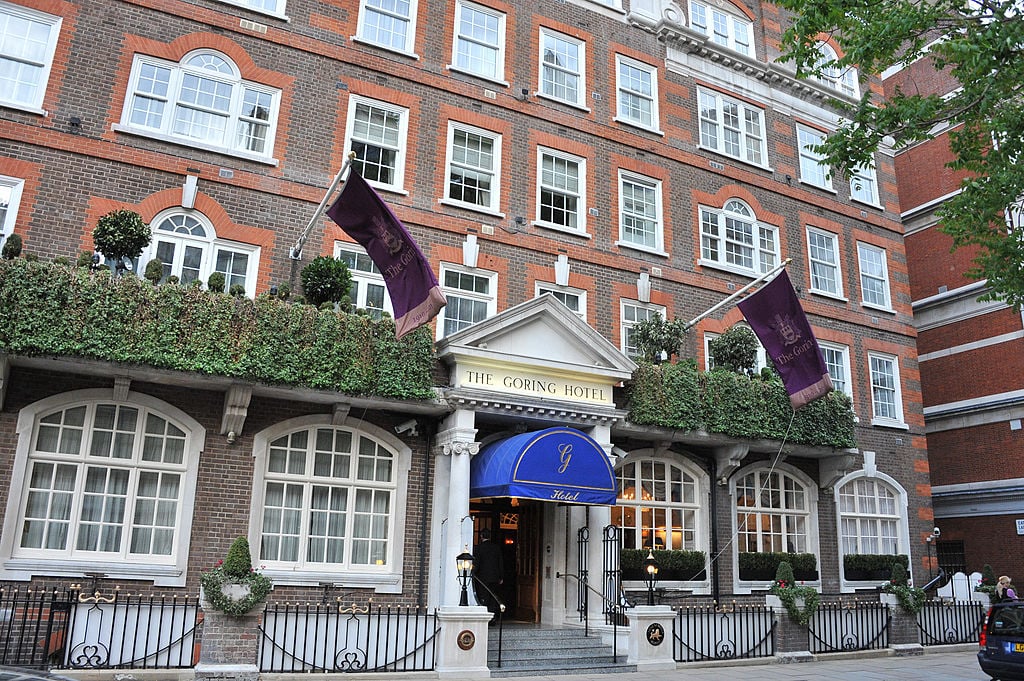 Meghan and Harry weren't the first royals to visit the Goring Hotel, and chances are, they won't be the last. So, who else has stayed there or hosted an event? According to Hello! Magazine, Kate Middleton, along with her mother and sister, stayed at the Goring Hotel the night before her wedding to Prince William. The Queen Mother and Queen Mary have been guests at the luxury hotel, as has King George VI.
Some other fun facts about the royal family's connection to the Goring Hotel? The onsite pastry chefs were given the honor of creating Prince Charles' christening cake, and the Goring Hotel is the only hotel in the world to ever receive a royal warrant from Queen Elizabeth. That's not all. The Queen Mother loved one of the egg dishes served by the hotel, and they still serve it to this day in her honor.
How much does it cost to stay at the royal family's favorite London hotel?
The Goring Hotel sounds like a pretty swanky place! So, how much does it cost to stay there? According to their website, rooms start at about $480 per night, although the steep cost is well worth it. Those who are willing to spend a little more can get a suite for around $1,000, however, if you want to stay in the royal suite, be prepared for it to set you back almost $10,000! What do these high rates include? Stunning views of London, a flower garden that is nothing short of spectacular, and service that is unmatched. It is really no surprise that the Goring Hotel has been the favorite of the royals for so many years. The hotel sounds like the perfect place to stay during a trip to London, or even just to pop in for afternoon tea. 
Source: Read Full Article