As Maggie Keswick Jencks was dying of cancer in the 1990s, she articulated everything she didn't like about hospital design. The Scottish writer, gardener and designer loathed the dearth of windows, the obtrusive lighting and the miserable seating. She didn't care for how much these institutions privileged orthodox medical treatment over emotional wellbeing. She wanted more nature and less austerity. So she began developing plans for the sort of set-up that would suit her – and other patients – better.
The first Maggie's Centre opened in 1996, the year after her death in 1995 at the age of 53. Designed by British architect Richard Murphy, this cancer-support hub was calming, homey and intimately connected with the outdoors. In the 24 years since, another 29 Maggie's Centres have opened. They have been designed by a roll call of prominent architects and landscape designers and – in keeping with Maggie's vision – each has a garden, even if simply a small, planted courtyard.
The view from a window in Lily Jencks' Scotland house, designed by her and a few kilometres from Portrack House where her father created the Garden of Cosmic SpeculationCredit:Sergio Pirrone
Two of the centres have gardens designed by Maggie's daughter Lily Jencks, who runs Lily Jencks Studio in London. Jenks is in Australia this month to speak about the healing power of landscape at a Melbourne Design Week symposium. Transformative Landscapes: Reshaping the City that Shapes Us will examine how landscape architecture and urban design can affect health and wellbeing.
Lily Jencks with Camilla, Duchess of Rothesay at Maggie's Centre in Glasgow last year. Credit:Getty Images
Speaking on the phone from Dumfries in Scotland, Lily says she has long understood the restorative power of the natural world and how it can "take you outside of yourself". Even now, at 7.30am in a truck parked on top of a hill that gets good reception, she is noticing how all the snow that fell the night before has melted, how the rolling countryside looks "so beautiful" at this hour.
She is parked a few kilometres where her father, the architectural theorist and landform architect Charles Jencks, who died last October, created his famous Garden of Cosmic Speculation at the family home, Portrack House.
Lily, who about five years ago designed a house for her and her family nearby (it's nestled into the ruins of a stone barn, looks a bit like a submarine and has long, sweeping views) says that when she was a teenager and her mother was unwell, she spent a lot of time walking these hills: "It was a therapy of pilgrimage."
The garden Lily Jencks designed for the Maggie's Centre in Glasgow. Dutch architect Rem Koolhaas designed the building.Credit:Lily Jencks
After Maggie died, when Lily was 15, she kept "walking and thinking". "The kind of meditation that comes with that was a very helpful way of dealing with grief at that time," she says. It's also one of the reasons she has started to consider landscape as a piece of "high-performance infrastructure".
"You don't have to go into it, touch it or smell it, you can just look at it" to derive its health benefits, which is why you can experience all Maggie's Centre gardens, including Lily's ones in Glasgow and Hong Kong, from inside as well as out.
Being next to large hospitals, Maggie's Centres tend to be in busy urban locales with far from bucolic backdrops, which, as Lily puts it, makes it all the more important to design the buildings and grounds as if you are "entering a world apart". "It's not about you as a patient but about you as an individual who loves music or food or community".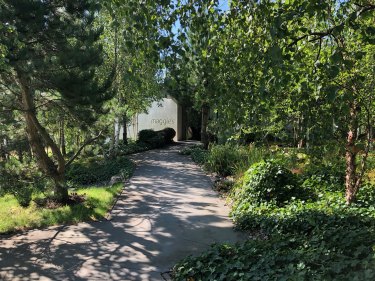 The garden Lily Jencks designed for the Maggie's Centre in GlasgowCredit:Lily Jencks
But Jencks, who also teaches architecture and who splits her time between London and Scotland, says many of the principles for designing expressly "therapeutic gardens" around health care institutions are relevant for designing any landscape.
Extending views – ideally all the way to the horizon – as well as allowing for surprise elements, highlighting seasonal dynamics and providing different places to sit, are all-round "good landscape practice".
She says that, increasingly, she is also of the belief that personal health is intertwined with landscape health and that it is not possible to think about a person's needs and the environment's needs in isolation.
"The health of the individual and the health of environment are at two very different scales, one is personal and the other is global but they are connected," she says.
"If you look at urban design now, thinking ecologically is thinking healthily. It's not just healthcare environments we need to be thinking about. We have to focus on the health of the individual and the health of the environment. We need to think at both scales."
Transformative Landscapes: Reshaping the City that Shapes Us is 8.30am to 1pm on Thursday March 19, NGV International, $40/$25 students. Other speakers include Sydney-based doctor Paul Torzillo, Melbourne-based landscape architect Claire Martin and Danish architect Johannes Molander Pedersen. designweek.melbourne
Source: Read Full Article