The boxing fairy tale got serious on Monday afternoon at the European Olympics boxing qualifier when Charley Davison won her first contest.
Davison is the mum of three, the former youth champion who took seven years out to have three children and help her partner run a restaurant. Well, now she is back.
At the Copper Box in east London on Monday, with her family and friends locked out, Davison was quite brilliant against Ireland's Cathy McNaul. She won all three rounds and forced the referee to give McNaul two standing counts in the third round.
Download the new Independent Premium app
Sharing the full story, not just the headlines
Davison improved with each second as she relaxed, moved her feet and picked off McNaul with short counters and long shots. It was just one of those fights where everything that a boxer tries seems to work. The final scores reflected the dominance and it really was a flawless display against a seasoned boxer. McNaul won a silver medal at the Commonwealth Games in 2018 at a time when Davison was knee-deep in nappies from her third child.
Last December Davison was invited to attend a GB Boxing Assessment session in Sheffield; at the time she had ended her domestic exile and returned to the ring to win the 54kg English title. However, that title is still only remotely connected to where she is right now.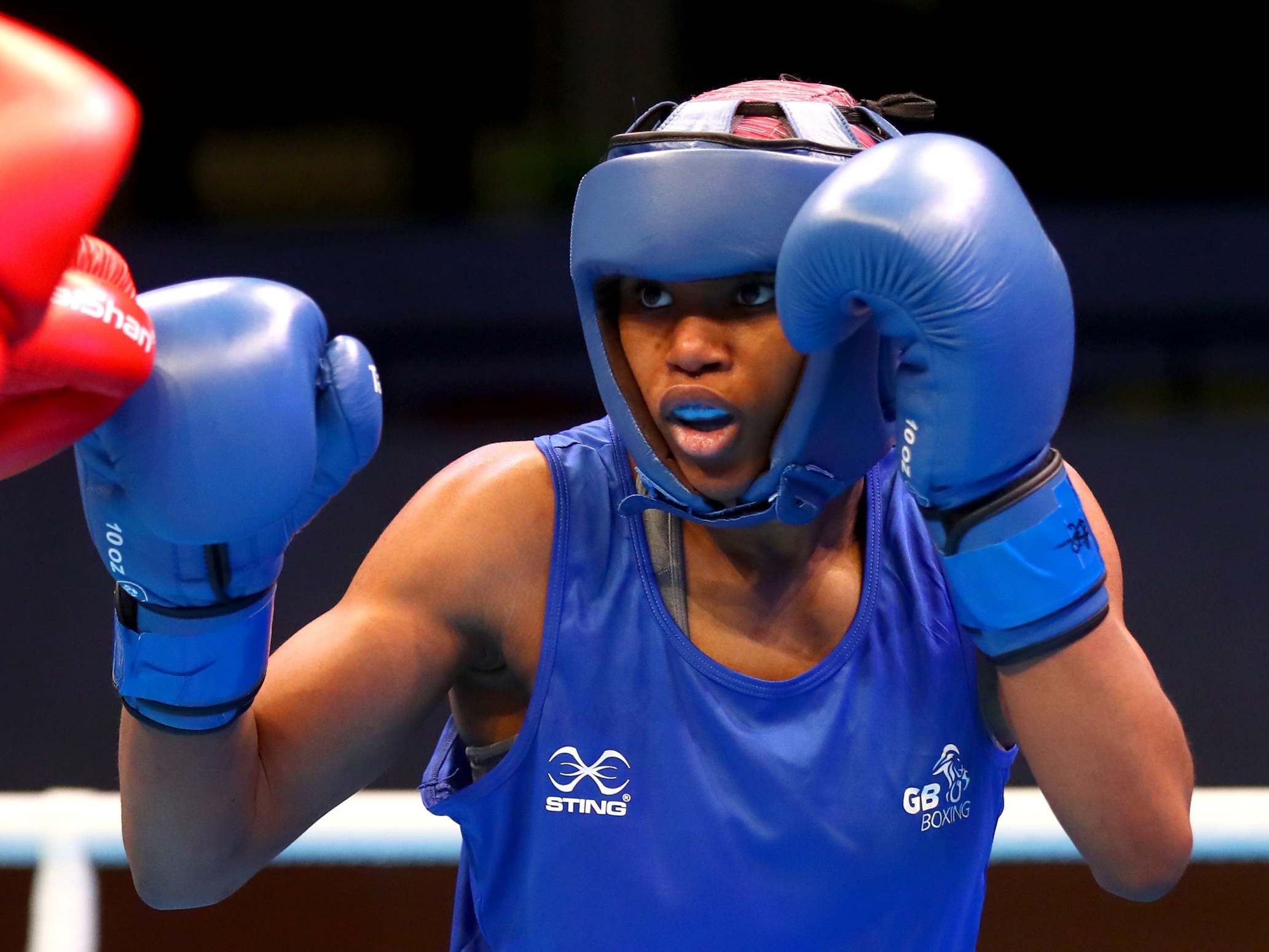 She was told or asked – it depends on who is telling the story – to drop to 51kg and over Christmas she dropped the weight. In early February she was selected, on Monday afternoon she started: the fighting mum is on her way.
Davison still needs one more win to secure a place on the Tokyo plane. She fights her quarter-final and the most important fight of her life on Thursday when she meets Poland's No 3 seed, Sandra Drabik.
"The first one is always hard, I was getting rid of the ring rust," she said. "I'm ready now – I'm loving this and taking it one fight at a time." Back in Lowestoft over 30 people, including her kids, packed her living room to watch it on a big screen. There certainly are extraordinary things happening in the sporting business right now.
The boxing continues tomorrow afternoon when Caroline Dubois, still only 19, is back in Ring A to fight Finland's Mira Potkonen for a place in the quarter final. Dubois is still two wins from Tokyo and Potkonen, who beat Katie Taylor at the Rio Olympics, is the number one seed here at lightweight.
The women's lightweight division, where there are six Tokyo spots available, features one current world professional champion, a former world professional champion, Potkonen and Kellie Harrington, Ireland's amateur world champion. The odds were, to be brutally honest, stacked heavily against Dubois. However, she won on Saturday and then one of the real dangers, Delfine Persoon, crashed out. Persoon lost her world title in a ten-round brawl to Taylor last summer in New York at Madison Square Garden and her early exit here was a real shock.
There is an argument, one that I would support, making the Dubois and Potkonen meeting the most intriguing women's fight to ever take place in Britain: world No 1, the European champion against the teenager, who is now unbeaten in 41 contests and has won every conceivable youth title. What if Dubois wins? They sparred together – hard sparring, by the way – in January at a training camp in Colorado Springs. There are always two sides to every sparring story, but Dubois certainly "held her own". Incidentally, it was at that camp that Davison impressed the British boxing selectors.
So, here we are three days in, at the end of the afternoon session on Monday, with the punters locked out, families stranded and a threat to shorten the event by a day or three to try and beat the virus. So far it has been good for the British boxers: Dubois is still fighting, Davison is through, Rosie Eccles is out, big Frazer Clarke was a winner with a bye.
However, the real hard, hard graft is about to start with a lot of British boxers in the rings. Finding a way to the Olympic ring in Tokyo has never been harder, but Dubois and Davison remind us all why people have sporting dreams.
Source: Read Full Article