Jessica More from Below Deck Mediterranean came clean about the shots she was filmed doing while on charter.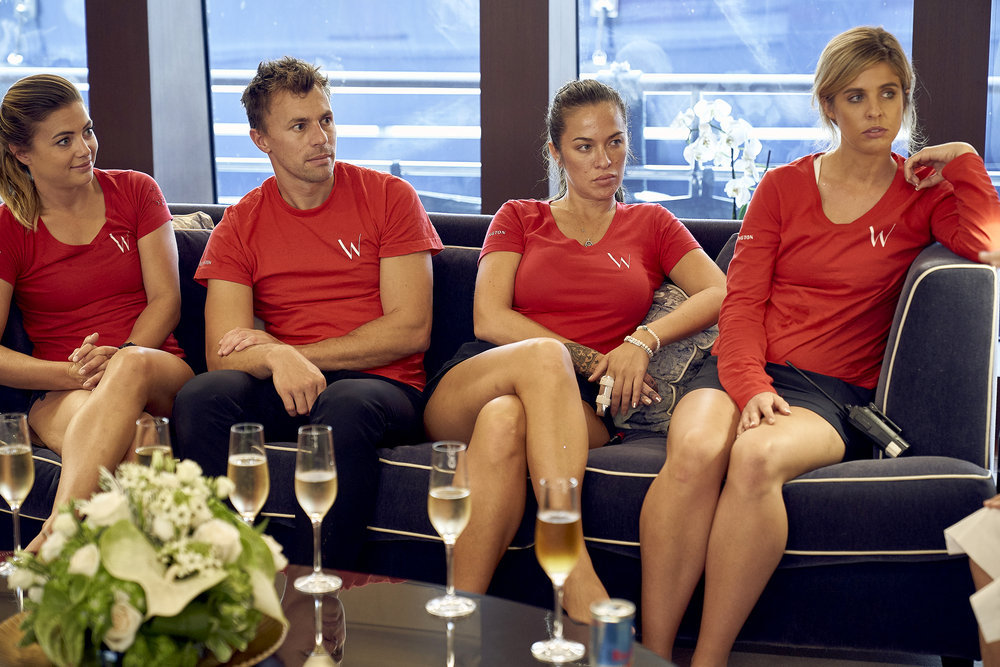 More and boyfriend Rob Westergaard fought and More is seen taking two shots in the galley kitchen. Drinking on charter is forbidden but More said stews need to test the drinks. "I'd be lying," More shared on the Watch What Happens Live with Andy Cohen After Show. "A lot of drinks I made, if they were more than just a vodka soda or something more elaborate, I always taste my drinks."
"But I will say, the first one I taste tested," she continued. "The second one I threw back for good measure to make sure."
Or was it water?
More joked with Decider she was actually taking shots of water at the time. But added despite whatever she was drinking, it didn't help to quell her anger.
"There wasn't enough in there to help," she said. "You know what, it's funny. The whole season, I'm just going to come forward: I feel like any stew that makes drinks is a liar. If I make a spicy margarita, or if I make something that has a lot of things going with it — I want to make sure the spice is right, and I want to make sure the alcohol, the bitters."
"Just certain things in a drink," she said. "I try every single one of my drinks. That particular occasion, I remember trying it for the drink's purpose. I was just in such a mood, I was like, "Screw it. Let me try it again."
Kate Chastain joked about drinking on charter
Former Below Deck chief stew Kate Chastain was accused by a few crew members of drinking on charter. She always denied it but joked about how to hide cocktail time. She commented on an episode of Below Deck Sailing Yacht where deckhand Parker McCown busts some of the stews going for a swim on charter. McCown seems steamed to see crew members having fun while he was working.
"If you're gonna break the rules, you should not do it in plain view of your guests and your crew members," Chastain said. Adding, "That's why I always drank out of a coffee mug." 
Chastain didn't elaborate. But former stew Raquel "Rocky" Dakota insisted Chastain drank alcohol out of a coffee mug on charter during the cast reunion. Chastain never confirmed nor denied the accusation.
"I actually wasn't that shocked when Rocky accused me of drinking," she told All About the Tea. "She has no boundaries and will say or do anything if she thinks it is to her benefit, regardless of truth or reason."
She continued, "I think at that point in the reunion, Rocky was feeling overwhelmed with all of the negative feedback she was receiving and resorted to finger-pointing and blame shifting which is sad but not surprising."
Source: Read Full Article