Growing up on the southside of Chicago, Jawuan McGee never felt like he fit in. "I've just always been a little different," he explains to HYPEBEAST. "I don't think I'm better than anyone, I just could never be doing things at the same time as everyone else." An Outkast is McGee's vehicle for exploring paths less traveled, a formless project that's nothing and everything at the same time. A restless creative, McGee cut his teeth working for Don C in Los Angeles before moving to New York to pursue something new, something bigger than anything he'd ever done before.
Cut to late 2019: McGee suddenly quit his job and needed some fuel to fire up An Outkast, which inspired a formative six-month adventure in Asia. Though it was cut short by the COVID-19 pandemic, the trip proved immensely fruitful and McGee pulped it into a series of commemorative T-shirts that distill his ethos by way of minimalist graphic design, subtly alluding to a series of key factors that drive his personal process. Before one of the exclusive shirt colorways launches on HBX, McGee spoke with HYPEBEAST about An Outkast's origins, his inspirations and future output.
What is An Outkast?
I'm still trying to figure it out myself; I just wanna make stuff I like. T-shirts are easy: people wear them every day and it's easy to promote. But ultimately I just want to do anything.
An Outkast doesn't have to be clothing-related all the time, maybe I'll come up with a table, or a napkin holder, maybe skate decks… But for now, I think clothes are easier for starting out and spreading the brand. I'm Black and Puerto-Rican so one of my main reasons for trying to make things happen is to show love for kids [of color] and young people in general.
Explain what exactly "An Outkast" means to you.
I don't want people to think it's a play on Outkast. [laughs] It started in 2016 when I came up with the name while living in LA. Then I moved to New York and put it on hold for a year, year and a half.
"An Outkast" sounds like it has a negative connotation. People might think of a rebel, someone trying to go against the rules but I want to show that an outcast is just someone who thinks differently.
Like, growing up I never really fit in, never really felt like I fit the narrative. For example, when I was younger, I wore Abercrombie & Fitch and [my classmates] were like, "Oh, you're dressing like a preppy kid?" But by high school, everyone started wearing the same thing and I was like, "I been wearing that."
Everyone's an outcast if you think about it. People where I'm from don't dress like me, my friends dress differently from the people they grew up with. Everyone can relate to it.1 of 2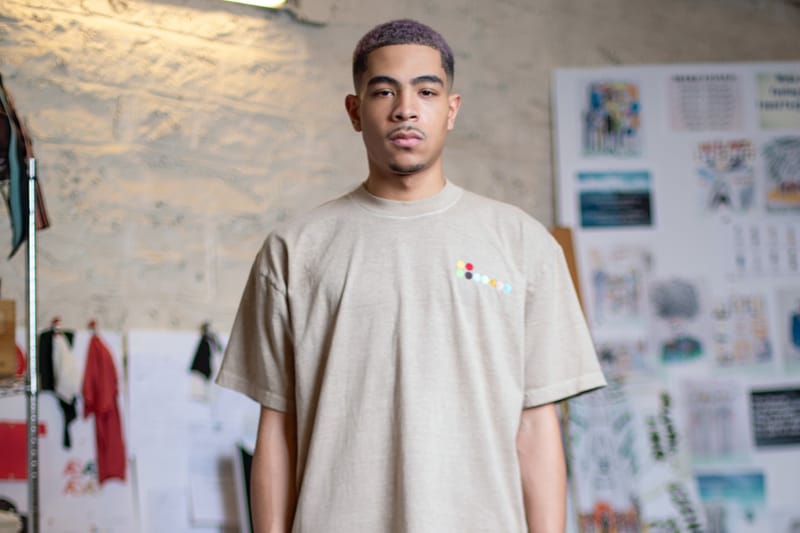 Jonathan Padilla2 of 2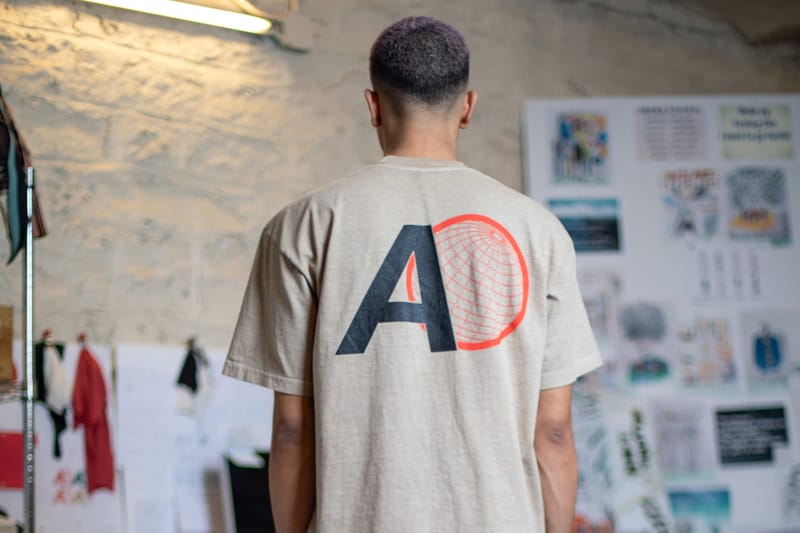 Jonathan Padilla
How'd you start working with Don C?
Growing up in Chicago, I used to go to RSVP Gallery a lot. Buying T-shirts, hanging out. Later, I ended up getting a job there. Then, I got a call and moved to LA to work with him and his brand, Just Don. We worked together for a bit but eventually I started working on my own brand and had to move on.
An Outkast is my life. It wasn't easy, but I really want to make An Outkast a full-time thing, a lifestyle for myself and as a brand. I feel you can't make a lifestyle brand if you aren't living it. If I'm working for someone else every day I can't get inspired. I actually told my boss at the last job I had, "This will be my last job ever." Which, I mean, was a dumb thing to say!
Where does your inspiration come from?
I like vintage clothing a lot, I really like Japanese brands and OG streetwear. BBC ICE CREAM, OriginalFake, LRG, Nike, TISA. That golden era, the early '00s, was when streetwear was fun. Big jeans, lots of colors, everyone had the Louis Vuitton belt with the pouches.
I'm especially inspired by NIGO, who created a world and sold people a vision. His work wasn't just about clothing, it was a lifestyle and community.
I think that kind of attitude is dead. People act like you have to wear expensive stuff to look nice or they like one brand, it gets popular, they dump it and move on to the next one. The fashion industry isn't fun right now.
Break down this T-shirt design.
There's a logo on the back that my friends at The Binary Group helped me design with a big "A" and round globe, representing the initials of An Outkast. I wanted the globe instead of an "O" because I like to travel. I keep the brand related to the things that I love the most, like I love travel, art, flowers.
The T-shirt's front is related to that as well: it's a Damien Hirst reference with the spots. I really respect him, his work is bright, noticeable, fun. I never knew the spots had meaning, though, I just liked that they were colorful. When I found out, I was like, "Damn, it's like a code, a hidden language." I was intrigued by it.
So [this drop's T-shirts] say "An Outkast" encoded in spots. I want it to be a conversation piece, like how people talk about art. And then the goal of An Outkast is that you'll buy it, pass it on to your kids in 20 years. You can pass the tee down like, "I bought this in 2021, it's my favorite T-shirt so take care of it."1 of 2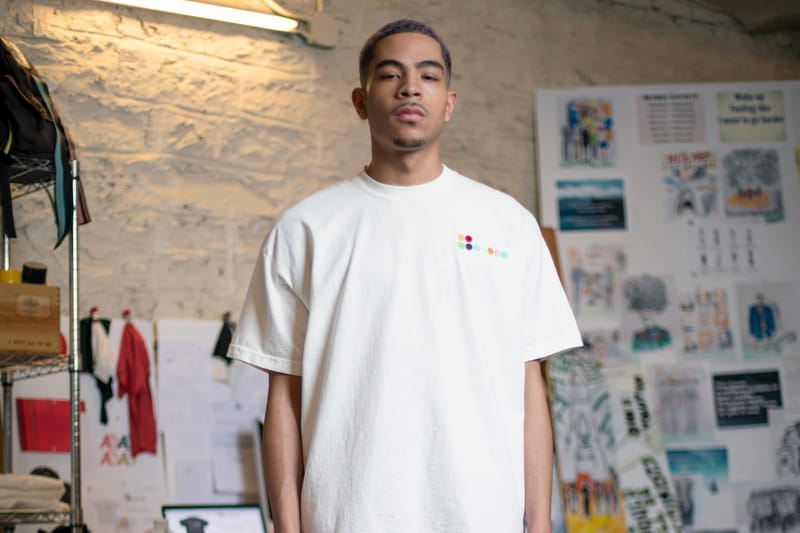 Jonathan Padilla2 of 2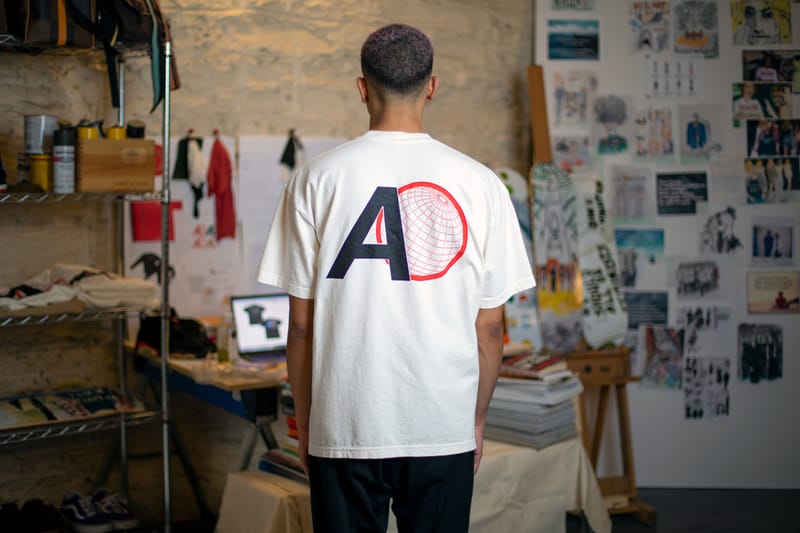 Jonathan Padilla
Why release the design in different colorways?
I thought it was important to have exclusive versions of the shirts for each store because it feels more special. Limited editions make special moments and become collectible like Pokémon cards or art. You remember where you were when you bought it.
Why did it make sense to drop now?
I wanted to start the year properly. It doesn't hurt that this month is Black History Month; I want to bring my brand into the conversation of Black-owned brands, so the timing makes sense.
Is this An Outkast's first major drop?
I've dropped stuff on my own, without promotion or publication, but this is my biggest to date. I've worked with a few different stores that I care about in the past, like HBX, RSVP Gallery, Hirshleifers and WHY ARE YOU HERE? in Japan.
Will An Outkast drop a full collection?
I'm planning a full collection now, I'm just taking my time with it. I don't want to be tied to the old models, like dropping product for Spring/Summer or Fall/Winter, I think it's boring.
I know what I want but I'm still perfecting my aesthetic. I want it to be more artistic, bring that OG streetwear feel back. I want to grow organically without cosigns, authentically.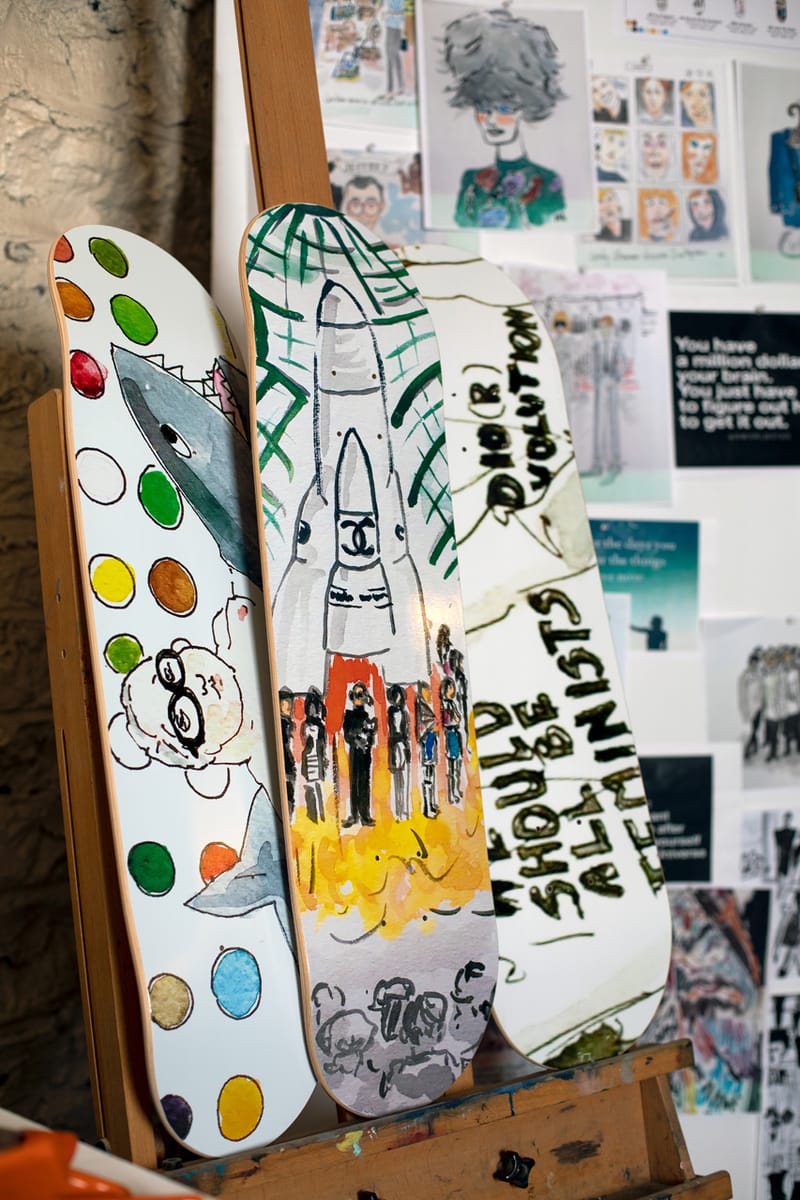 Jonathan Padilla
An Outkast's limited edition T-shirt will release Friday, February 26 at 9 a.m. ET exclusively on HBX.
Source: Read Full Article