Jen Shah of "The Real Housewives of Salt Lake City" shocked Bravo fans when she was arrested in March on "charges of conspiracy to commit wire fraud and money laundering in connection with a telemarketing scam," according to NBC News.
Jen's assistant Stuart Smith was also arrested for his role in the alleged crime, and she faces up to 30 years in prison if convicted. Don't think Bravo will skip over this scandal for "RHOSLC" Season 2 — cameras were rolling during the arrest and the network is planning to "use as much footage as they can," according to an April Us Weekly report. "Production sees this as a great story line. One that everyone will want to see unfold," the source said. "It's ratings gold. They're going to use as much footage as they can that they're legally allowed to use."
As Jen's legal woes continue, new details are surfacing around her arrest. Keep reading for more details.
Jen Shah's dry contact lenses caused some struggles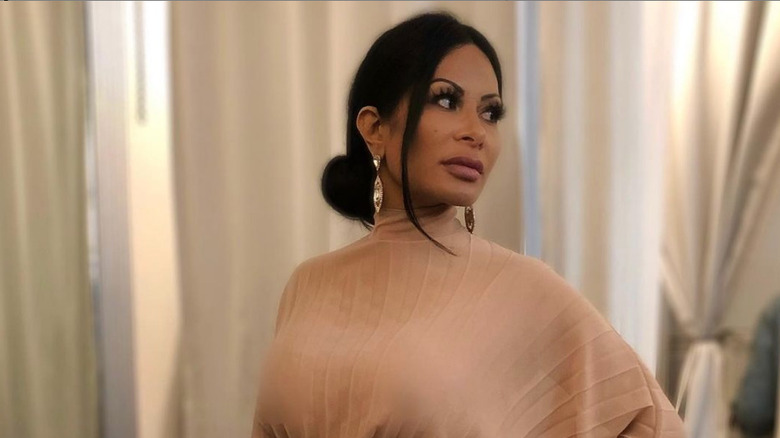 According to People, Jen Shah had a difficult day when she was arrested for her alleged role in a telemarketing scheme. A man who called himself Detective Bastos reportedly told Jen things like, "We just want to talk to you" and "I promise we just want to talk to you." According to Jen, this made her assume that she was in "danger, and that the police might be there to help me." Things took a turn when she was allegedly handcuffed to a chair and given a copy of the Miranda rights as they were read to her.
"Although I heard the words Det. Bastos read clearly, my contact lenses, which were in my eyes, were dry, and I did not have my reading glasses, so my vision was blurry and I was unable to read the paper in front of me," she claimed. "Even while being read my rights, I did not fully understand what was going on, and still thought that one explanation might be a potential misidentification."
Jen wasn't getting any answers and thought the only way to end this was to "sign the paper and waive my rights." She had difficulties initialing the documents because she "could not see the paper." Although she was able to use contact solution, her lawyers claimed she did not waive her Miranda rights "voluntarily, but rather as a direct result of law enforcement deception and trickery calculated to overpower her will."
Source: Read Full Article