Kendall Jenner is one of the most popular models in the world. She became famous for her family's reality television series, Keeping Up with the Kardashians. After some time on the show, she began modeling seriously when she was just a teenager. While many have criticized or even underestimated Jenner for various reasons over the years, there's no doubt that she takes modeling seriously. In addition, her recent Instagram video shows she's actually much brighter than many may think, and shouldn't be underestimated.
Many assume that the Kendall Jenner is ignorant
When Keeping Up with the Kardashians first premiered in 2007, viewers quickly took stock of the Kardashian-Jenner family. While many fans loved the way that the family interacted with each other, the show received a lot of criticism, even in the early days. It seemed as though the family surrounded themselves with luxurious items, name brand handbags, and only the very best cars.
Critics accused the family of being materialistic, which seemed to be valid. Moreover, due to the Kardashian-Jenner's "valley girl" accents, with lots of vocal frying, the perception that the family wasn't bright began to form among the public. Over time, even other celebrities began to insult the Kardashians. Some of these celebrity comments included calling them "trash" and accusing them of behaving like "idiots" on television. Kendall Jenner, one of the younger siblings in the family, has been caught up in this assumption – but she has been actively discouraging the haters.
Kendall Jenner is a low-key literary snob
In a recent Instagram video, Kendall Jenner posted some of her favorite books, ones that she is either reading or intending to read. Fans were shocked that many of Jenner's picks were true literary gold and worthy of a true book snob. Among Jenner's book pile: collections of essays, dramatic novels, and other picks that eagle-eyed fans quickly picked up on.
It definitely seems as though Jenner's taste has definitely evolved over the years. In a 2016 interview, Jenner talked about how she mainly used the bookshelves in her house for displaying various knick-knacks, pictures of her family, and "fun fashion books and magazines." Still, she has shown an interest in books at various times of her younger life. In 2014, she and her sister, Kylie Jenner, collaborated with the author Maya Sloane to create their own book, titled Rebels: City of Indra. While the book was critically panned, young fans of the Jenner sisters certainly appreciated their project.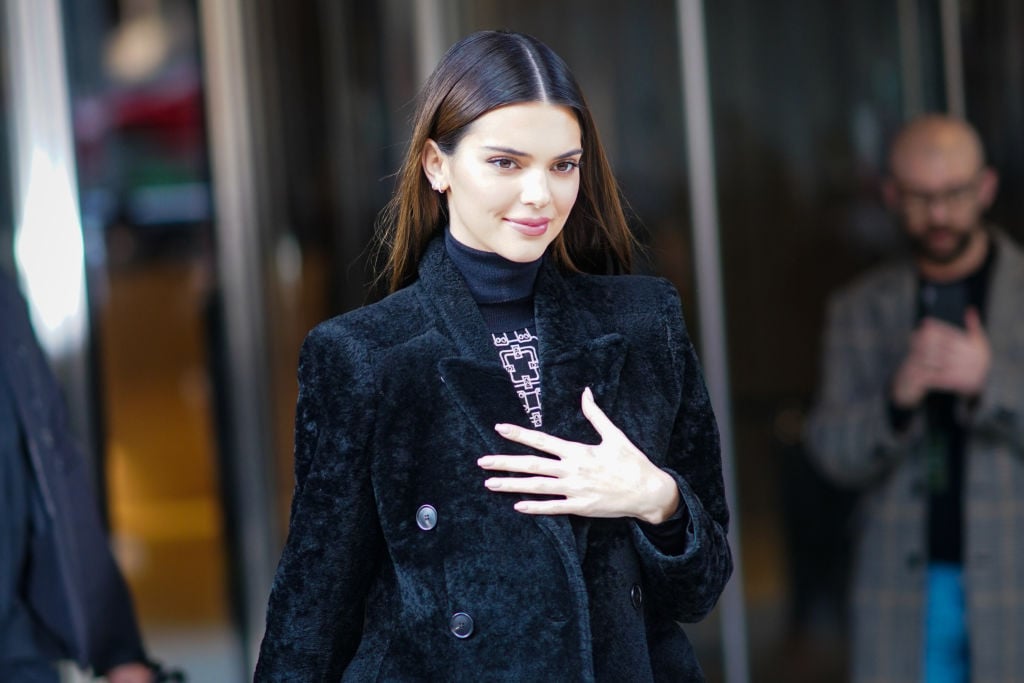 What is Kendall Jenner reading right now?
These days, Kendall Jenner's taste in books has matured considerably. One of the books in the pile she showed off on Instagram was So Sad Today, written by Melissa Broder. The collection of short stories and essays was published in 2016 and was hailed by critics as "darkly funny and brutally honest." It has become a favorite with fans of the indie book scene, and in a recent interview, Jenner even admitted that the book was one that she wished she had written. Tonight I'm Someone Else, by Chelsea Hodson, also made the cut as one of Jenner's picks. This is also a collection of short essays, originally published in 2018.
The Houseguest, by Amparo Dávila, is a book translated from Spanish and has earned rave reviews from critics. Many of the stories contained in the book are thrilling, with fans calling the writing "intense and terrifying." Clearly, Jenner loves the surreal characters and dark visuals contained in the book. Finally, The Complete Stories of Leonora Carrington is a series of short stories translated from several languages. Translations are not always an easy read but definitely one that Jenner finds enjoyable.
Fans loved the close look at Kendall Jenner's book collection, and it seems likely that the model might show off even more of her picks in months to come.
Source: Read Full Article