Jersey Shore: Family Vacation star Pauly DelVecchio has been notoriously single through much of his reality TV career. Now, DelVecchio is in a committed relationship with one of his co-stars from Double Shot at Love. Find out how much the Jersey Shore star's girlfriend Nikki Hall is worth.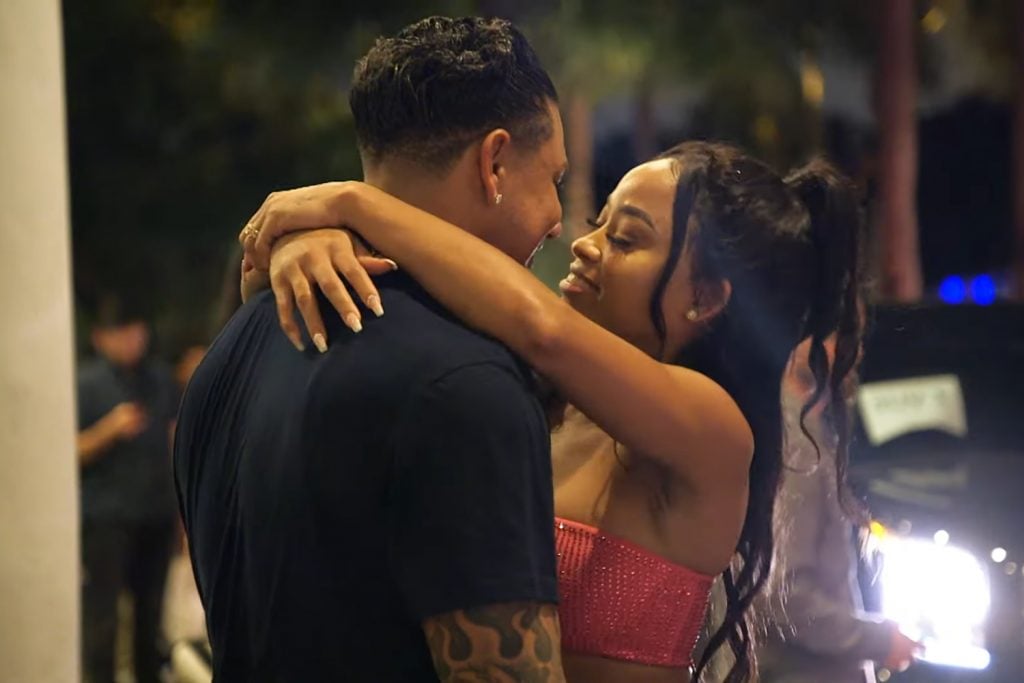 'Double Shot at Love' made Nikki Hall a household name
Hall is known by many for competing in season 1 of Double Shot at Love. From the get-go, it was clear Hall was there for DelVecchio. As a front-runner in the first season, Hall and her competition Derynn Paige made it to the finale.
When DelVecchio sent Paige home, many fans thought Hall and DelVecchio were going to be together. But the Jersey Shore star had other plans. 
"I'm rolling solo for now," DelVecchio told Hall.
Nikki Hall and DJ Pauly D's Twitter feud
Feeling hurt and betrayed after the Double Shot at Love Season 1 finale, Hall took much of her anger out on social media. She even blocked DelVecchio briefly on Twitter. 
"This is completely outside of my character but for someone to sit there and act like this sh*t was one-sided… " she tweeted (via The Blast). "I did nothing to this man but love him and he was OK with it. And I'm crazy? Give me a f*cking break! I've had it!!"
She included screenshots revealing DelVecchio professing his love for her and asking for a "real shot." Later, when season 2 of Double Shot at Love was announced, many fans wondered if Hall would return. The show's premise changed — the exes wouldn't be dating DelVecchio and Vinny Guadagnino, but living and working with them instead. Shockingly, Hall returned.
After a rough start to season 2, DelVecchio and Hall made up. By the end of the season, the two agreed to give their relationship another shot.
She is in a relationship with 'Jersey Shore's Pauly DelVecchio
During the reunion special for season 2 of Double Shot at Love, DelVecchio and Hall announced that they were officially a couple. 
"It kind of just happened," Hall said during the reunion. "Now we get to spend real time with each other on a different type of level altogether," DelVecchio added. "For one time in my life, I wanted to enjoy a moment for myself and not have to always put it out there for the world."
More recently, Hall has become part of the family on Jersey Shore: Family Vacation. During the "Somebody's Wifey's in Town" episode, Hall finally got to sit down with the rest of the Jersey Shore cast at a family dinner.
Nikki Hall is a model and social media influencer
Before becoming a reality star, the 28-year-old pursued a career in modeling and acting. Nowadays, in addition to being a reality TV personality, Hall is a fashion influencer. Hall has recently been promoting brands like Shein, Fashion Nova, and Pretty Little Thing on her social media profiles.
What's more, Hall is cooking up her favorite recipes and sharing them with her 300,000 followers when she's not modeling clothes. 
Nikki Hall's net worth
According to Stars Offline, thanks to her career in social influencing and reality television, Hall is worth $230,000. That is significantly less than her Jersey Shore: Family Vacation boyfriend DelVecchio. Thanks to his reality television career and multiple DJ residencies, DelVecchio is valued at $20 million.
Source: Read Full Article