Naomi Campbell is one of the most famous models in the world. She rose to fame in the 1980s and 1990s, and soon became a supermodel who was recognizable even to people who did not know much about fashion.
Campbell recently made headlines when she wore a hazmat suit through LAX. Given the situation surrounding COVID-19 in the world right now, it is understandable that many people want to take safety measures when flying. However, wearing a full-on hazmat suit is still largely unheard of, so Campbell decided to share her reasoning behind her unique outfit.
Naomi Campbell admits that she was 'nervous' about flying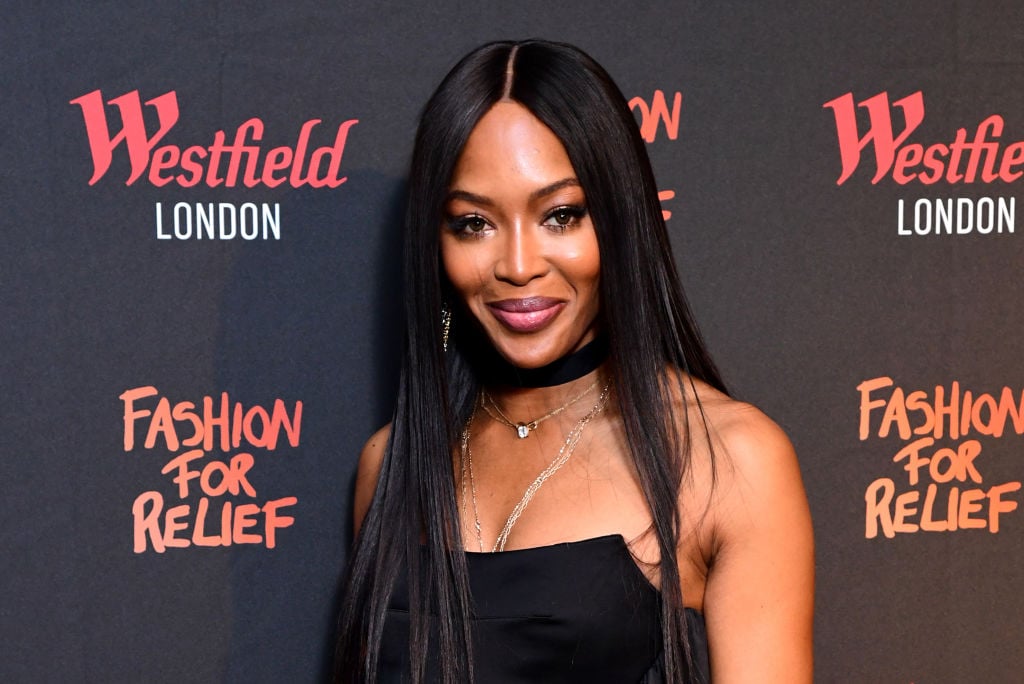 After sharing pictures of herself in a hazmat suit at LAX, Campbell posted a video to her YouTube channel called "Protecting Myself Against Coronavirus." In the video, Campbell gave fans a detailed look into the preparations for her flight from Los Angeles to New York City.
"As this is a very sensitive time in the world, I'm not going to lie to you and say I'm not nervous to take this flight…I am," Campbell told viewers.
In order to ease her nerves, Campbell could be seen getting ear seeds applied to her acupuncture points, which helps to "balance the heart and mind." Then, Campbell put on a hazmat suit that she bought from Amazon for $15.99. She paired that with pink latex gloves so that she could limit her contact with surfaces as much as possible.
"In all honesty, this is not a funny time. It's not a humorous time," Campbell stated. "I'm not doing this for laughs. This is how I feel comfortable traveling."
Campbell also shared that some people on the plane moved away from her, but it did not bother her. The 49-year-old said: "Everybody didn't want to be around me but that's cool — I didn't want to be around them either."
People reported that, although this is the first time that Campbell wore a hazmat suit while flying, she has actually been wearing gloves and masks on flights for a long time now to protect herself against germs on surfaces around the airport and airplane.
Naomi Campbell has previously shared a video about her 'airport routine'
This is also not the first time that fans got to see Campbell going to extreme measures to protect her health. Last year, the model posted a video that shared with fans her "airport routine."
In the video, she revealed that she wipes down every surface around her on the plane, including her seat belt, tray table, TV screen, remote control, and window. She also has a cover that she puts over the seat before sitting on it.
The routine takes quite a while to do, but Campbell believes that this has helped her stay healthy over the years. She said: "As much as I travel, I should get sick so much more with colds and stuff. I'm blessed that I don't. I really think that this helps me, my little routine."
How other celebrities have been dealing with the coronavirus outbreak
Campbell is not the only celebrity who is making sure that they stay safe during the coronavirus outbreak.
For example, Howie Mandel has also been spotted in a hazmat suit of his own. Meanwhile, stars like Gwyneth Paltrow, Selena Gomez, and Brody Jenner have started wearing face masks.
Other celebrities like Katie Couric and Celine Dion are taking precautions and staying home to help contain the spread of the coronavirus. Tom Hanks and his wife, Rita Wilson, have both tested positive for it, so they are being put in isolation.
Source: Read Full Article