Kylie Jenner has a lot going for her, and she's only 22 years old. She's the world's youngest self-made billionaire, a mother of one, and is part of one of the most famous families in the world.
Unfortunately, her business and media success has not translated over into her love life, and she's had a lot of drama with her daughter Stormi's father, Travis Scott. After a public "break" they are now rumored to be back together, but the drama doesn't seem to be getting any better.
Now some fans are getting frustrated, and think they need to get it together, for 2-year-old Stormi's sake.
Kylie Jenner and Travis Scott have had a bumpy relationship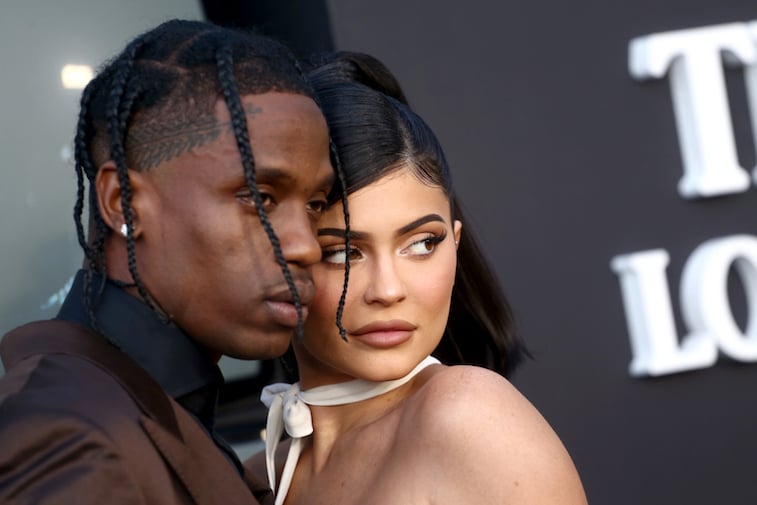 Relationships can be tumultuous, especially for the young. Young adults are still learning about themselves, the world, and what they want out of life. Add in nearly unlimited financial resources, the eyes of a critical public, and a child, and the chaos just grows exponentially. This is just about where Jenner and Scott's relationship sits: in a hotbed of public drama.
Jenner and Scott started their relationships just "hanging out" at Coachella in April of 2017, and then had a baby by February of 2018. That means Stormi was conceived just a month or so after they started to become "a thing." That's not a lot of time to really establish a firm foundation for a relationship.
It didn't help that the media got wrapped up in the whirlwind romance.  They had a few magazine cover shoots together, went on glamorous vacations, exchanged high-cost gifts, and even got matching tattoos all within the span of a couple of years. By October 2019, however, they split.
"Travis and i are on great terms and our main focus right now is Stormi," she wrote on Twitter at the time.
What is going on between Kylie Jenner and Travis Scott now?
Just days ago it came out that the couple was back together. Jenner posted a series of three old photos on her stories of herself leaning in towards Scott at a basketball game with the words "it's a mood" overlaid. They were in matching t-shirts.
A source close to the couple told Entertainment Tonight confirmed the reunion and said that they are "happy to have their family back together."
If they are back together, however, the relationship still isn't in smooth waters. Rumors have been swirling around that Scott is involved with Instagram model Yung Sweet Ro, and that he even cheated on Jenner with her in the past, causing their breakup.
Fans of 'KUWTK' are not happy with Kylie Jenner, Travis Scott, or Yung Sweet Ro
Though many fans love to hate the Kardashians-Jenner crew and often disagree on their opinions over the various family members, one thing they almost always agree on is wanting the best for the children involved.
"I hope for Stormi's sake they get their lives together. It'd be sad for her to look online when she's older and see her first few years of her life was in the middle of a love triangle scandal," one fan on Reddit commented.
Fans also seem to be in agreement that Ro is stoking a lot of the rumors and immaturity with her own Instagram posts.
"Yungsweetro just posted 'people be in a secret competition with you and still be losing' to her IG story too…" one commenter wrote.
"I just can't understand how this situation would be beneficial for Ro or Kylie. If the rumors are true, Travis clearly doesn't respect either of them and should be thrown in the trash tbh," another wrote.
Those of us on the outside may never really know what's happening behind closed doors for sure, but the view from the outside is bad enough. Fans are right, they need to do better for Stormi.
Source: Read Full Article