Everyone knows that Scott Disick is an important member of the extended Kardashian family, even without technically being an official member of the Kardashian-Jenner clan.
Disick first came into the picture as the on-again, off-again romantic partner of Kourtney Kardashian. The two's rocky relationship lasted many years and seasons of the show, and the pair have three children together, Reign, Mason, and Penelope.
Even when they were separated, Disick has made plenty of appearances on various Kardashian shows. These appearances are because of his somewhat complicated relationships with two of the Kardashian sisters, his romantic partner Kourtney and his hater turned friend Khloé.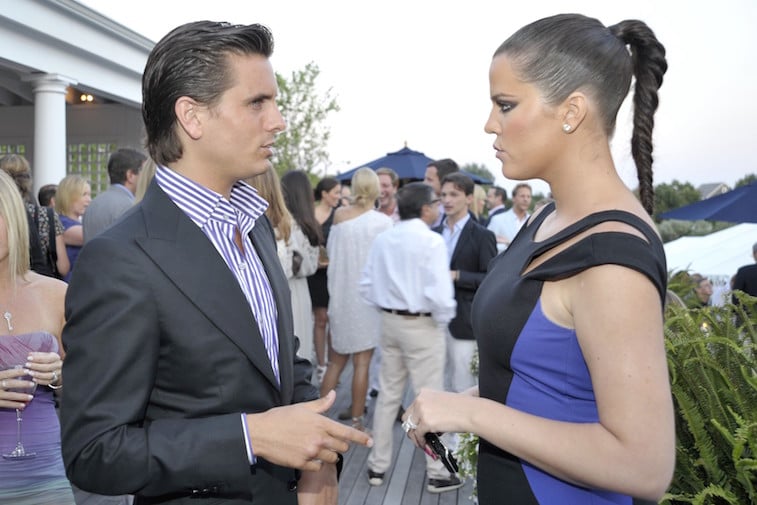 Khloé Kardashian and Scott Disick's rough start
From the start, Khloé Kardashian was not a fan of Disick and disliked how he treated her sister Kourtney Kardashian. The youngest Kardashian sister was never afraid to let anyone who would listen how she felt about the couple, including the couple themselves.
Khloé Kardashian, who is always ready to share her opinion, would often let Disick and Kourtney Kardashian how she felt about their complicated relationship. Kholé Kardashian's main issue with Disick was his frequent partying and how it affected Kourtney Kardashian.
Disick's intense relationship with the family resulted in one of the most infamous moments in Keeping Up with the Kardashians history when Kholé Kardashian gave Disick a powerful slap right across the face. The slap came after a night of partying, when Disick and Kourtney Kardashian announced that she was pregnant and the two would be getting back together.
Kholé Kardashian said that Disick was trying to trap her sister into staying with him. She has also referred to Disick as a "douche-lord." As their relationship changed, the slap became a shared funny memory for Disick and Kardashian. 
How Khloé Kardashian and Disick's relationship has evolved
After a less than friendly start, Disick and Kardashian have grown their relationship and become great friends. Their friendship is based on the honesty that they share with each other.
Kardashian and Disick have been on road trips together, and frequently give each other shout outs on social media. Kardashian has posted about great of a father Scott is and has said she hopes that Kourtney Kardashian and Disick can someday work through their issues and be together again.
She realizes that the two have had their struggles, but is proud of how they have been able to reach past their disagreements for the sake of their children. Disick has been supportive of Kholé during trying times in her life, including the difficulties she faced when dating NBA player Tristan Thompson.
The support the two provide each other, especially during the hard times, shows the deep friendship that has blossomed. This unique friendship has become a favorite of many Kardashian fans. 
Fans' reactions to the pair
True fans of the Kardashians have noticed Kholé Kardashian and Disick's relationship, and have their own thoughts and feelings. Some fans have speculated that the two's relationship has surpassed just friendship and reached a different, more scandalous level.
Disick's Instagram post of Khloé Kardashian in a revealing outfit, with the #WCW, has led some to think that the two have a more intimate relationship than they have let on. Kardashian has publicly denied this rumor, saying that the two are just close friends. Fans that do not believe that the two are involved, truly enjoy the wholesome friendship that Scott and Kardashian share.
Disick has not always been a favorite of the Kardashian family or their fans, so it is nice to see him welcomed by the youngest Kardashian sister. In a show full of drama, fights and hurt feelings, it's nice to see two people who genuinely like and support each other. 
Source: Read Full Article