The 'Sex and the City' actress has been slammed online after claiming that she could not 'imagine' the way to solve problem of 'people stealing basic necessities out of desperation' is to arrest them.
AceShowbiz –Cynthia Nixon is flooded with negative comments on her social media. After suggesting that shoplifters should not be "prosecuted," the "Sex and the City" actress has been slammed online by commenters and critics.
Sharing her thoughts on her Twitter account on Saturday, May 22, the "Ratched" actress wrote, "The CVS on my corner has started locking up basic items like clothing detergent." She elaborated, "As so many families can't make ends meet right now, I can't imagine thinking that the way to solve the problem of people stealing basic necessities out of desperation is to prosecute them."
Shortly after, the 55-year-old's tweet received lots of reactions from commenters and critics. Even former prosecutor Thomas Kenniff, who is running for Manhattan District Attorney, responded, "Why don't you leave the doors to your posh co-op unlocked and the closets and freezer stocked. Those in need can come help themselves?"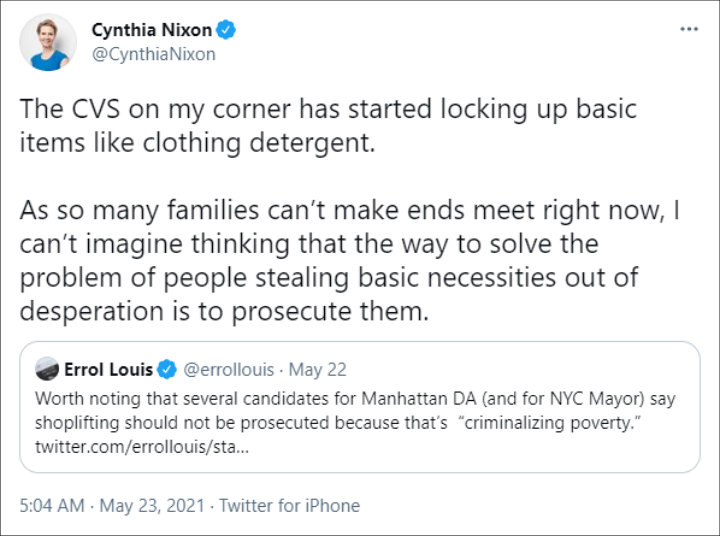 Cynthia Nixon suggested that shoplifters should not be 'prosecuted' in a Twitter post.
"I grew up poor and we never took anything that we hadn't paid for. It's insulting that you think the less fortunate have no ability to discern right from wrong," a Twitter user replied to the "A Quiet Passion" actress' suggestion. The reply pointed out, "Also, allowing widespread theft will result in higher prices, punishing the poor and honest."
"You live in a neighborhood of $3 million-dollar apartments and townhouses. No one at your CVS is 'desperate' to steal 'basic necessities,' " another commenter wrote. "This isn't just moral grandstanding on your part, it's really incompetent moral grandstanding."
In the meantime, a Twitter user noted, "Letting people just steal stuff doesn't solve the problem either. Which laws do we choose to follow? Do you really think society will be better off if we let people just walk into a store and steal whatever they want?" A different user sarcastically insisted that it showed "Cynthia lives in a different world" and was "virtue signaling."
Cynthia's comment was a response to Errol Louis' tweet that read, "Worth noting that several candidates for Manhattan DA (and for NYC Mayor) say shoplifting should not be prosecuted because that's 'criminalizing poverty.' " Her post, however, came after Governor Andrew Cuomo warned of the escalating crime rate in New York City, which has increased by 30 percent this week compared to the same week last year and robberies were 70 percent higher.
Source: Read Full Article