Meanwhile, British TV host Piers Morgan, who is known for being critical towards the pair and a vocal anti-vaxxer, calls the Duke and Duchess of Sussex 'disingenuous clowns.'
AceShowbiz -Prince Harry and Meghan Markle earned backlash after they urged Spotify to make changes amid COVID-19 misinformation controversy involving Joe Rogan. Right-wing people, both in the U.S. and America, slammed the pair and one of them was Candace Owens.
The conservative public figure wrote on Twitter, "Everyday Harry and Meghan wake up and think 'how can we make millions more people around the world hate us?' " She went on to wrote, " 'Oh, I heard Joe Rogan has 50 million unique listeners – let's write an open letter indicating our inherent self-importance, and demand Spotify begin censoring him.' "
"Next up from Harry and Meghan–a one on one sit down with Oprah declaring that Truckers everywhere are racist to their 75% white and extraordinarily wealthy son," Candace added. Further shading the Duke and Duchess of Sussex, she concluded, "A brief follow up from Harry and Meghan– 'But we just want our privacy…'."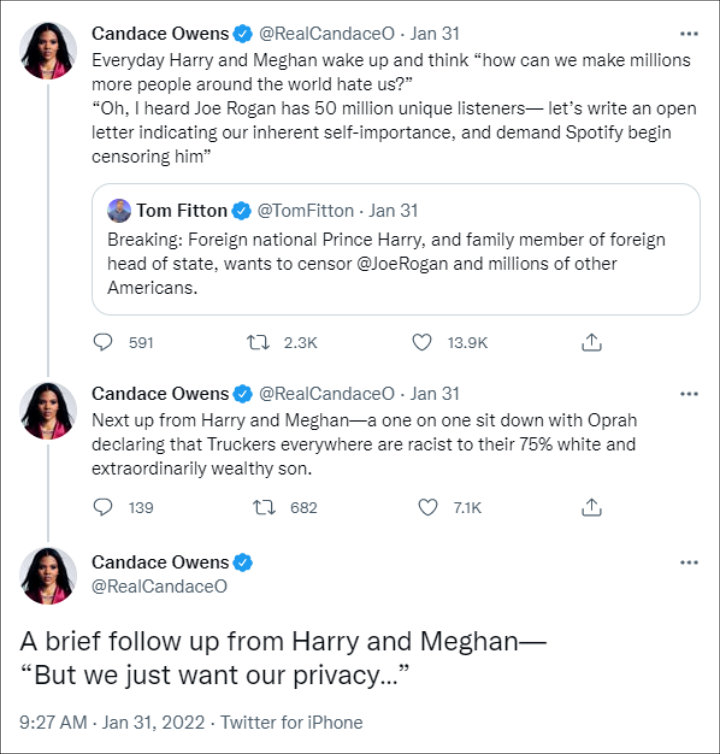 Candace Owens slammed Meghan Markle and Prince Harry.
Tom Fitton, president of conservative foundation Judicial Watch, tweeted, "Breaking: Foreign national Prince Harry, and family member of foreign head of state, wants to censor @JoeRogan and millions of other Americans."
Piers Morgan, who is known for being critical towards the pair and a vocal anti-vaxxer, wrote, "If anyone knows about 'spreading disinformation', it's these two disingenuous clowns & their sycophantic media lickspittle."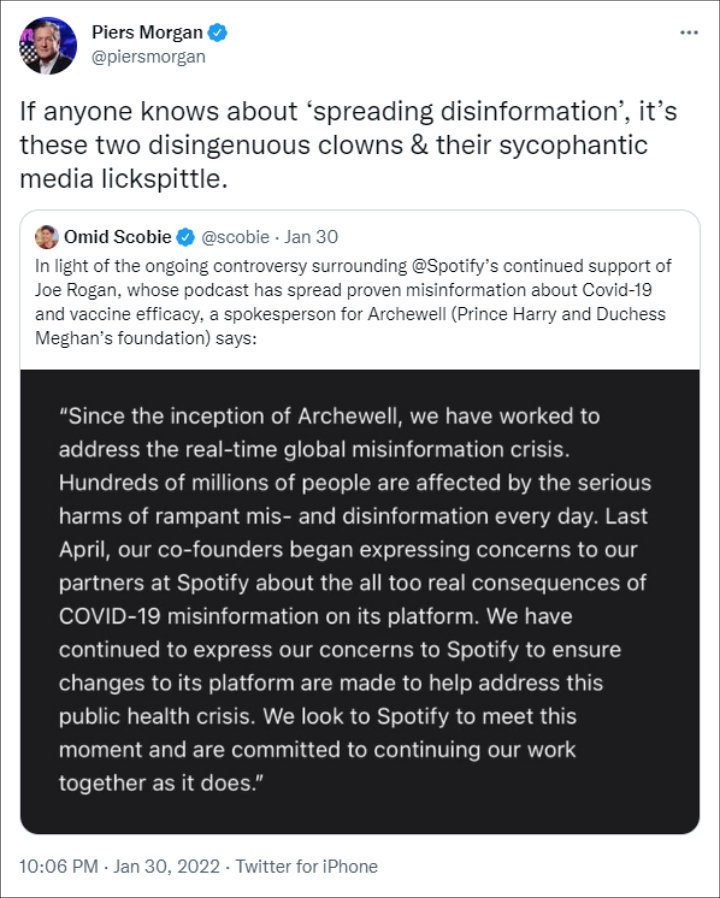 Piers Morgan critized the Duke and Duchess of Sussex.
Meanwhile, Sky News journalist Nick Stylianou tweeted, "This is an interesting angle on the current issue Harry & Meghan have with Spotify, which is that the platform paid them £18 million in December 2020 to deliver original podcasts but published nothing in 12 months and now Spotify is having to take over production to make content."
A spokesperson for Meghan and Harry's charity said in a statement on Sunday, "Since the inception of Archewell, we have worked to address the real-time global misinformation crisis. Hundreds of millions of people are affected by the serious harms of rampant mis- and disinformation every day."
The rep continued stating, "Last April, our co-founders began expressing concerns to our partners at Spotify about the all-too-real consequences of COVID-19 misinformation on its platform. We have continued to express our concerns to Spotify to ensure changes to its platform are made to help address this public health crisis."
"We look to Spotify to meet this moment and are committed to continuing our work together as it does," the statement concluded.
Source: Read Full Article