Dua Lipa and Anwar Hadid have been together for so long at this point that I'm sure everyone, including the rest of the Hadids, are wondering just when the heck are they gonna get married. That tidbit is unclear, but at the very least, Dua and Anwar appear to be head over heels for one another!!! Their love story dates back to mid-2019 where Dua and Anwar's shared love of music—and single-ness, of course—brought the two together. The rest, as they say, was history.
Take a walk down memory lane and learn the in's and out's of Dua and Anwar's truly enviable relationship, below:
June 2018
Anwar is spotted kissing his sister Gigi's bestie, Kendall Jenner, in the weeeeee hours of the morning during a CDFA party. Though Anwar is actually supposed to be dating Nicola Peltz—they have been in a relationship for over a year, after all—Page Six reports that Anwar and Nicola amicably ended their relationship the previous month before. Fun fact: After dating Anwar, Nicola moves on to Paul Jason Klein of LANY (great band, check 'em out), who just happens to be one of Dua's ex-boyfriends!
June 2019
The Sun reports that Dua splits from her on-and-off again boyfriend, Isaac Carew, after five years of dating. Isaac confirms the split by unfollowing Dua on Instagram, and both parties post melancholy messages to their Insta Stories.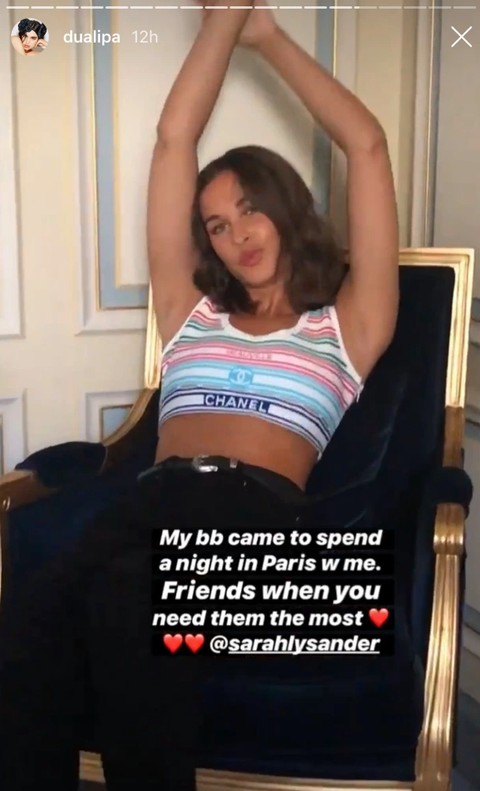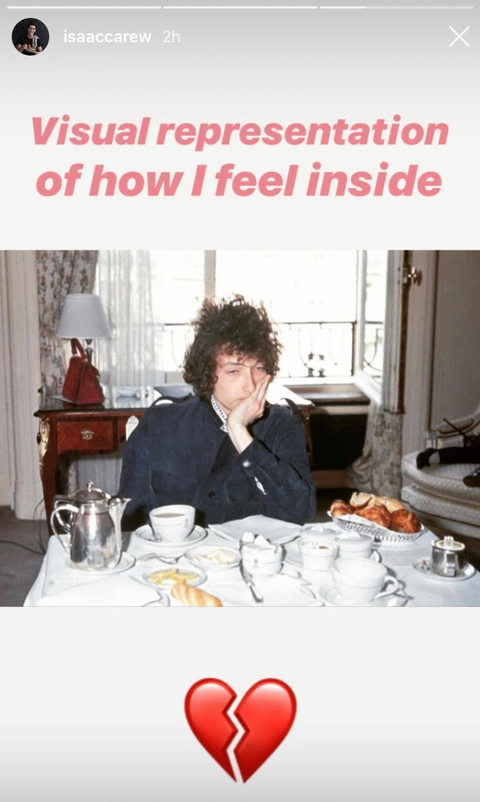 ( Hey, at least we get their last Met Gala appearance to remember them by.)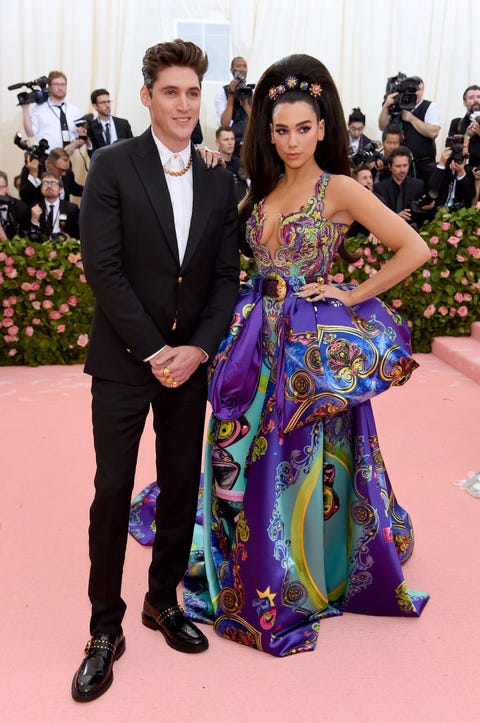 Later in the month, Anwar reaches out to Dua and they strike up a bond because of their shared love for music. A source tells TMZ that things start to "snowball" once Anwar learns Dua and Isaac's relationship is over, and reaches out to her for a date. They go out, like each other enough to keep seeing one another, and by the time Anwar's birthday rolls around on June 23, Dua's sooo boo'd up with him that it's "obvious to everyone that something's going on between them" because they look "very much so like a romantic pair," TMZ's source adds.
July 2019
Dua and Anwar sneakily attend the Nordoff Robbins O2 Silver Clef Awards together on July 5. We don't get any red carpet pics, but we do see them arriving together and get pics of them inside the venue, so…!
The very next day, all attempts to keep a low profile are lost because paparazzi see them kissing and embracing at the British Summer Time Hyde Park music festival in London.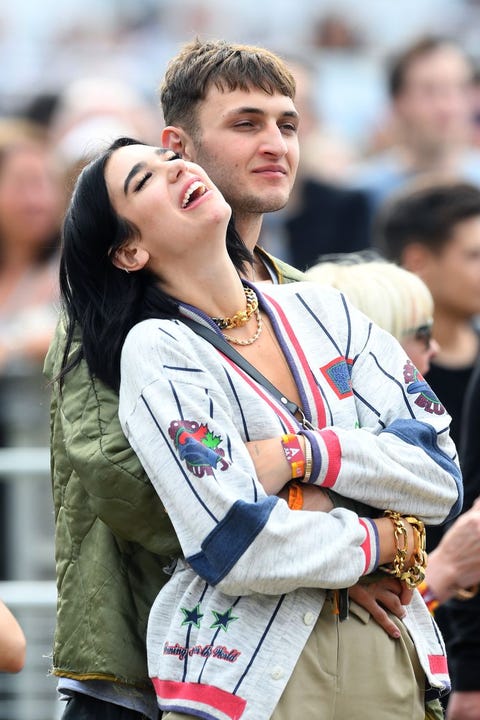 Despite this clear display of affection, the month goes by without a single comment from either party on their relationship. Ho hum.
August 2019
Anwar helps Dua celebrate her 24th birthday!!! Dua gives the closest thing we get to a relationship confirmation by posting a pic of Anwar cutely kissing her cheek to her Insta Stories: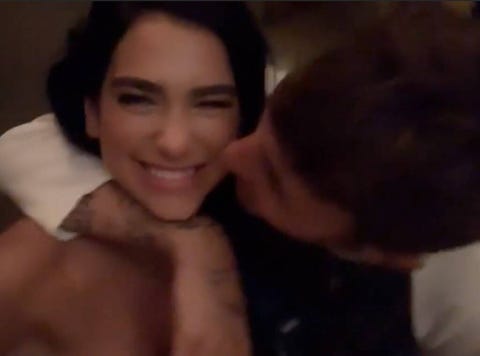 September 2019
The Sun says that Anwar and Dua's relationship has entered into the cohabitation phase. Apparently, the two start renting an apartment in New York City so Anwar can be closer to his sisters Gigi and Bella. This is totally fine with the rest of the Hadids, though, because Dua has met the rest of the family, and they really seem to like her! A source who's reportedly close to Dua says:
Seems like the source is right about Dua and the Hadids getting along, because later in the month, Dua flies out to the Netherlands to attend Anwar's grandmother's funeral.
This month also sees Dua and Anwar attending New York Fashion Week together, where I guess they go IG official because Dua posts this pic of them together to her feed:
https://www.instagram.com/p/B2USjbpBrpJ/?utm_source=ig_embed&utm_campaign=loading
A post shared by DUA LIPA (@dualipa)
November 2019
Dua and Anwar take a MAJOR step in their relationship and decide to go red-carpet official at the 47th Annual American Music Awards. And as per usual, they pack on tonssssss of PDA. *cries in single*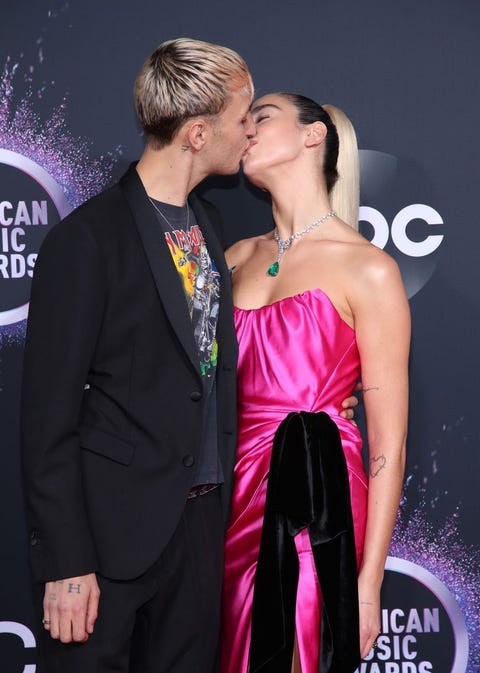 June 2020
We get a super cute anniversary post from Dua about her and Anwar celebrating their first year together, while simultaneously making all the single pringles out there jealous AF. "Nothing sweeter than 365 days joint at the hip with you ❤️," she wrote.
https://www.instagram.com/p/CBa1XnHBP5W/?utm_source=ig_embed&utm_campaign=loading
A post shared by DUA LIPA (@dualipa)
August 2020
Sincerely hoping that Dua and Anwar don't break up at this point because they now have a fur baby together!!! Dua shares the exciting news on instagram and writes, "Our tiny bestfriend Dexter!!! thank you @thelabellefoundation HE'S PERFECT." Dexter's auntie Gigi is super thrilled for the couple too, because under the post she writes, "My nephew A VERY GOOD BOY DEXTO FROM ABOVE™️!"
https://www.instagram.com/p/CDUt_MzMgZu/?utm_source=ig_embed&utm_campaign=loading
A post shared by DUA LIPA (@dualipa)
December 2020
It's pretty unclear if Dua and Anwar spent the holidays together in 2019, but she's letting it be known that this year she totally did. Not only does Dua hang with Anwar, but she gets into the holiday spirit with Gigi, Bella, and the rest of the Hadids:
https://www.instagram.com/p/CJSLJ9-sQ1D/?utm_source=ig_embed&utm_campaign=loading
A post shared by DUA LIPA (@dualipa)
Oh, and Dexter too:
https://www.instagram.com/p/CJOVqUzsZW9/?utm_source=ig_embed&utm_campaign=loading
A post shared by DUA LIPA (@dualipa)
January 2020
Dua goes on vacay with Anwar, and posts pictures from what looks like the most envious island vacay….you know, despite everyone telling her to stay TF home because there's a pandemic going on.
https://www.instagram.com/p/CJ6RjClMEop/?utm_source=ig_embed&utm_campaign=loading
A post shared by DUA LIPA (@dualipa)
Source: Read Full Article