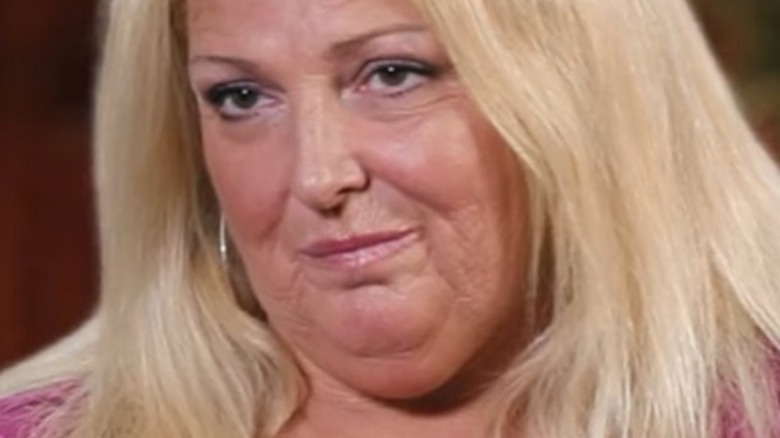 Angela Deem from "90 Day Fiancé: Happily Ever After?" is a polarizing character at the best of times. She is loud and opinionated, but fans seem to really gravitate toward her and her love story. The 54-year-old reality star first met her husband, Michael Ilesanmi, on a dating app (via Romper). The Nigerian was much younger than her but the Georgia peach wasn't backing down. While many viewers thought it could be a scam for a green card, the two committed to a long-distance relationship and eventually married in a small ceremony.
Over their multiple season appearances, the couple has broken up, made up, and dealt with cheating allegations. Currently, the grandmother is going under the knife to look younger but fans wonder just how much money she has to be spending on beauty procedures when she is still trying to get Ilesanmi his visa and a ticket to the U.S. (via Us Weekly).
Angela spends money on surgery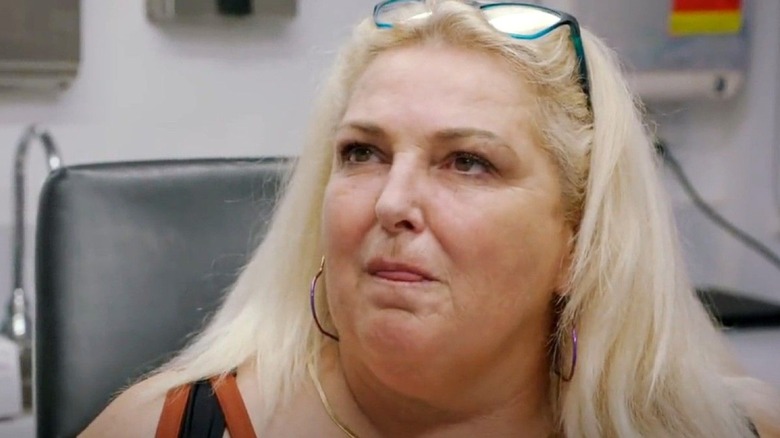 TLC fans know that plastic surgery doesn't come cheap, especially when you are flying to Beverly Hills and staying in a hotel to have it done. On Episode 6 of the newest season of "90 Day Fiancé: Happily Ever After?," fans learned that the reality star's face-lift would be costing $25,000 (via TV Seasons & Spoilers). Fans are unsure how Angela Deem could afford any elective surgeries, including the five procedures she's already undergone (via US Weekly), including gastric sleeve surgery and a breast reduction, let alone the upcoming face-lift.
According to Salary.com, a hospice caretaker (Deem's employment as of 2020) in the state of Georgia can earn a salary of $31,000. Now, this is not a lot of money, especially when fans are well aware that Deem helps to take care of her grandchildren, her husband, and her daughter. Deem hasn't revealed if she left the job or not but is said to be adding to her pension pot thanks to her job as a TV star (via In Touch Weekly). Deem is said to make a pretty penny from her TLC earnings as an OG of the "90 Day Fiancé" franchise.
Angela is sitting pretty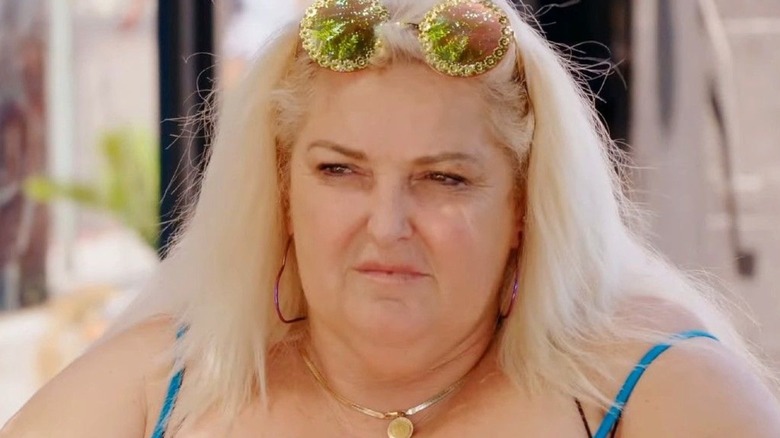 As per Reality Tit-Bit, Angela Deem has an estimated net worth of $100,000, which in retrospect is not a lot. Deem currently has over 600,000 followers on her Instagram and also pushes ads for apple cider vinegar gummies like many of her costars. While we don't know how much she gets paid for a sponsorship, Go Banking Rates reported that influencers can make an obscene amount of money depending on how popular they are; anywhere from $5,000 to $15,000 just for one post with their product.
Deem has also started her own online boutique called "Angela Deem Store." If she has been taken on as an influencer, this could also mean Deem didn't pay for any of her surgeries. In a recent Reddit feed, a fan pointed out that "She isn't paying one penny. This was fully set up gratis by her manager Gina Rodriguez and her management team. Obeng, Kashani, Fett, Sadaat have now done this makeover/surgical package on 6 or 7 real-celebrities." Whatever the star's actual net worth it looks to fans like she is sitting pretty and enjoying the fruits of her labor.
Source: Read Full Article