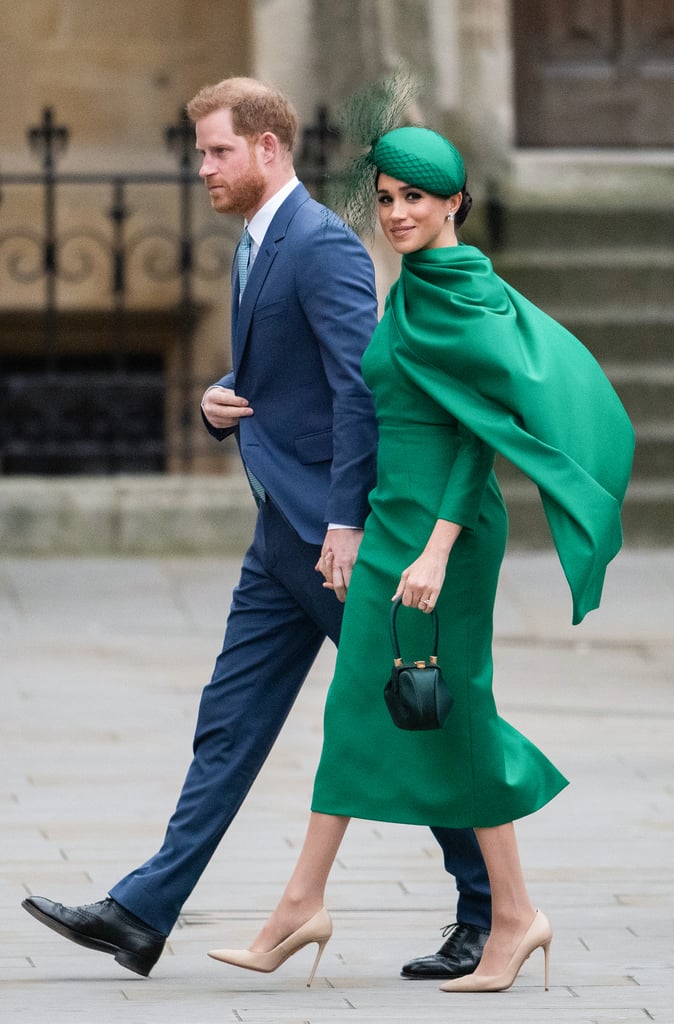 The Cape Dress: The Defiant Design Detail That Won Over Selena Gomez and Meghan Markle

Fashion always tells a story, and if we read the subtle cues of design, we can figure out what a garment is really saying. The cape dress is no exception. Worn by the likes of Selena Gomez, Meghan Markle, and Natalie Portman, this defiant design detail will be all over this year's red carpets.
While puff-sleeve dresses started out strong for 2020 — being the most popular design silhouette at the 2020 Golden Globes — the cape dress is posing some serious competition. Selena wore a pink Patou cape dress to the 2020 Hollywood Beauty Awards while pushing press for her comeback album Rare. Meghan also wore a cape dress recently — two of them, as a matter of fact. The Duchess of Sussex wore a red Safiyaa gown to the 2020 Mountbatten Festival of Music and a green Emilia Wickstead number to the 2020 Commonwealth Day Service, significant choices for her final rounds as a senior royal. Portman also wore a Dior cape dress as a silent protest against the 2020 Academy Awards snubbing women directors.
It seems that when these celebrities wore a cape dress for a public appearance, it was a display of strength and support for themselves or for fellow women. Natalie was showing defiance against the patriarchy, Meghan was giving the monarchy a dignified farewell, and Selena was reminding her fans that despite her health complications, she isn't going anywhere.
Ahead, take a closer look at the sartorial superwomen who are bringing the cape dress to the red carpet.
Source: Read Full Article