In a video shared on Save the Children's various Instagram accounts, Duchess Meghan reads Duck! Rabbit! to her son, Archie Mountbatten-Windsor, for his first birthday. Cue the awws. It was intended to highlight the organization's #SaveWithStories campaign, which is raising funds for children in the United States and United Kingdom who have been impacted by the coronavirus pandemic.
The scene is lighthearted and typical of how mothers interact with their babies. There is no pomp and pageantry. She is sitting on a chair, Archie on her lap, book in her hand, hair tied back, wearing a shirt that most women have in their closets. Said fashion item, according to Hello! magazine, is the Everyday chambray shirt by J.Crew, a fashion brand that is going through hard times.
"J. Crew Group Inc., struggling with huge debt and difficulties at the J. Crew brand, has filed for Chapter 11 bankruptcy in the U.S. Bankruptcy Court for the Eastern District of Virginia," read a WWD story.
Indeed, the coronavirus isn't the sole reason for this filing. The company has been going through a steady decline over the past couple years. Its heyday was reputedly in the early 2010s, when it transformed itself from a catalog business meant for prepsters to a megawatt fashion label every fashion girl coveted.
Under the direction of Jenna Lyons, its former creative director and sartorial spirit animal for many, wearing J.Crew was a point of pride. It offered chic basics with an edge and at price points there weren't astronomical. It promoted leopard print as a neutral, stripes for the office, and rhinestone necklaces. Meghan was evidently a fan.
From a night on the town to a day in the office to reading to your baby on his birthday, J.Crew's offerings were vast and relatively inclusive. Still, the fashion industry is made up of a landscape of piques and valleys. And at this moment, when the coronavirus has severely impacted all forms of commerce, it is regrettably experiencing the latter. All we can do is hope that it will get through this trying time and, like Meghan, savor all the moments we have in our own chambray shirt.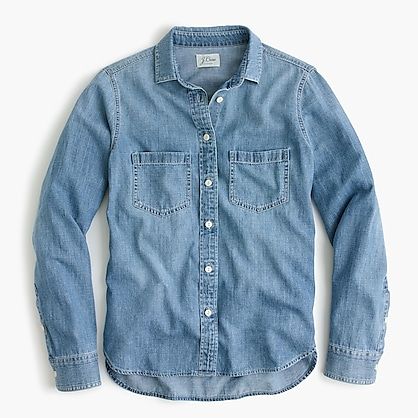 Source: Read Full Article