It's no secret that I'm obsessed with sweats. A year or so ago, someone dropped a Q in one of Cosmo's Slack rooms asking, "If you could do anything you wanted without being judged, what would you do?" I said, "wear sweats to work every day." And while pure, sweet, 2019 Ashley should have been more careful what she put out into the universe, I can't say that I'm mad about my OOTDs as of March 2020.
Anyway, that pointless story was just a way for me to explain that I have sampled many a sweatpant, and it's always tough to find a pair that doesn't look like a cotton-based garbage bag while being extremely cozy. Additionally, I hate buying cheap clothes that look really great but go on to become more innocent victims of the washer and dryer Or, worse yet, they leave me with a shopping hangover when I realize they're made of materials that pollute the earth. You know what I mean?! Well, enter, Madewell's Black Friday 20 percent discount.
I love Madewell for their jorts, accessories, and just all-around great quality basics. So when I came across their sweat tops and bottoms, I was excited! Because I wanted a 'fit I could wear to the grocery store, watching Real Housewives with my quarantine pod bestie, or doing nothing, the overall vibe of the outfit had to be cool and effortless without looking sloppy. That led me to these fine items below, which happen to be on sale rtfn.
The top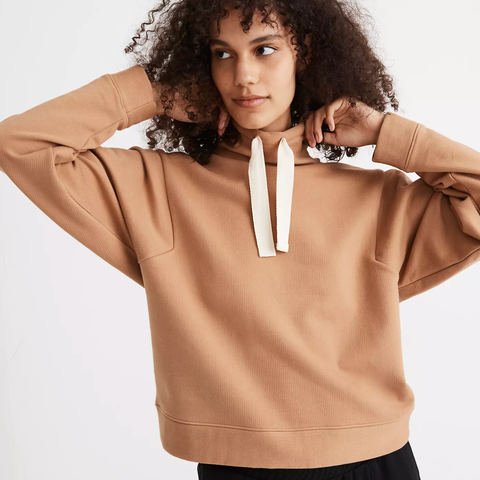 The bottom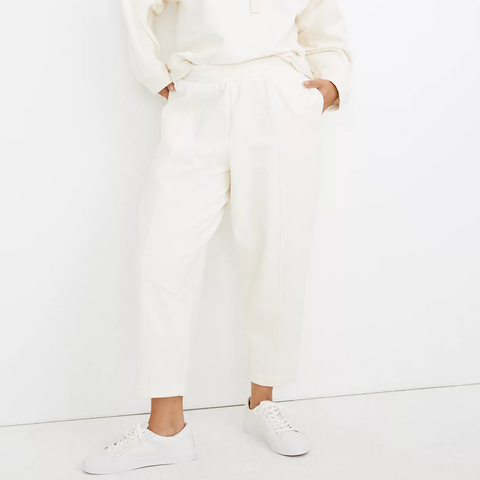 How do they look IRL?
When my ensemble arrived, I was pleased that the quality was on par with the other swag I've ordered from Madewell in the past. One difference from the photos was that the sweatpants and sweatshirt were creamier in person than they look in the photos. TBH, they look straight-up snow white in the pics on the site. Though, to be fair, the color is literally called "antique cream," so they didn't lie to me.
When I popped into the suit, the material felt really nice and cozy. The fabric runs a bit thick, which I personally love, so these aren't exactly seasonal transition sweats. They're more like feeling-warm-fuzzies-in-the-dead-of-winter type sweats.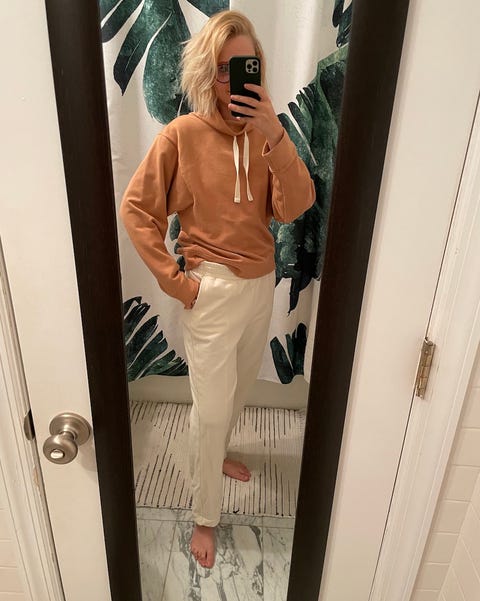 Another detail I wish I knew earlier is that the pants run slightly big, especially if you've got short legs like mine (I'm 5'3" and ordered a small). However, because the pants are comfortably roomy, you could easily size down without risking the loss of that relaxed style. I honestly recommend that you do. Another pro tip: If you take the tags off before you can exchange sizes, just try washing the pants in hot water and throwing 'em in the dryer. Since these babies are 70 percent cotton, shrinkage can be your friend.
Other than that, the sweatshirt is perfect! I wear the size small with jeans, sweats (obviously), leggings, or basically everything. The only thing I'd note is that the collar does not stand straight up on its own, not that you'd want it to? But, just FYI.
How much do they cost?
Normally, I find it hard to stan any sweat ensemble that costs more than $50 altogether, and this one normally runs $80 for the bottoms and another $80 for the top. But because the holiday gods have blessed us with retail discounts, you can get 20 percent off any top and bottom combo, which would cut the price from $160 (plus tax and all that) to about $128. Since these sweats are made from recycled polyester and organic cotton (read: sustainable, baby!), you are definitely getting more than you pay for. Oh, and be sure to snag free shipping by signing up for their emails!
Source: Read Full Article